PHOTOS: ERWAN BALANA  | WWW.ERWANBALANCA.FR
DESTINATION: France / Switzerland
TARGET: Pike
Lake & Lights
Lac Léman, Lake Geneva or 'Meer van Geneve' in Dutch, is a big and beautiful lake on French-Swiss border. It lies amid tall, rugged mountainsides, an impressive scenery to wake up to. On a clear day one can even get a glance of the famous Mont Blanc. The surrounding mountains are deceitful beauties though; they are responsible for sudden and highly dangerous changes in the weather. The clouds might form handsome constellations but they can also bring an abrupt end to your day on the lake.
There is a rapid alert system, similar to those on seaports. Lanterns line the shores of the lake. Particularly dangerous changes in weather are referred to as 'La Tormenta', a radiant beast, magnificent and deadly, if you're not fast enough. When she shows herself, the lanterns start flashing in specific frequencies. Once every five seconds: find a save haven within the next 15 minutes! Once every second: GET THE FUCK OUT OF HERE! During the week I spend on and around Lac Léman this happened once and believe me when I tell you: It is both impressive and scary. Some of my friends have been fishing here for quite some time, they told me to take these signals seriously. When you're out there and the shores start to flash and blink, you get a sense of how serious it can get.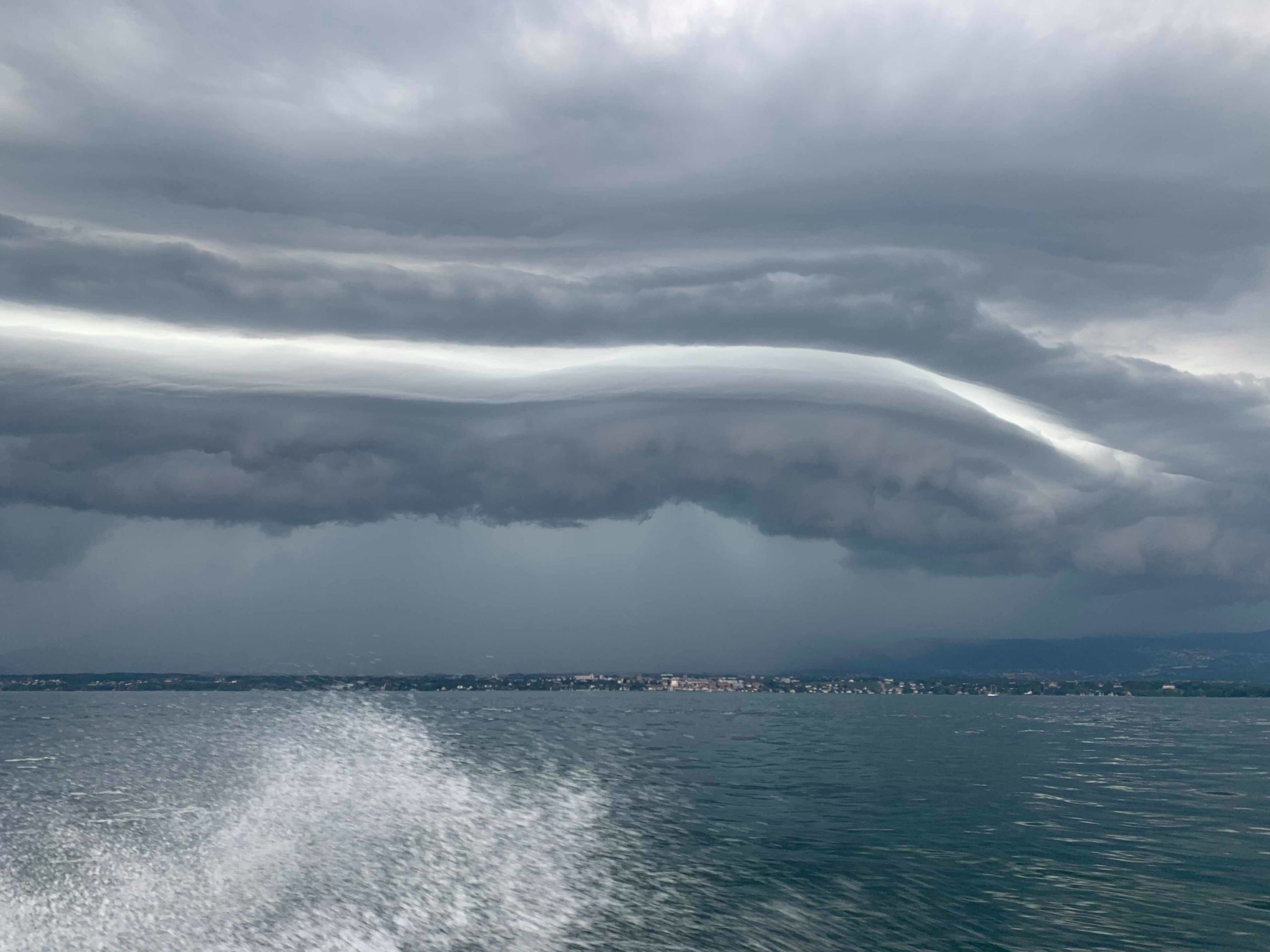 Where to begin?
Lac Léman is well known for holding large pike. To catch one of them you merely have to cast your lures for three days in a row, two casts per second, no pause. After a couple of hours your arm will look like Popeye's. All joking aside: Endurance and stigma is what is needed to be successful on Lac Léman. Some may get lucky, the fish might feel generous and bite down on your lure, but many will cast for a day and get one bite or none. That one bite though, is definitely worth it.
I spent some time here last summer when a good friend of mine, Stephane Poincot, showed me the lake and the area. (The very same friend by the way whom I went fishing on black bass in Extremadura with. Something I can highly recommend too.) It was demanding and not very rewarding, but the bites we got were rather interesting. Even the smaller specimen are impressively strong. Hooking a 70+ pike feels like hooking a 90+ one at home in the Netherlands. It's highly addictive. Once you go to Lac Léman …
… you'll always come back for more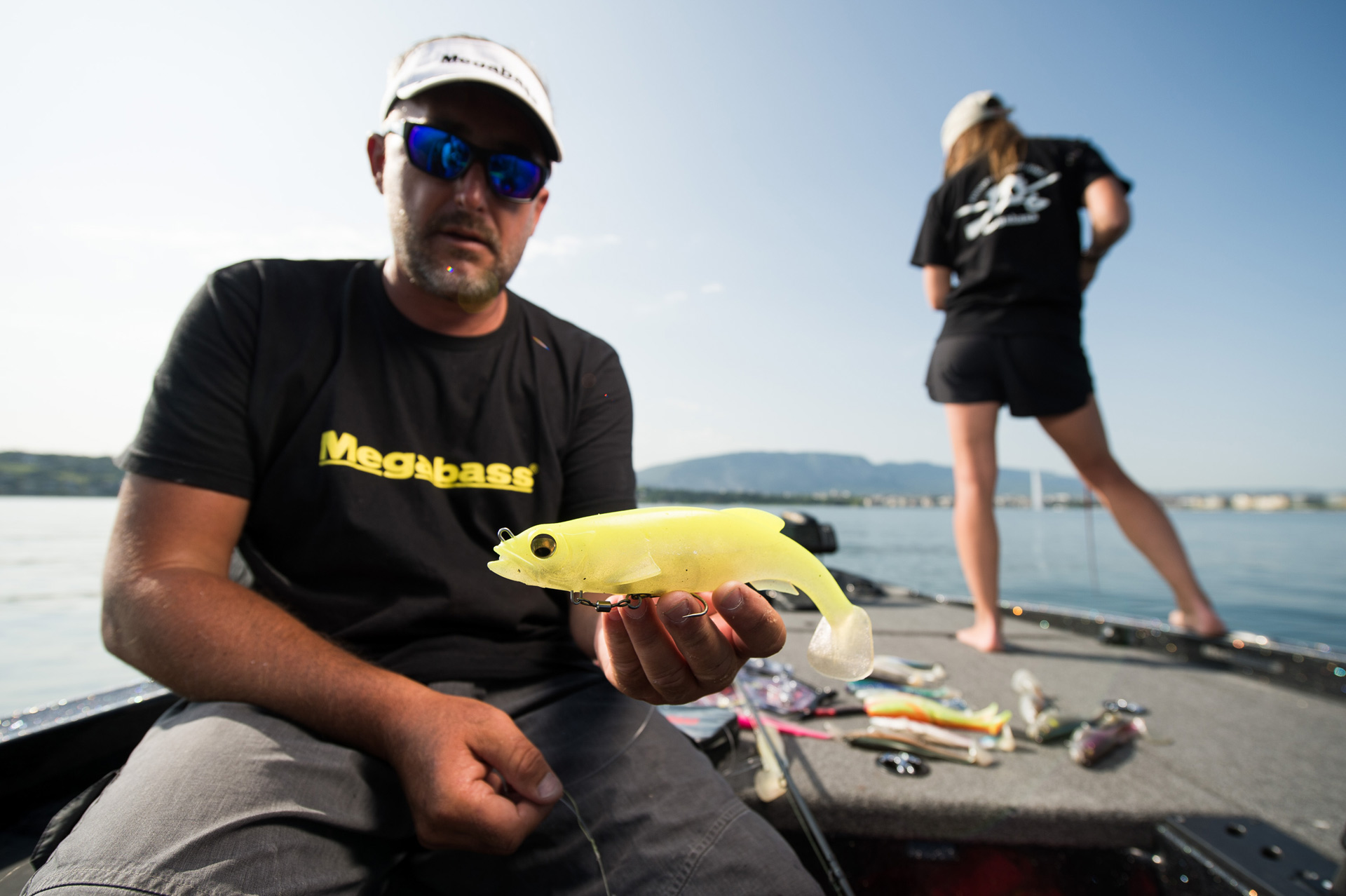 I was on my own this time, at least until I landed in Geneva where I met Stephane and a professional photographer going by the melodious name of Erwan Balança. I had to get up unspeakably early to catch my flight, I was exhausted but I was also very hungry – hungry for pike. We headed straight for our shelter, a lovely camping ground in Sciez. I threw my bags into a caravan, prepared my tackle and off we went.
Last year we used lures sized 16 to 20cm, this year we went even bigger. I'm accustomed to smaller baits but the larger ones work beautifully on Lac Léman. The sheer sizes also add a bit of adventure but accordingly, my first couple of casts felt like I had a wrecking ball dangling from my line. Getting used to this took me some time and from time to time there was inside my head a tiny voice which whispered nasty truths like: a real cast would be twice that, you won't catch anything like this. But after a while I told it to shut up and get on with it. And my casts grew stronger.
The actual monsters which I knew lurked beneath the waves somewhere seemed unimpressed, though I must say I was very surprised by the strength of a 75cm fish I hooked after a couple of hours. It was an amazing fight which ended when I unhooked it in the water: the Swiss authorities are not too fond of our 'catch and release'-system and so every fight ends with the fish still struggling amid the waves.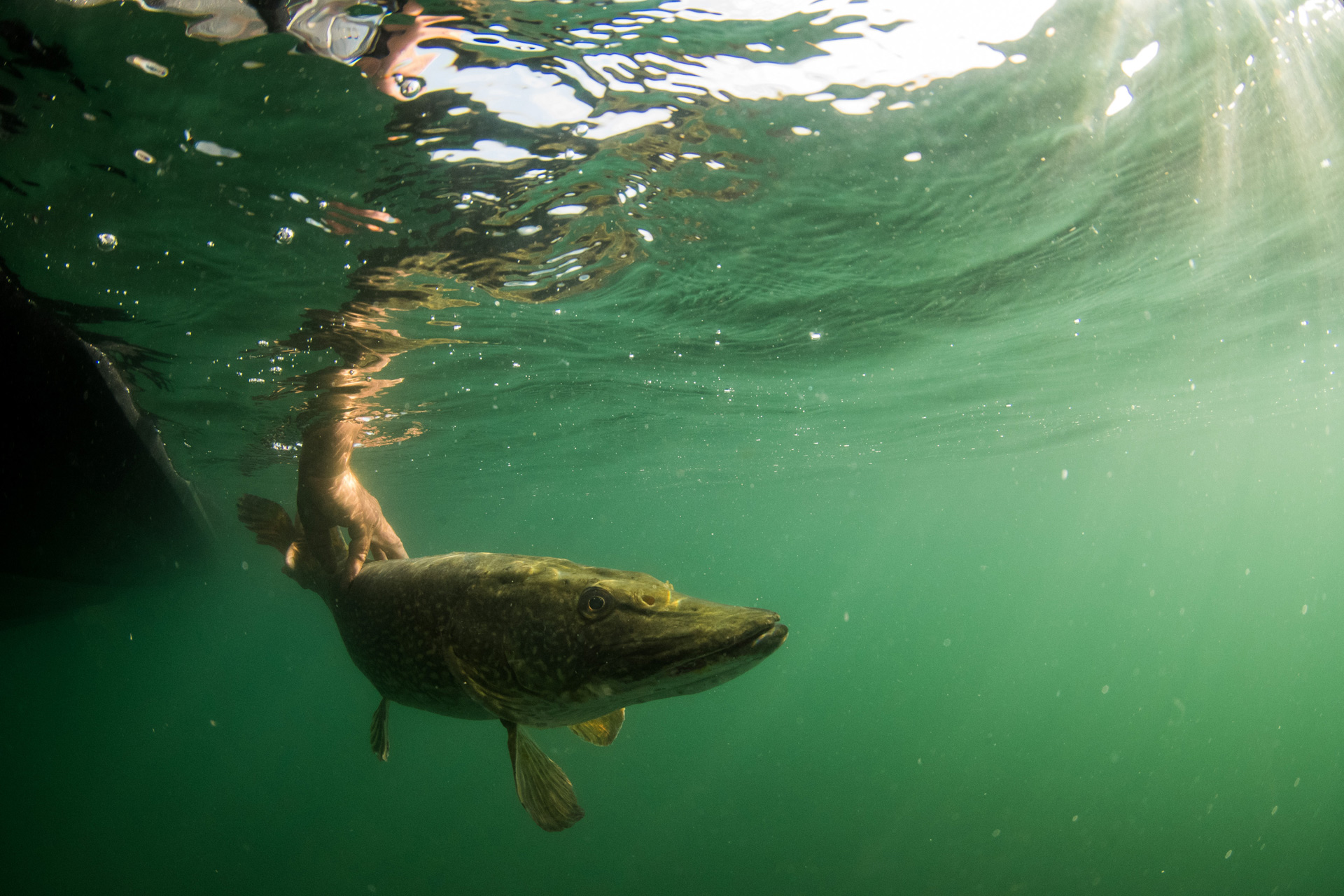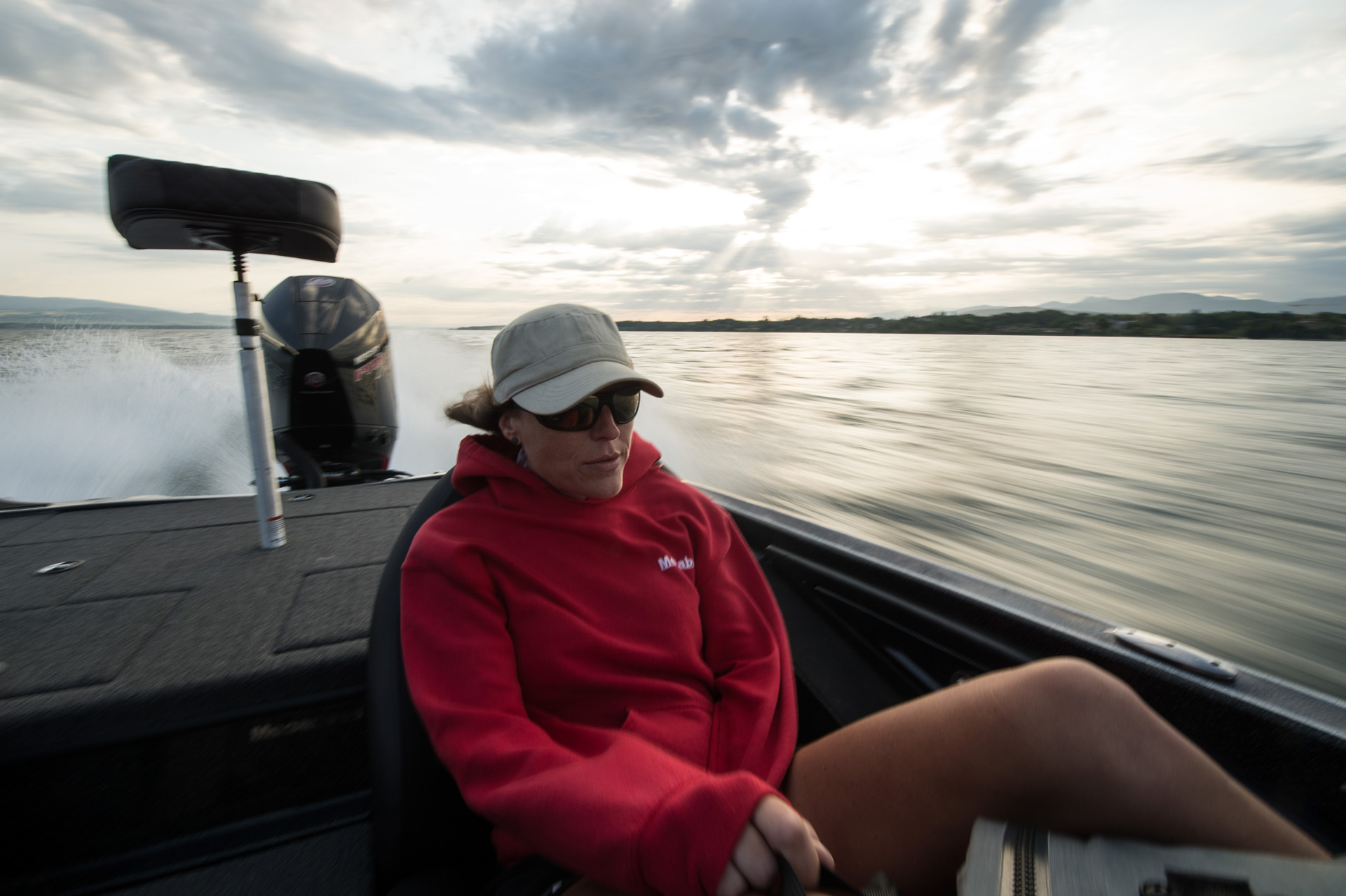 Crocodile Tuesday
Getting up at seven or earlier. Small breakfast. Coffee, don't forget to take some with you. Checking the tackle. Getting the boat into the water, heading for a so called 'big fish spot'.
Rods ready, launching those concrete blocks into the waves. It's calm, slightly cloudy, almost no wind. We're hopeful. Erwan unpacks his extensive equipment and starts taking pictures like the pro he is.
Every day begins like this. Every day we feel fresh and ready for big pike. We get up very early and around 3 or 4pm we start feeling like we ran a marathon. That's why you should never leave the house (or caravan) without a flask of coffee. Stephane is the cheerful, optimistic one, which is excellent because I am often full of doubts. It's hard to admit for me, but on some days he is right… and today is such a day.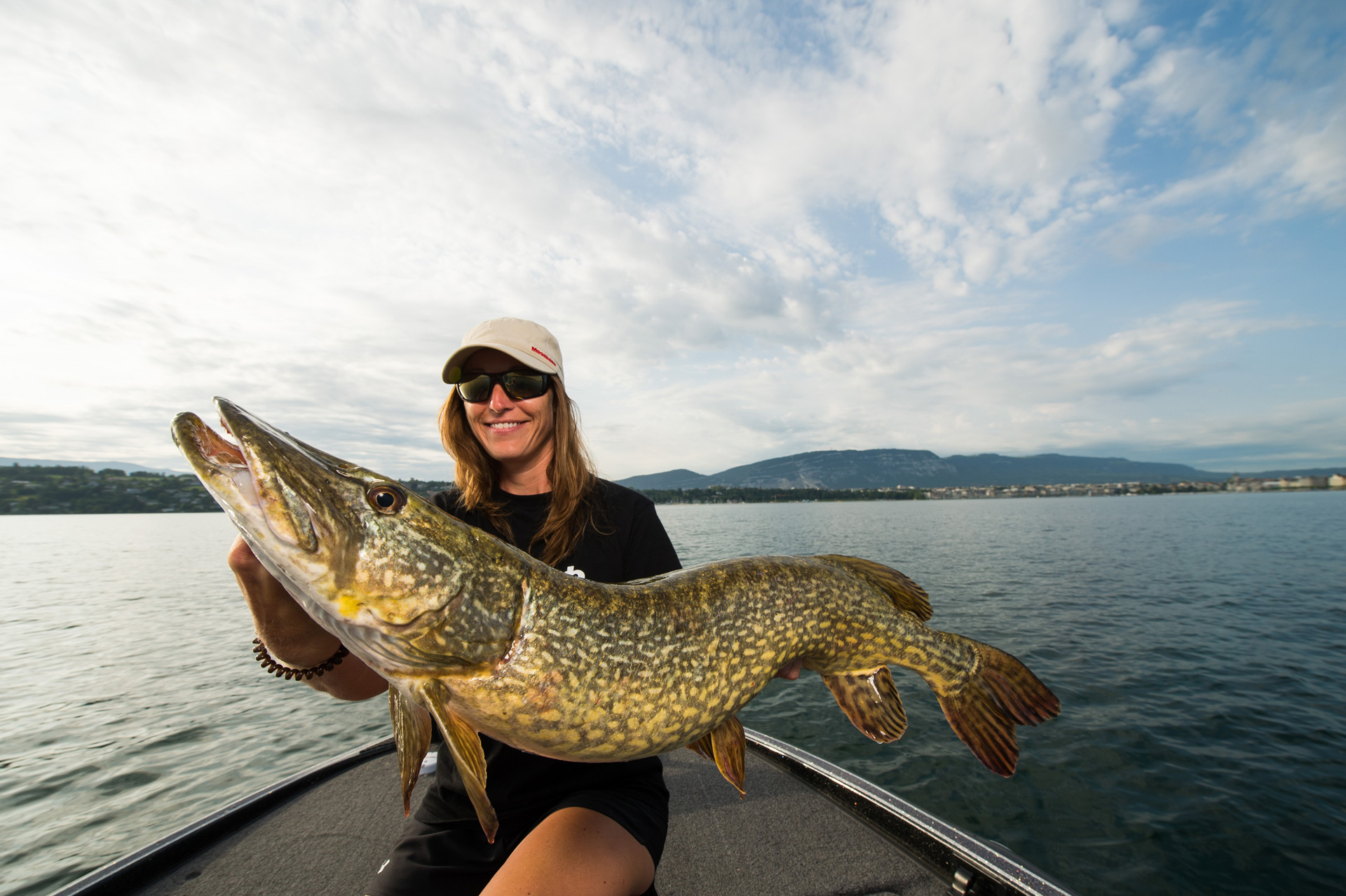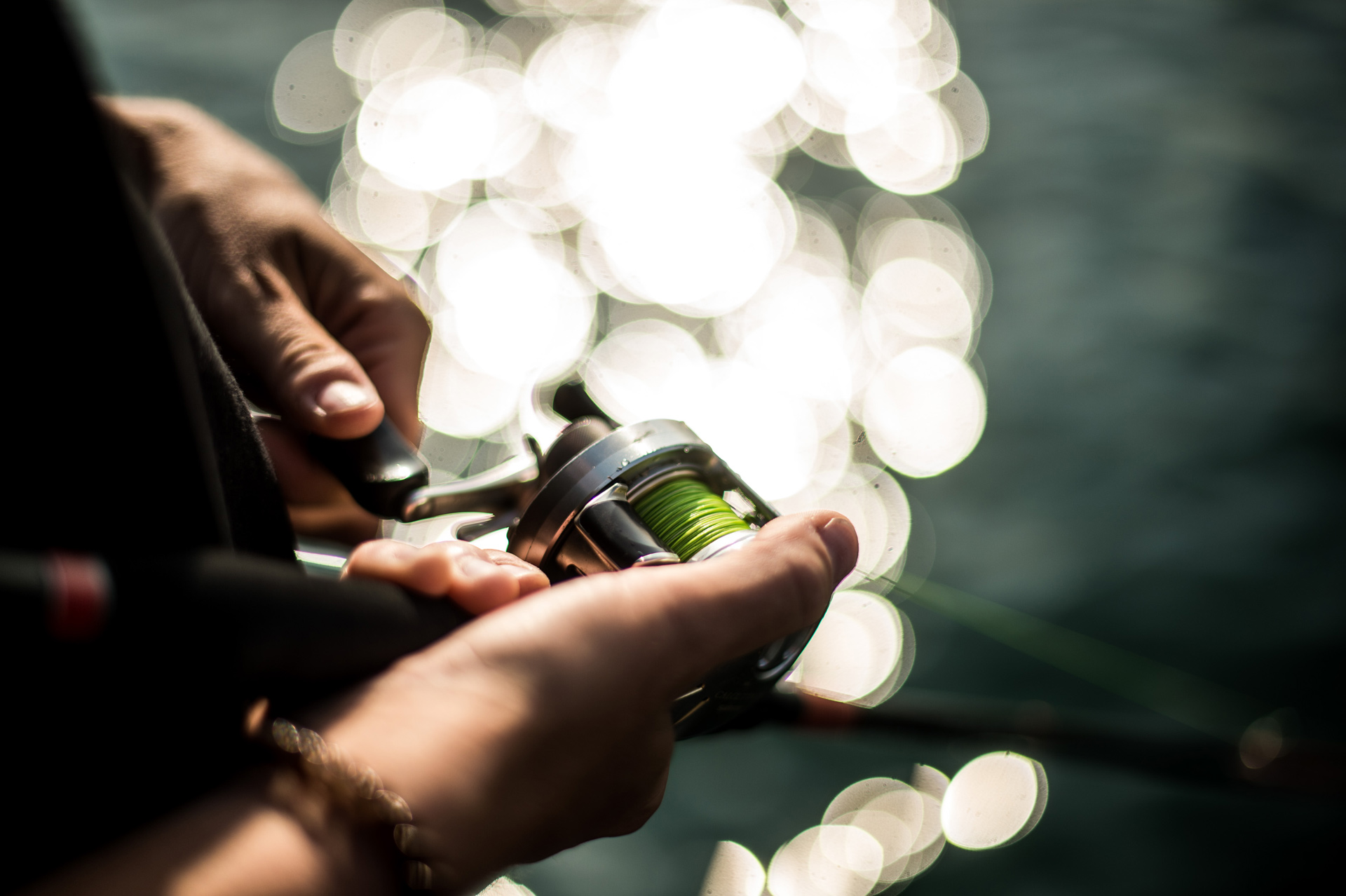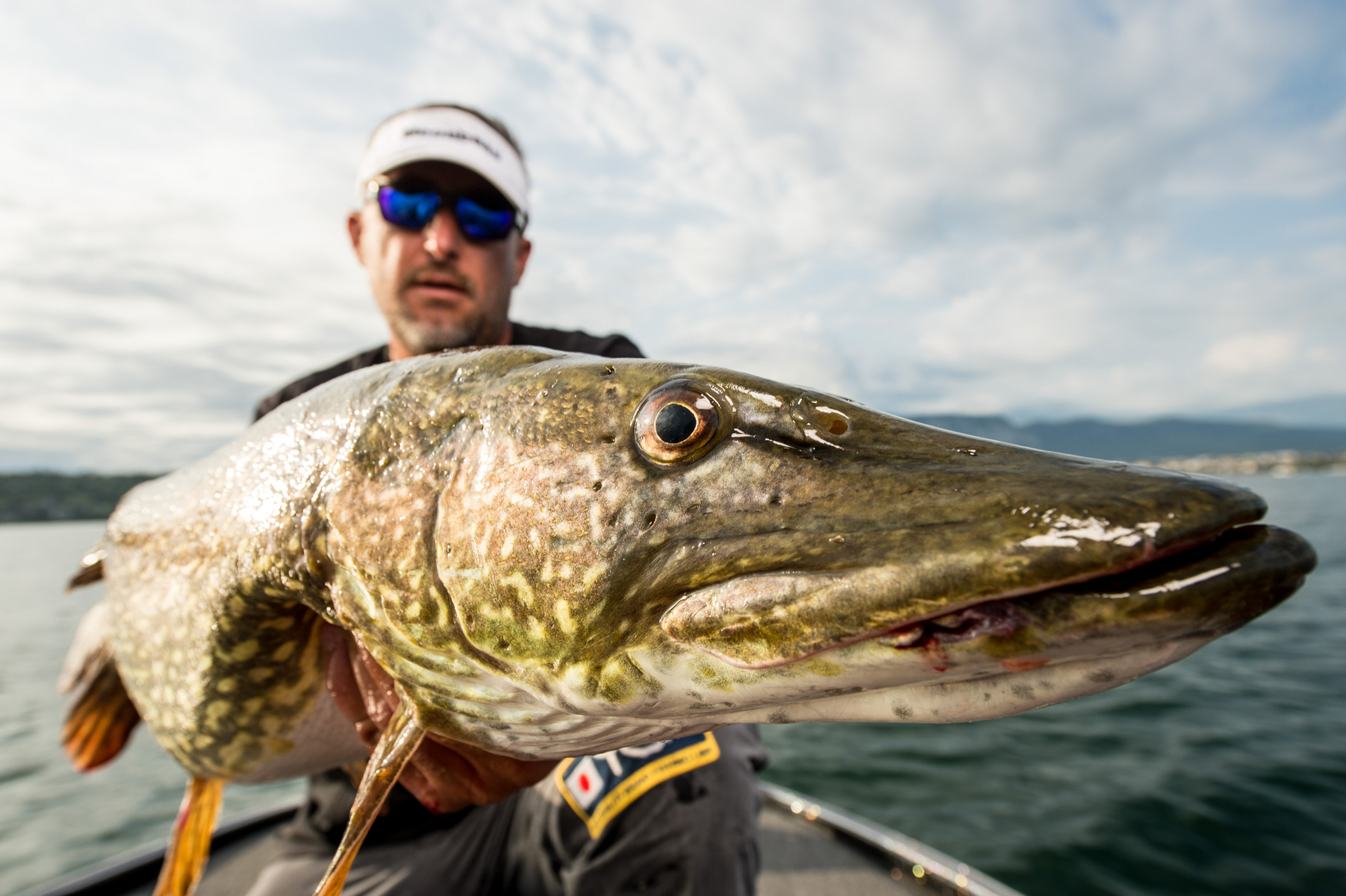 Loads of spots hold large schools of baitfish. Giant clouds of small perch drift by beneath our boat, sometimes they are joined by the monsters we long to catch. The lake bottom is full of large rocks and plants, the fish play hide and seek with us. Our monitor shows small groups sometimes but mainly it stays empty and sometimes it is deceived by the structures on the lake's bottom. An hour goes by, we joke around, cast and laugh a lot until suddenly there is a bite: a big pike on one of our giant lures. This one we manage to land, we throw the rules overboard getting the fish into the boat for Erwan to take some pictures, then we release this impressive creature back into its wet home.
Another hour passes. We drink coffee, share stories, but our adrenalin level is noticeably higher. We're still talking about the first catch when something bites down hard on Stephs lure. I rush over to help him, reel in and prepare the net. "A small one", he says. The fish surfaces, it is most definitely not small. This is a true monster, a pike of maybe 120cm, a real crocodile. First we see its gigantic head slashing through the waves. This is what we came to Lac Léman for. Every cast can deliver a bite, every bite can deliver a fish like this one. Just keep pushing and stay focused.
The atmosphere on the boat is magnificent. For me because I saw a crocodile for the first time in real life, for Steph because he caught it and for Erwan because you don't get something like that in front of your lens everyday. A superb moment. And the most beautiful part of it: we got to share it. Sharing the passion and joy, regardless of the size of the fish, is what we do it for, I think.