The End Crowns The Work
Long haul flights and travel get on my nerves. I possibly get lazier and less willing to compromise with age – but who in their right mind really enjoys sitting on a tight plane for hours on end? Obviously the addiction to stand in lukewarm water casting with a fly to one of the fastest and strongest bones in the Southern hemisphere will win out again in the end. So at least the plan …
The reason for my empty pockets recently is Mahé, the main island of the Seychelles. A very tempting destination – particularly in winter, when my hometown of Bocholt is afflicted by sleet, fog and temperatures below freezing. The last time I went there is 22 years in the past. Back then, the fishing by the locals was done without exception by boat and handline. Regardless whether they targeted barracuda, jacks or other fish.
My fly rod and I got pitied – even the odd catch couldn't change that. In the meantime there are more anglers standing up to their bum in the gin clear turquoise water. Fly fishermen are still laughed at because a good catch to the locals mean fish of 20lbs and upwards. To meet those you'll need a boat though, because few fish of such calibre ever get close enough to shore: I still maintain that some of them do and on rare occasions they are getting caught. If it doesn't work out as imagined I do what I usually fall back onto in such instances: I try convincing myself that catch rates and size are overrated.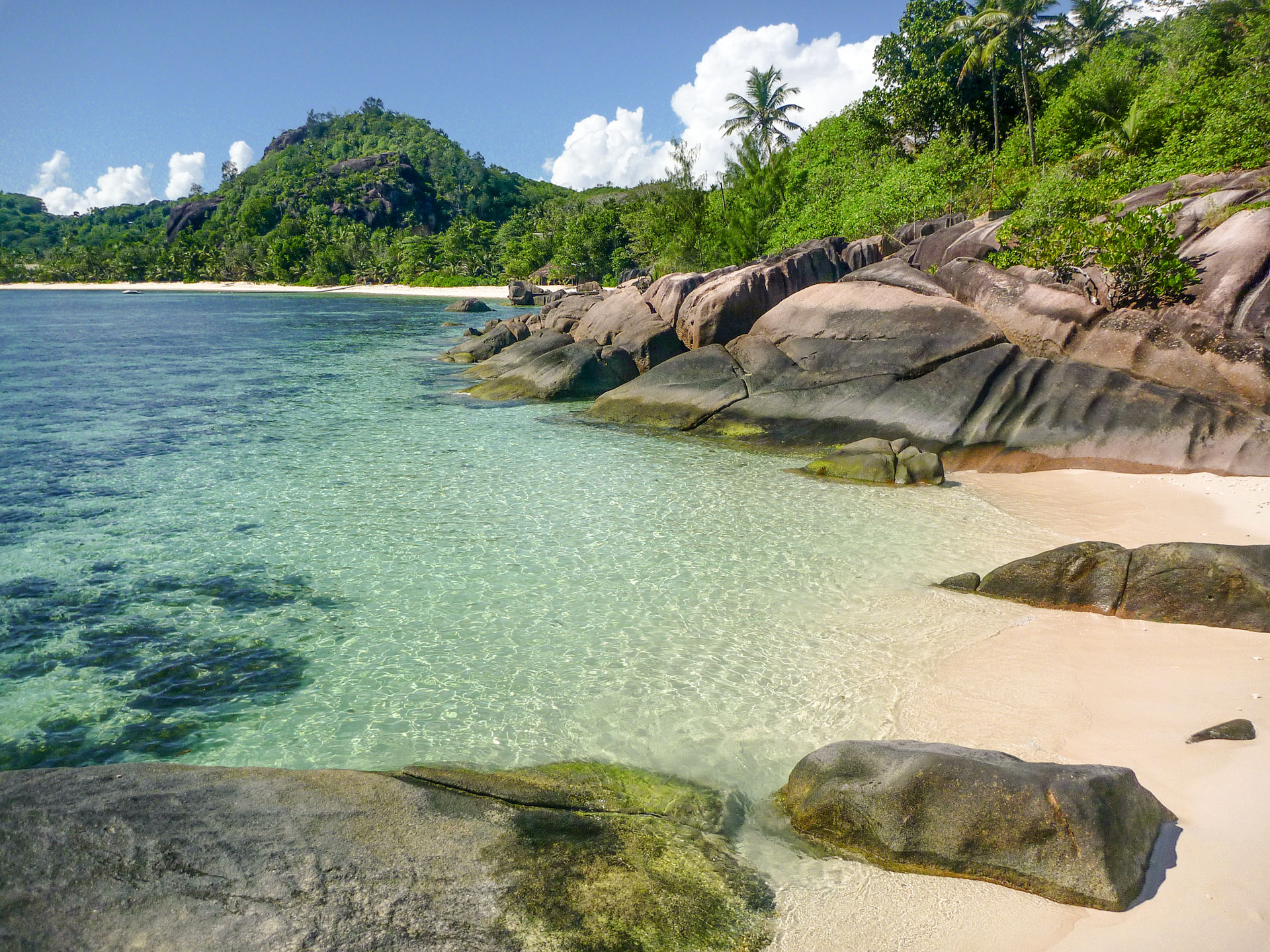 In search of adventure
Honestly, if you're after trophy fish you're better off visiting the outer islands such as Alphonse Island, Farquhar or Cosmoledo. There you'll stumble across record breaking pelagic fish. Fish of unbelievable size are spotted on a regular basis.
The region has a reputation of being the Holy Grail when in search of bad-ass, monstrous fighting machines. Its only disadvantage: it costs umpteen times as much to fish here. But that's not what my adventure is about. That is about my passion which is Do-It-Yourself fly fishing anywhere in the world. That means entering unchartered territory and looking for fishing spots that possibly no one else has seen before. It sounds nuts but is my motivation on all my travels – admittedly it is difficult finding unmapped fishing territory on the Seychelles. You'd have to visit different places on our planet to find untouched spots, where even the locals get lost. There certainly are a few nutters in this world in search of these type of adventures, willing to accept the one or the other risk in their pursuit. My secret hero Daniel Göz is one of them. But what I am trying to get at is, that I much rather prefer a fishing trip on my own account – no guiding, no boat, no flies handed over. The downside of such an initiative? It is possible to leave from a trip empty handed with no fish caught. But that's the purpose of an adventure.
This trip to the Seychelles was no difference. The adventure usually starts with plaguing thoughts of waiting around the baggage carousel waiting for your tackle in vain. It hasn't happened so far, but one day will be my turn, that much I do know. But everything went smoothly and we happily accept the key to our hire car. Which gives us our first fright. Left hand side traffic – I forgot about that! Not only do you drive on the 'wrong' side but all controls are inverted too. Indicator on the right and windscreen wiper on the left – for days I indicated a turn off with waggling wipers.
Our accommodation lies in the South West of the island. The drive there takes thirty minutes and is an adventure in itself. But then we spot it for the first time – 'our' Anse la Mouche. A grand name for a bay from which it is only a short distance to all other adjacent bays.
Even changing to the much better known Anse Royale would be easy from here. We've literally got miles upon miles of flats all to ourselves. It literally smells of fish – with all that seafood offered on the roadside.
Without getting to deep into tackle: bring an 8 weight and a 10 weight rod and you'll be fine. Unless you intend to hire a boat to go fishing for wahoo, tuna etc. They'd be laughing in your face with that type of tackle. And a GT would shower you simply in contempt with that sort of tackle. To tackle these bruisers you'd better be equipped with a 12 weight rod. You won't win a casting prize for elegance though – these bumper car poles are not meant to cast beautifully. Getting your fly delivered come what may is the name of the game. What's the point in the tightest loop, if the fly won't get delivered right in front of a fish's mouth.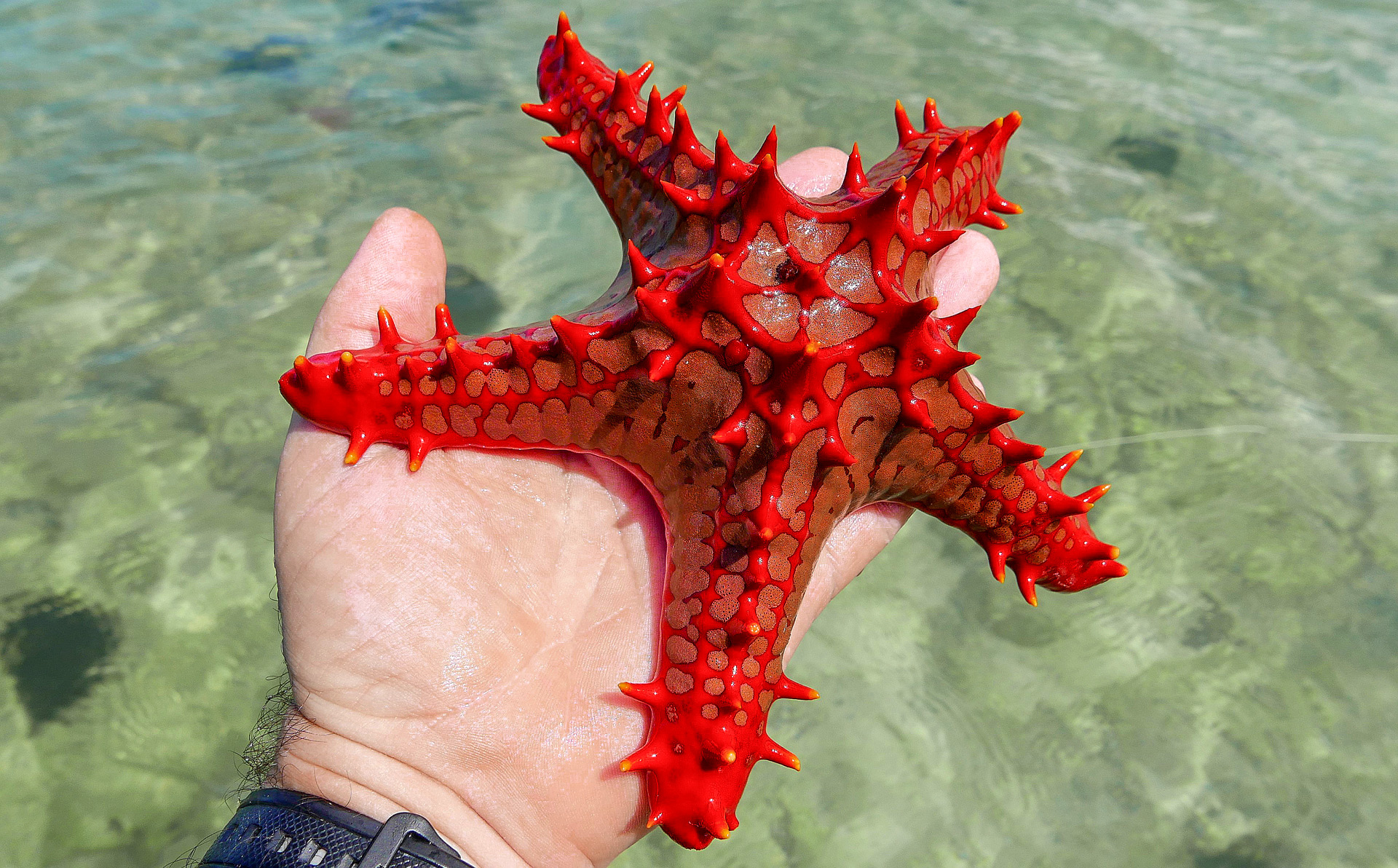 Tides are key
Most anglers head for a drink during low tide, which in itself is a brilliant idea. Truth is also: you'll miss the best chance to get closer to better fish. During no other time in the day will you get as close to the drop-offs and deep water than during low-tide. Place your fly in the surf, or even better, behind it. Hot flies for such areas are poppers. Brute force attacks out of nowhere will befall your fly. I love poppers despite the difficulty to cast them. Fishing them is highly effective and takes off them eye candy.
Quite often you hook a fish of a life time when fishing poppers. The emphasis is on hooked. We definitely lost more fish than we managed to persuade to follow us to a photo shoot. We, that are by the way my friends Wlodek from Warsaw  and Christoph from Bonn. Both are experienced salt water anglers and many trips to far flung corners of the world made us a well-rehearsed team. That's a definite plus when on a trip to a location such as the Seychelles. The changing of the tide is not without its risks. The most beautiful low tide won't last forever. In case you don't watch out you will have to make your way back swimming – water proof bags are a must here. It's getting really hairy when you're being swept up by a wave and dragged across the reef.
The sharp coral will leave cuts all over your body. That happened several times to us – luckily without severe injuries. In the end we were comparing our wounds over a beer like trophies, resembling Roy Scheider, Richard Dreyfuss and Robert Shaw in Jaws. No pain no gain that's what they say – besides you'll have stories to tell to your folks back home.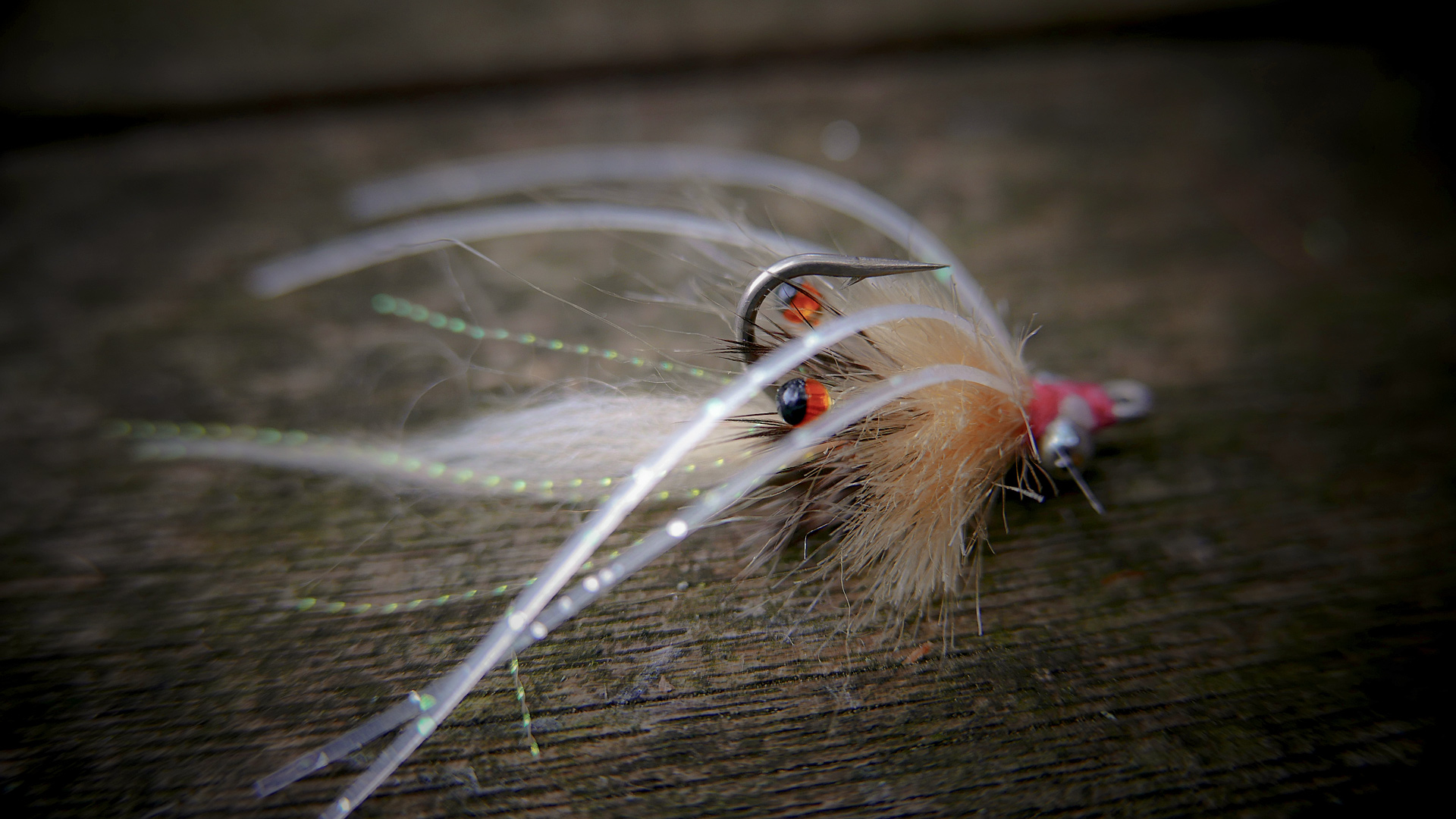 The Allrounder
Crab imitations are the ultimate killer flies. Be it emperors, wrasses, trigger fish, jacks or stunningly beautiful Indo-Pacific permits – they are all keen on shellfish. In case you see dark shadows nearing your casting range you better get your streamers on quickly. By the way: the highest concentration levels and eyes like a hawk are no guarantee to spot these baddies in time. Large jacks are speed merchants. Always on full throttle they approach you as if they were wanting to eat you. If you're lucky you get two or three casts at them before they are gone again.
The show is over as quickly as it came on and you'll further search the drop offs. But if you hook one of these Rambos on the fly rod, the ensuing battle may last well over an hour.  Now is the moment of truth: has your tackle money been spent wisely, will all that time in the gym pay off? Often a fight ends in loud curses ringing across the flats and rods shred to pieces. In case you'll end up the winner of the battle, you'll never ever forget that throughout your whole life.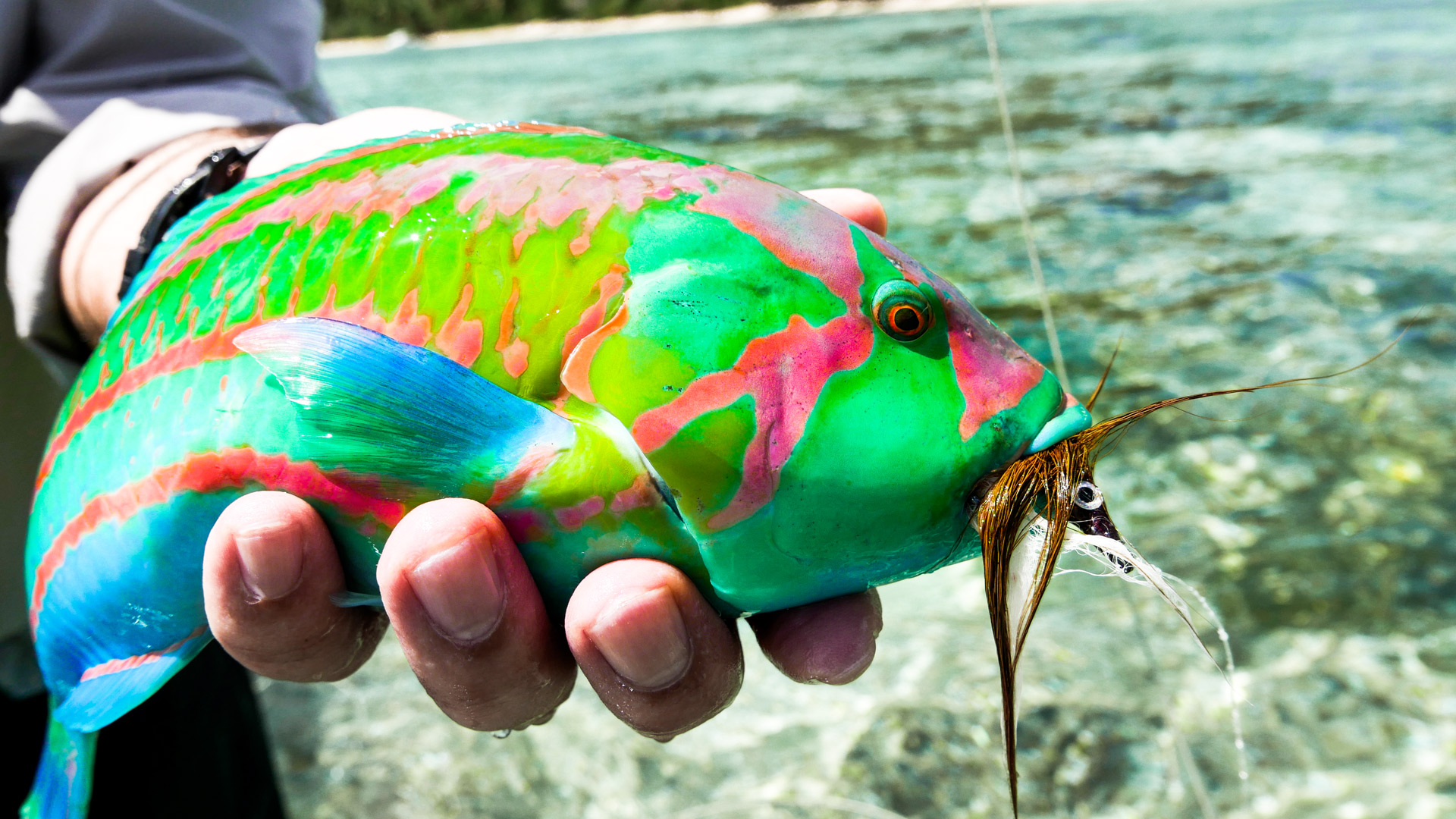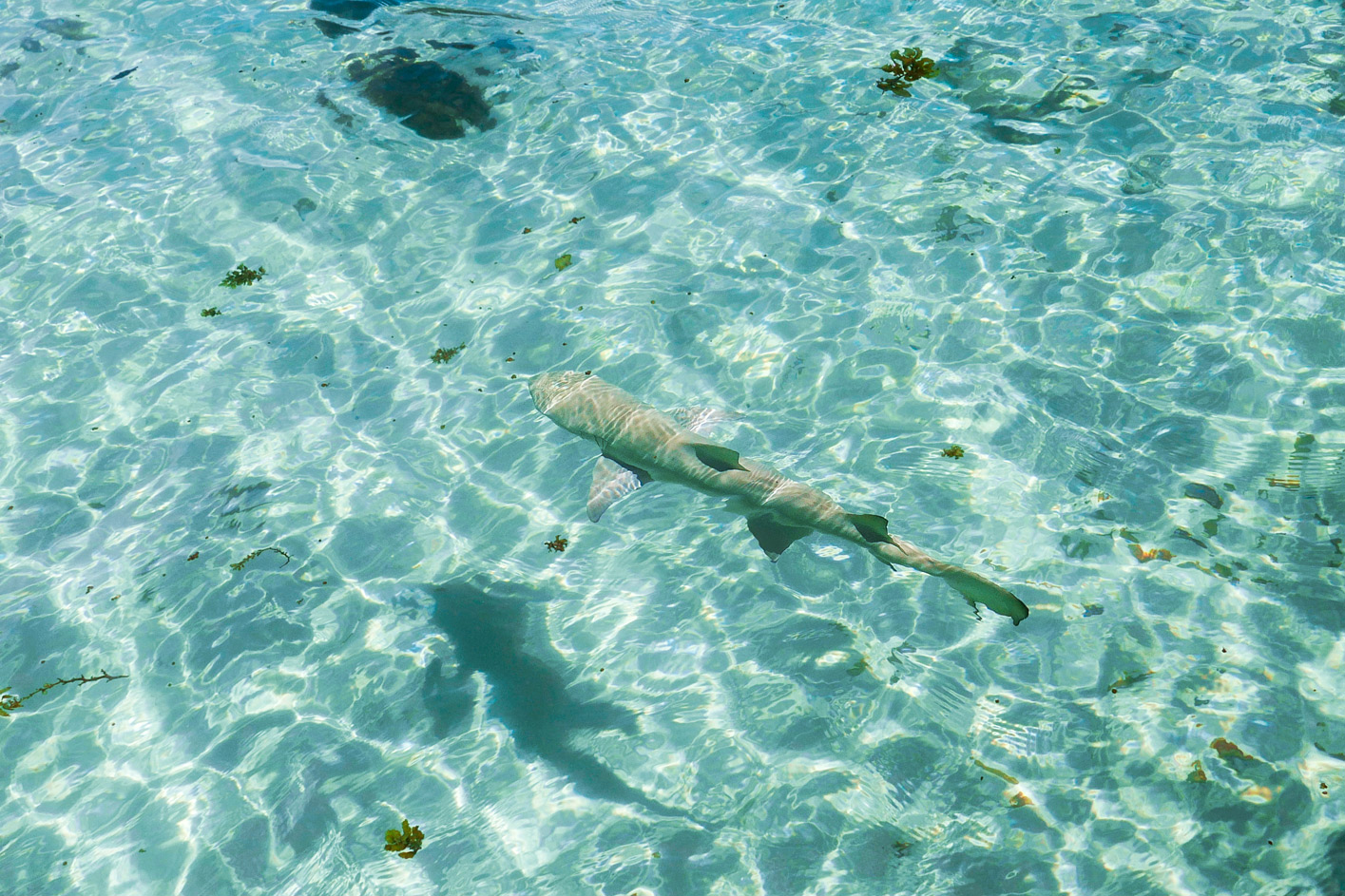 Small yellow shark
Besides the usual suspects the odd exotic prey will find its way to your fly – such as a baby lemon shark right on the beach. It leisurely laps over the sandy bottom over and over again. Usually nocturnal predators follow your fly with some interest but won't have a go at it. Not this fish though – the streamer must have smelled of previous catches for the shark to quickly attack and in an instance the hook sat in its scissors.
To our surprise the 3' long fish already had a hook in its mouth. Heroically we removed all hooks with extra-long forceps. Not an easy undertaking with the shark wriggling about, its razor sharp row of teeth in full view. But visiting the local hospital was not on my list of things to do – I guess on a fully grown 9' lemon shark we would probably have refrained from unhooking the fish.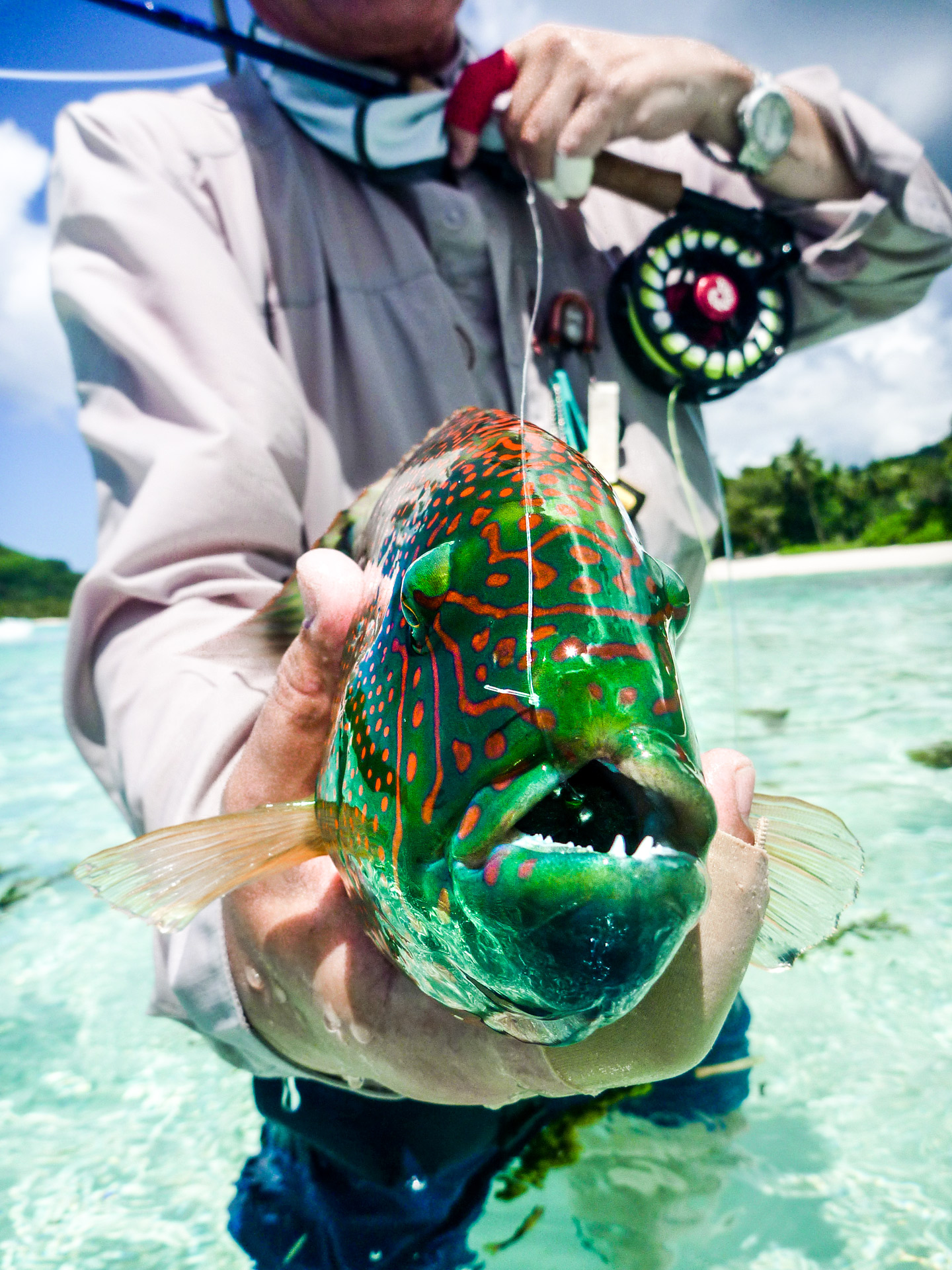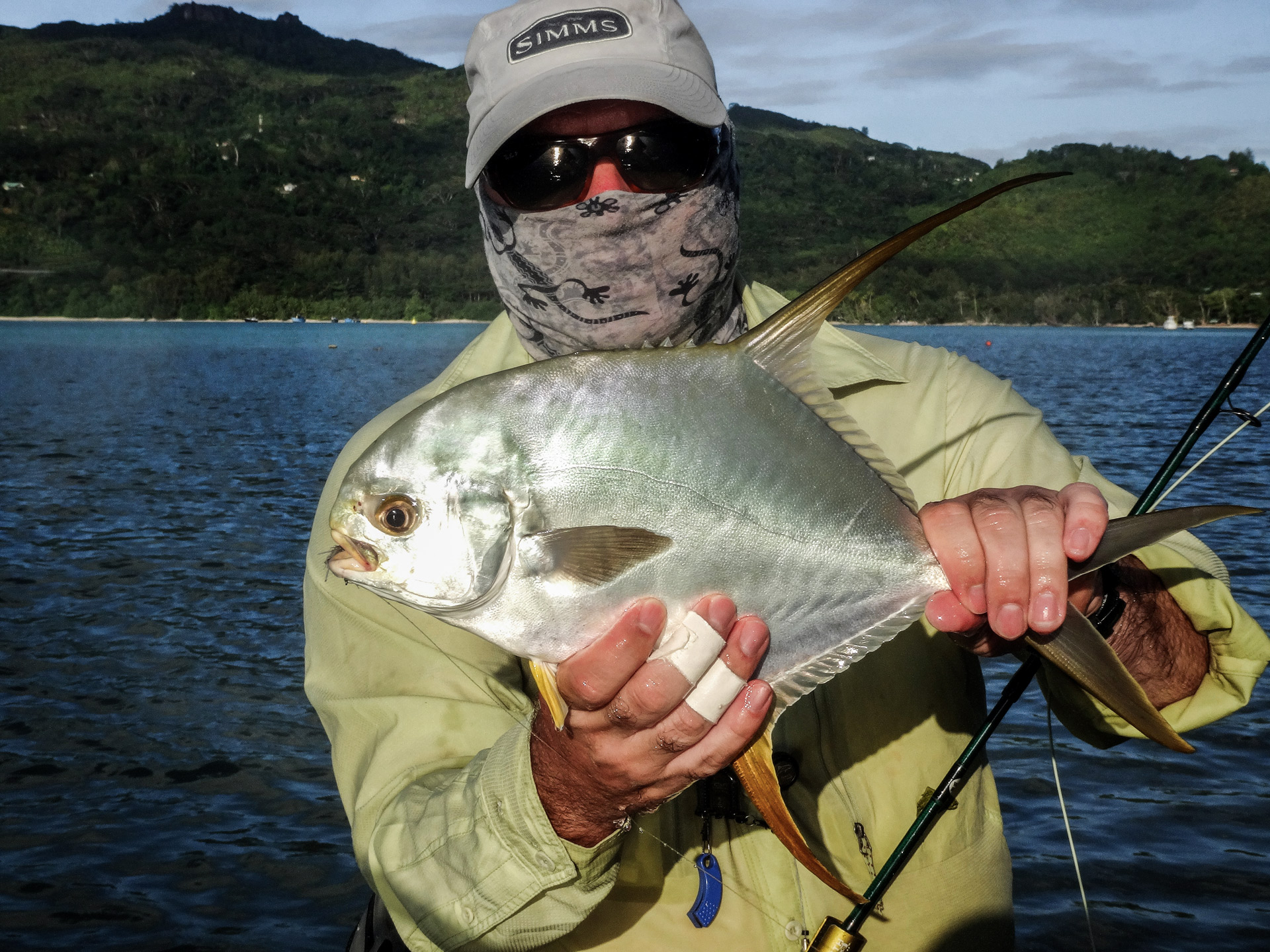 Tide is high
With the rising tide fish start coming to the flats again. But suddenly the beach that harvested one fish after the other the previous day, is totally dead under seemingly the same weather conditions. We could make out a similar phenomenon with bonefish – we didn't manage to get one of these silvery beauties in front of our flies. In my experience I would not classify the main islands Mahé as a reliable mecca for bonefish. They are rumoured to be here and on other days they might show. But the chances to hook one of the beautiful and really strong jacks are really high. Bright and colourful Indo Pacific Permit are also regulars here.
To me the most beautiful permit of all anyway, if not THE target fish at all. Conclusion: if size of fish is not the absolute top priority, the Seychelles score through the overall beauty of the island and coming to fish here really is an unforgettable experience. There are truly just a few destinations worldwide that resemble what one commonly refers to as paradise. Mahé is definitely one of them.
The island's motto Finis Coronat Opus – The End Crowns The Work couldn't be more fitting. We depart the islands with a sense of achievement, safe in the knowledge we spent a fantastic week here. We'll be back …
To our surprise the 3' long fish already had a hook in its mouth. Heroically we removed all hooks with extra-long forceps. Not an easy undertaking with the shark wriggling about, its razor sharp row of teeth in full view. But visiting the local hospital was not on my list of things to do – I guess on a fully grown 9' lemon shark we would probably have refrained from unhooking the fish.