Tony von Bornstädt is, so to speak, an "old" acquaintance and, as he says himself, a SCALE reader from the very beginning. The man from the north lives with his two twins and what he affectionately calls the best wife in the world in Schleswig-Holstein and thus within throwing distance of the Baltic Sea. His roots, however, lie in beautiful Mecklenburg-Western Pomerania, where he also found his love of fishing over 30 years ago. His fishing grounds include the countless possibilities of the Mecklenburg Lake District as well as the waters around Rügen and Denmark. He was able to inspire his children for fishing at an early age and so the holiday to Sweden with the family, which takes place at least once a year, is one of his fixed rituals. For the passionate family man, there is nothing better than seeing his two twins enjoying themselves when it comes to fishing for perch and roach.
For Tony, shared experiences on the water are the be-all and end-all of fishing, which is why he has been travelling with friends at least once a year for many years to exciting fishing destinations, sometimes on Bornholm, in Sweden and Slovenia or even Spain.
Anyone who knows Tony will quickly realise that fishing plays the most important role in his life, next to his family. So, what could be more obvious than to ask him if he could contribute an article. No sooner said than done: Tony accepted our request and took us to one of the most beautiful fly-fishing areas of all …
Grayling Paradise Lapland
Today I put the last bits of my equipment from our Lapland trip into the cellar. In the process, I came across a thick piece of moss that somehow found its way to my home. It was still very soft and smelled extraordinarily spicy. It brought back memories. It all started almost exactly two years ago with a "let's-do-something-crazy" idea. Lapland, loneliness, adventures around the campfire, outside any civilisation – the plan was quickly forged and soon after it started …
"Now we're screwed" was the thought that went through all our minds as the helicopter took off and did a lap of honour over our heads after dropping us off somewhere in no man's land. No road, no cabin, no mobile phone reception – the location was about 40 km north of Kiruna and we had wanted it that way. Ten pieces of luggage with tents, fishing gear, clothes, various equipment, food and a rubber dinghy lay spread out in the ankle-deep moss. We were where we wanted to be and now there was no turning back. We looked for a dry spot on a hill and set about preparing our base camp for the next few days. The river glistened in the twilight and hardly anyone could wait to make their first casts.
The following nights were starry and freezing cold and two to three layers of thermal clothing in the down sleeping bag were necessary to get through the night reasonably warm. Given the air and water temperatures, everyone's morning body care was quite short and only a breakfast of cereals and hot campfire coffee slowly brought back the spirits. And because things that work at home at the push of a button sometimes take ages in the wilderness, we didn't get to fish until the morning of almost every day.
But what happened then made up for one or two cold nights. The fishing exceeded all our expectations. The section of river in front of us turned out to be a true grayling paradise. It only took a few casts to hook one of the beautiful fish and the choice of flies didn't really matter much either. Obviously, the fish were in a feeding mood and since hardly anyone had fished in this seclusion, they were coming in at a rapid clip. The sizes were also particularly impressive. The average was a good 30 cm, but every day we put several banner fish over 40 cm on the scales. The largest specimens were usually in their mid-late forties, which was remarkable given the otherwise sparse food supply and the seasonally narrow window of opportunity.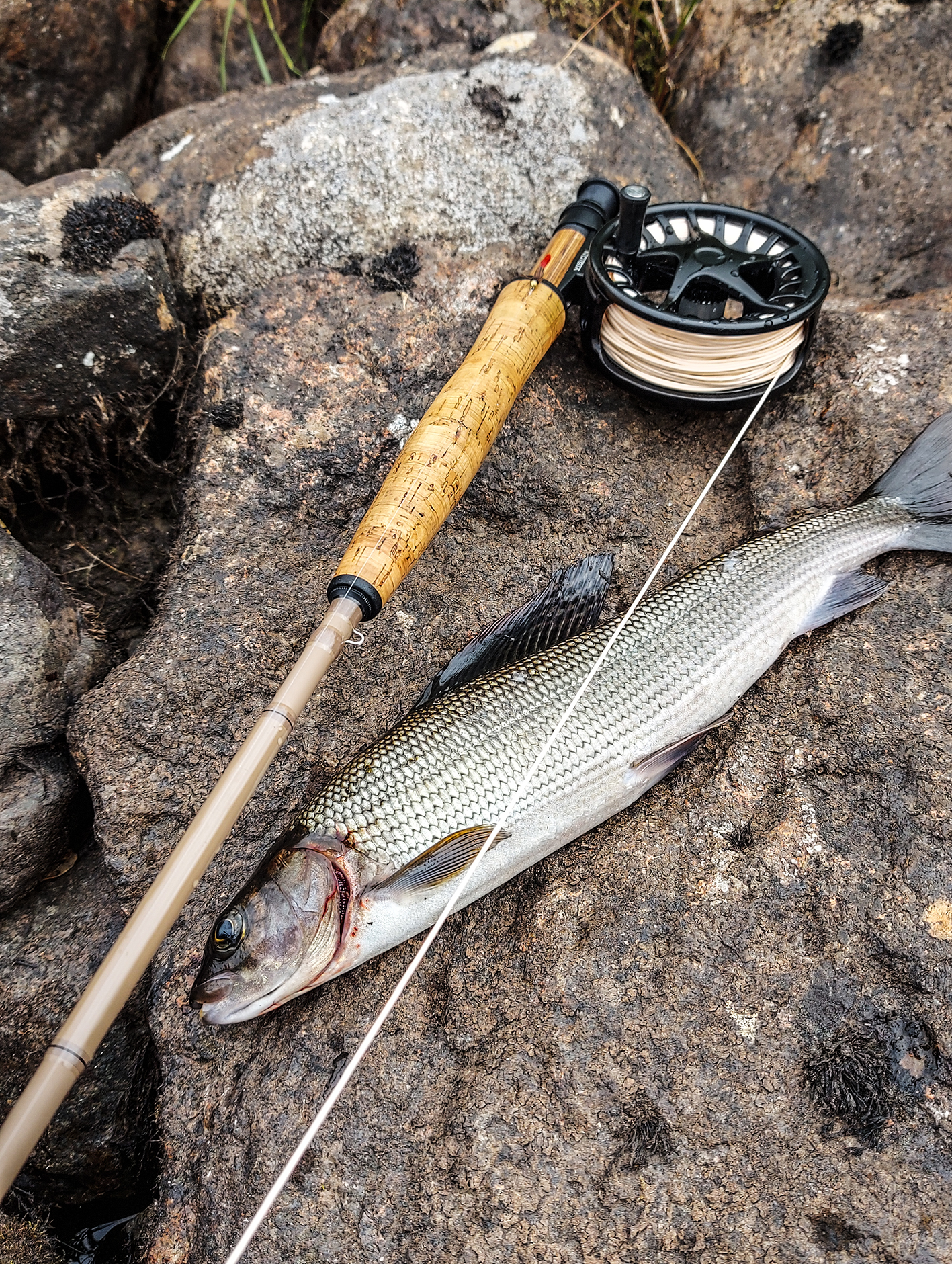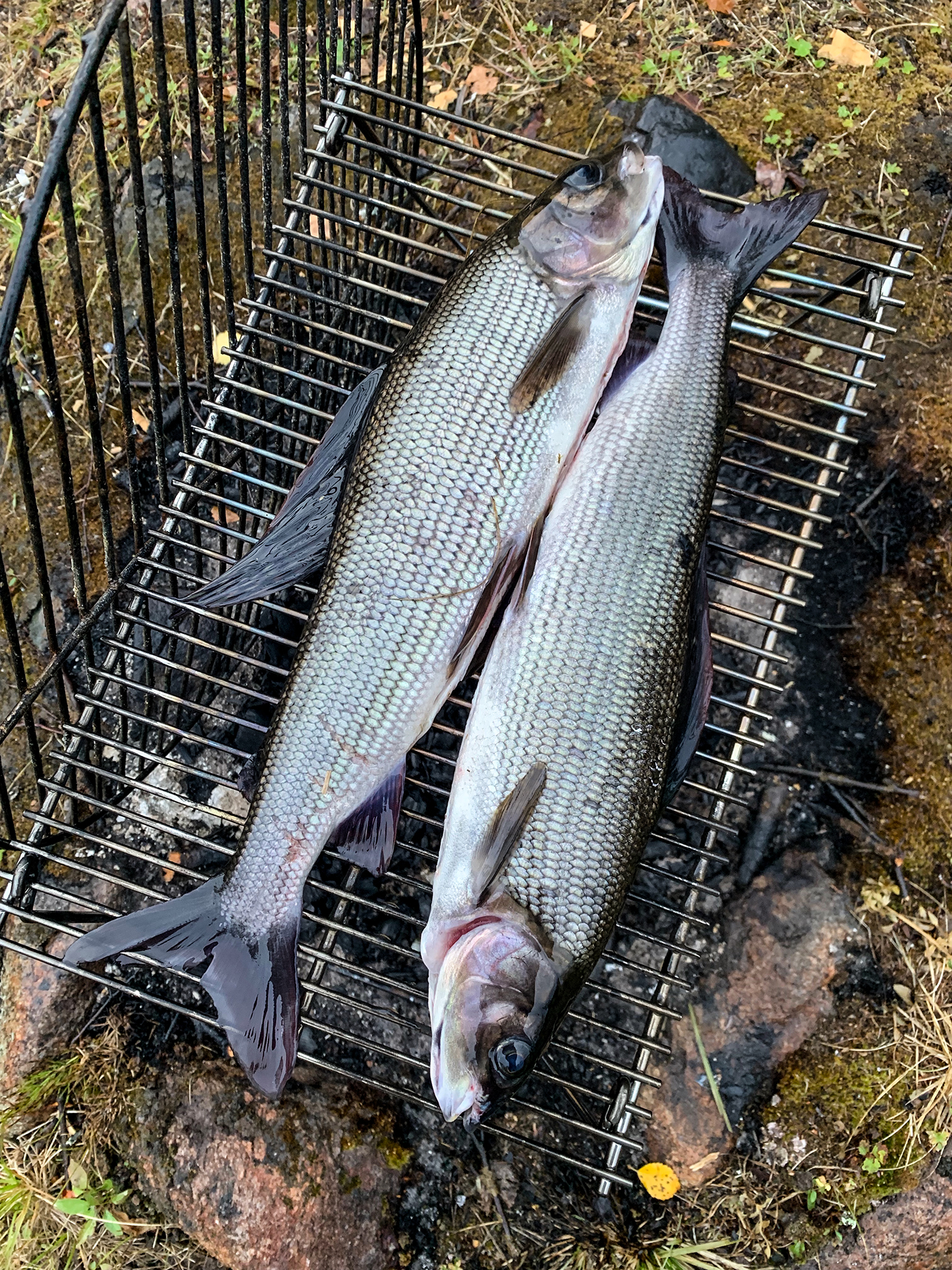 But our spot had even more to offer: If you ran upstream in the river or along the bank, after a few hundred metres you reached a lake that seemed very promising to us. It did not disappoint us, and the first casts already brought perch and pike in nice regularity. It felt like there was no perch under 25 cm and the average was clearly above 30 cm. We also hooked several pike and often just missed the metre mark.
The crazy thing was that all the fish were biting on all the lures! Grayling were on dry and wet flies or streamers. But we also caught a few on SpinMad on a steel leader! We caught pike on grayling that had previously taken our fly! We caught perch on 20cm pike flies and pike on 5cm trout plugs. What happened up here so far north we wouldn't have thought possible and nothing comparable has happened to any of us before. Good for us, because this ensured a protein-packed dinner every day. Whenever the weather was kind to us, the campfire was lit and shortly afterwards we had a choice of perch or grayling.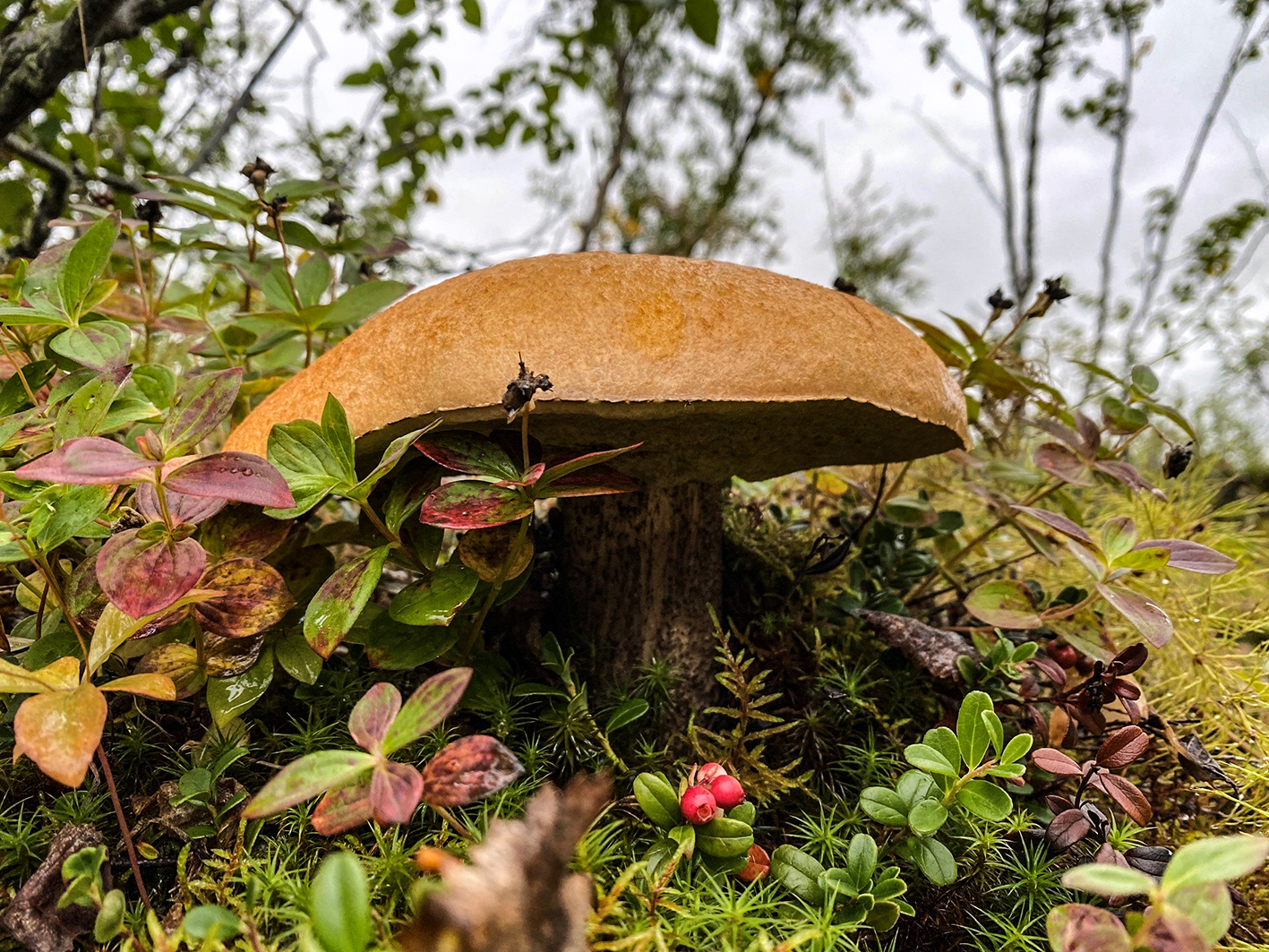 It could have gone on like this from our point of view, but after three days massive rainfall started. Land rain. Break in the rain. Continuous rain, no break. Pouring rain, followed by land rain. The sky hung low and dark over the camp. But that didn't stop us from getting into our waders, anyway, taking boat trips in our inflatable kayak and exploring the river down to the big lake. And the picture was the same: despite the change in the weather and regardless of whether we used fly or spinning rods, we could count on two hands the number of casts that didn't catch any fish at the end of the day.
On the second rainy day, a small river ran through one of our tents and a change of sleeping place became necessary. Our cherished campfire was no longer possible because the rain ruined any thoughts of it. The gas burner we had brought with us, lit in the awning, nevertheless enabled us to have warm meals. But somehow it became more demanding and above all more uncomfortable: On the third day of rain, the tent seams began to drip, but we still went to the water. We caught a few more fish in the next few hours, but when we were washing up in the river, we had the idea of asking the helicopter pilot via emergency satellite phone for the weather forecast for the pick-up day. The experienced frequent flyer was obviously also worried about the visual flight conditions and offered to pick us up that same evening. Wet and frozen through, we accepted thankfully.
Back at the lodge from which we had started, four completely happy, if somewhat smelling men spread out the contents of their duffle bags that very evening and treated themselves to a first well-deserved beer. This trip into the Nordic wilderness had been worth it. We wanted to surrender to the elements, and we did. We happily summed up that thanks to the cohesion of the group, there was never a bad mood in the face of the gruelling conditions. In the end, everyone perceived the tour as a unique and great experience and each of us will certainly remember the fish and nature for a long time. Finally, I would like to thank my companions Holger, Koni and Alexander for this extraordinary trip!
I also don't want to forget the man who made sure that everything went smoothly: thanks also to the trailblazer and organiser of the trip Carsten Dogs from pukka destinations. It couldn't have been done any better …