By Ralf Haeger

Editor's comment:
Who is Ralf Haeger?
Ralf has been fishing since early childhood, always interrupting this and/or taking a back seat when other passions took over or his professional life took precedence. As a climber he travelled the world for over 25 years, where he sometimes he would – completely unselfishly – supply the evening fish protein. Ralf was and is mainly active in the film business as a stunt coordinator, with leading positions in productions such as POINT BREAK, JOHN WICK 4 or MATRIX RESURRECTIONS. At the moment, he is again dedicated to travelling the world with his newly-acquired van on a fly-fishing mission.
When I returned from a trip to the north of Sweden this summer, fishing mainly for big grayling in the Ammarnäs area, an initial idea had turned into a decision: I need a bigger and, above all, off-road vehicle for my further fishing trips. I wanted to be more flexible and independent, to be able to look after myself and stay overnight where I liked.
My research on the Internet ended with me becoming the owner of a 4 x 4 Hymer RSX Grand Canyon just a few days later. A spontaneous purchase that it was better not to think about for too long. The car cost me a fair amount of money, but it also offered a lot of technical and visual finesse. My next big fishing trip was a long way off and since I wanted to get the vehicle into action as quickly as possible, I had to find something quick for the maiden voyage.
I called my friend Stefan, who lives in Hamburg and is the founder and editor-in-chief of SCALE magazine, to get some inspiration. Maybe he had an idea and even wanted to come along. He had. He told me about one of his trips to the Irish coast, where he fished for sea bass with a fly rod and which he really wanted to repeat. I liked his stories and suddenly I remembered the article he had published about it in SCALE. The tourist low season of September/October seemed to be just the right time, both in terms of the decline in general tourism and the expected fishing opportunities. By the way, you do not need a permit to fish in the sea (unless you are fishing for sea trout). The minimum size for sea bass is 42cm and you can take two per day. That's all I needed to know and observe. 
But first there were a few things to sort out. I had to coordinate appointments for my job, my new expedition vehicle, which I simply christened "Hermann", had a few teething troubles as a costumised vehicle, and Stefan had to check his calendar for a suitable date. Because he could not make a firm commitment and there was the option for him to join us later, I simply drove off.
The car is loaded with all sorts of rods and tons of other fly gear, because it's September and the trout season in Ireland is not over yet. There are also supposed to be pike, and because of my limited experience of fishing for sea bass, I want to have fallback options and be prepared for all eventualities. I was last in England in 1992, then on a different mission, and I want to cross via Calais. However, not by ferry, because in the meantime there is a tunnel that is used 2-3 times an hour by trains that take all kinds of vehicles to the other side within about 30 minutes. I notice that since the UK left the EU, they seem to be very strict about what foreigners are allowed to bring into the UK and neither the French nor the Irish make such a fuss about it. I continued to the west coast and took the ferry from Fishguard to Rosslare Harbour. I arrive in Ireland at 4 a.m. and drive one-and-a-half hours to the Hook Peninsula. My travel app tells me that you can park your vehicle at Hook Head and spend the night. On dark narrow roads with left-hand traffic, guided by a sat nav system that does duty by the book and pays no attention to the dimensions of my truck, I arrive tired at my destination.
Sunday morning shortly before 10 a.m., windy, the sky sunny to overcast, pleasant temperatures, a lighthouse and lots of sea – where are the sea bass here? I have to explore the area. But first I have to do some shopping, and what day of the week is it? Are the shops open at the weekend? Questions upon questions.
Regardless of the day of the week and the weather, the coast here looks spectacular and seems to consist more or less of cliffs. A local spinning fisherman shows up. Too much weed in the water, he thinks. However, there were "bass" here last Sunday, he reports. After exploring the area on foot and via four-wheel drive (there is a nice little harbour on the opposite side), I fly fish from the shore in the evening. I see other tourists fishing and a local angler disappears purposefully across the fields towards the sea. I fish my way along the coast in his direction, only to find that it is getting more and more difficult and that even at his spot only steep rocks make fishing almost impossible. Getting an idea of the situation is enough for me and I end the first, albeit short, day of fishing.
The next morning I set off again. Now I'm off, following the coastline, somehow finding roads that bring me close to the beach or the coast. Nearby I find a beautiful bay: Tempelton-Houseland. After exploring on foot, I reverse into the cul-de-sac to the beach, because turning around is impossible. Rod out, waders on. My tide app, which is also new, predicts rising water and little wind. Perfect conditions, then. It's a bit reminiscent of sea trout fishing in the Baltic Sea, but here the tidal wave has much more power despite the lack of wind and brings along lots of churned-up weed. The sandbank I go to is easy to navigate. But the way back is tricky. Of course I realise that the Atlantic, or whatever the sea is called here, has a serious tidal range. But the distance over which this three-to-four-metre difference in height has an effect depends on the "slope of the shore".
I move on and drive south along the coastal roads. Now I have to go shopping and look for a camp site, especially to fill the water tank. I'm tired and want to sleep somewhere – preferably somewhere that doesn't bother anyone and has a sea view. My camping app shows me the way and leads me to a camp ground that is already closed. So recheck. "We close at 20 p.m., but if they say they are coming, someone will be waiting for them" … Coastal road back …  just in time. Oops, they have different power plugs here! "No, we can't sell you one, but we can lend you one". Perfect – now we just eat, read and sleep.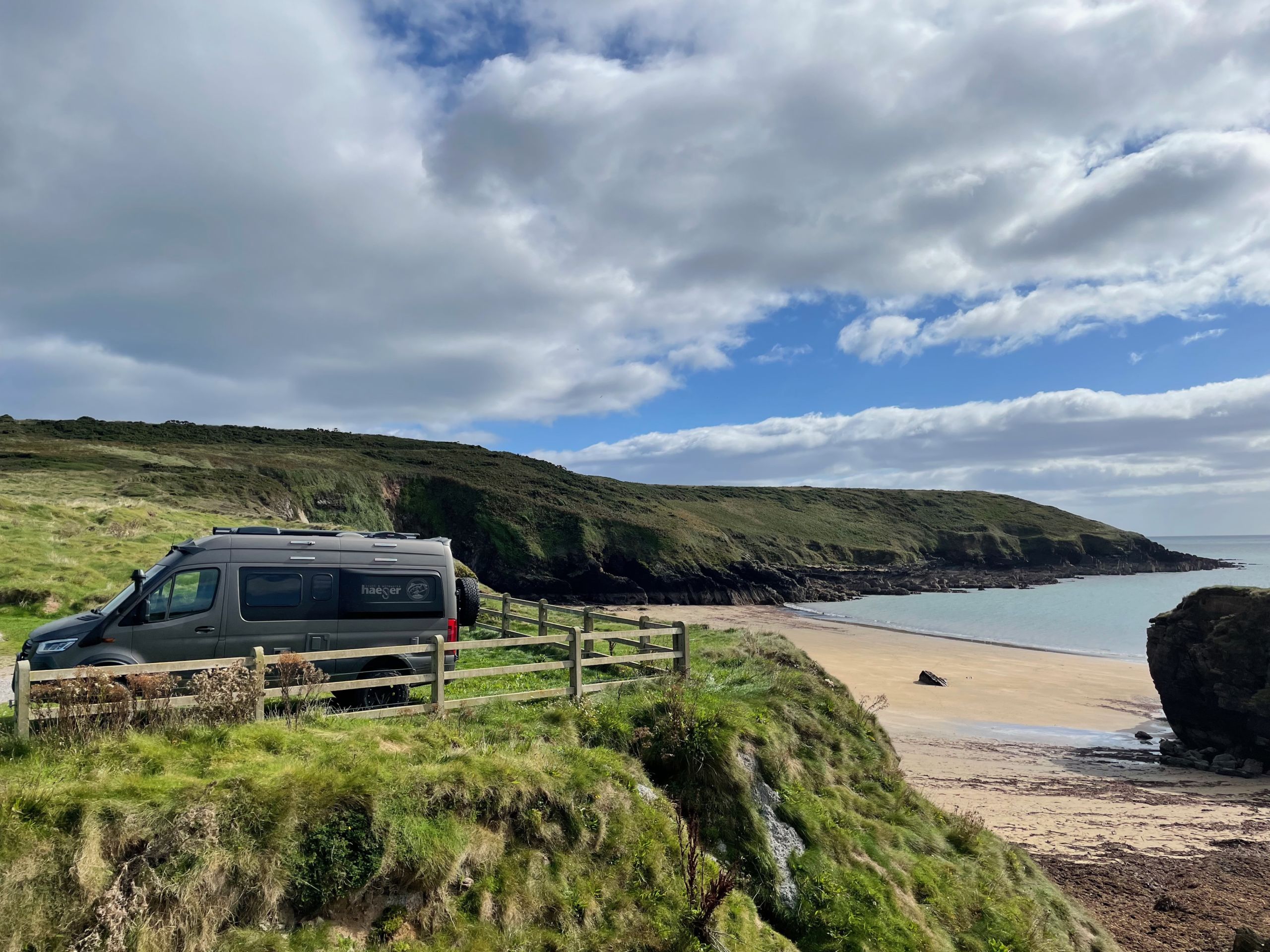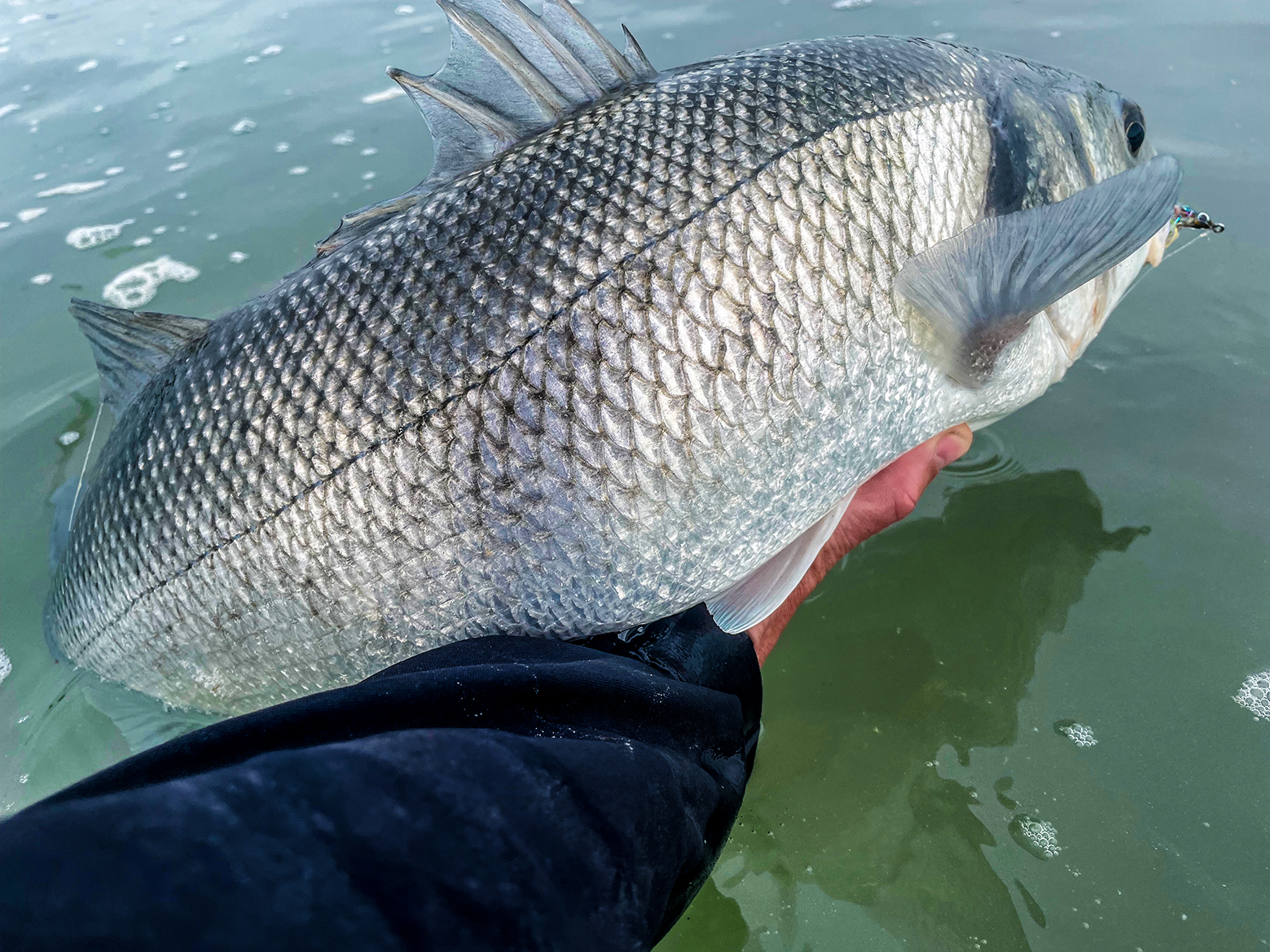 Hello south coast, goodbye mudguards
The next morning I get my motorhome ready for take-off. Fill the water tank, drain the grey water, toilet is still unused. I am in Tramore near Waterford. The campsite warden says there's sea bass fishing on the beach outside town and he's seen a fly fisherman there before. I'm full of hope, but it's all too crowded for me here. Moreover, it is difficult to find a free place to spend the night. A circumstance that will continue throughout the entire trip. Very often, two-metre  barriers are installed at the parking areas – entry impossible, turning difficult. At some point I tear off my mudguard, but tape and cable ties help with the repair. I continue south along the west coast, check the map and tides. At Anneston-Benvoy I find a beautiful beach and the low tide shows me the rugged, overgrown ground. It all looks very promising. I make a walk plan and wait for the rising water. But as so often happens, there is soon a change of plan. As it turns out, the reef has very limited access and there is a danger that the tide will cut off my way back. I plan to fish from the smooth beach. However, the tidal current loosens too many plant parts here as well, which prevents relaxed fishing. The wind also picks up strongly – abort.
At the car park I meet a spin fisherman who seems to know what he is doing. He shows me the way to a hidden bay where he himself wants to be active today and recommends that I fish no more than one hour before the high tide and no more than one hour after. I put my waders back on and and just hurry after him. Damn – not my wind, so beach casting. The tide wrings precious metres from me and forces me into the surf because of the approaching steep wall. Unbelievable the power of the tidal wave and annoying when your back is to it.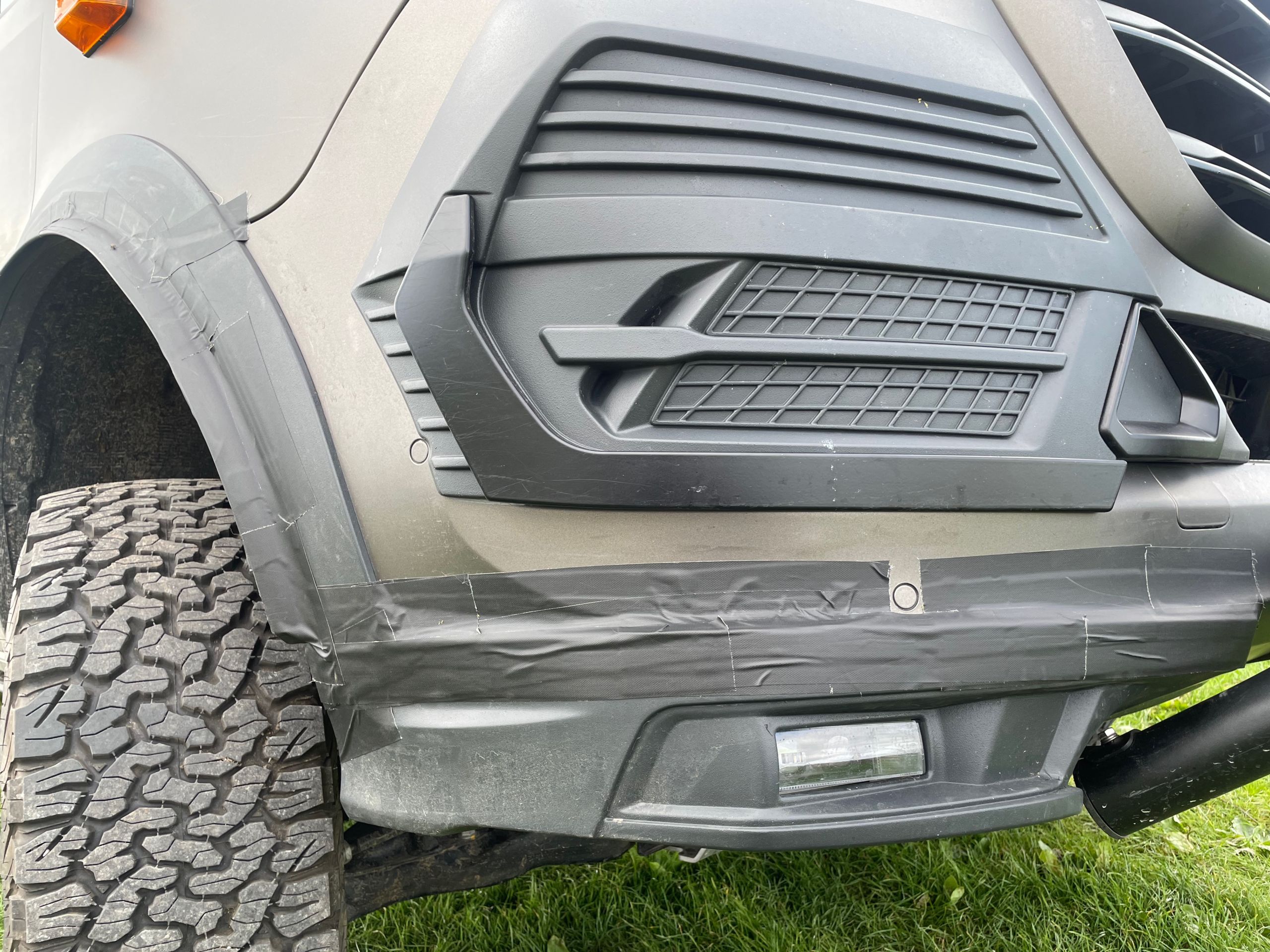 It's getting to be evening and I set off. Still no fish and it seems to be more difficult than I thought. The sea here definitely has more power than the Baltic and has also knocked my legs off several times. Jumping up and dancing out the wave doesn't work here. My STAYFREE app points to what seems to be a nice spot, which I soon reach and where someone is already standing. A Portuguese photographer who has been living in a camper van with his girlfriend for five years and who, during the conversation, recommends the app PARK4NIGHT to me, which then becomes my constant guide and advisor on this tour. Over the next few days, I continue to try to find suitable spots for fly fishing in the sea. The new app is a revelation when it comes to finding a pitch. In the meantime, I'm back in touch with Stefan, whom I've offered to pick up in Dublin should he join me. My good mood is changing somewhat, because I am being informed of the dates of professional meetings for which I have to fly to Italy "briefly" during my holiday.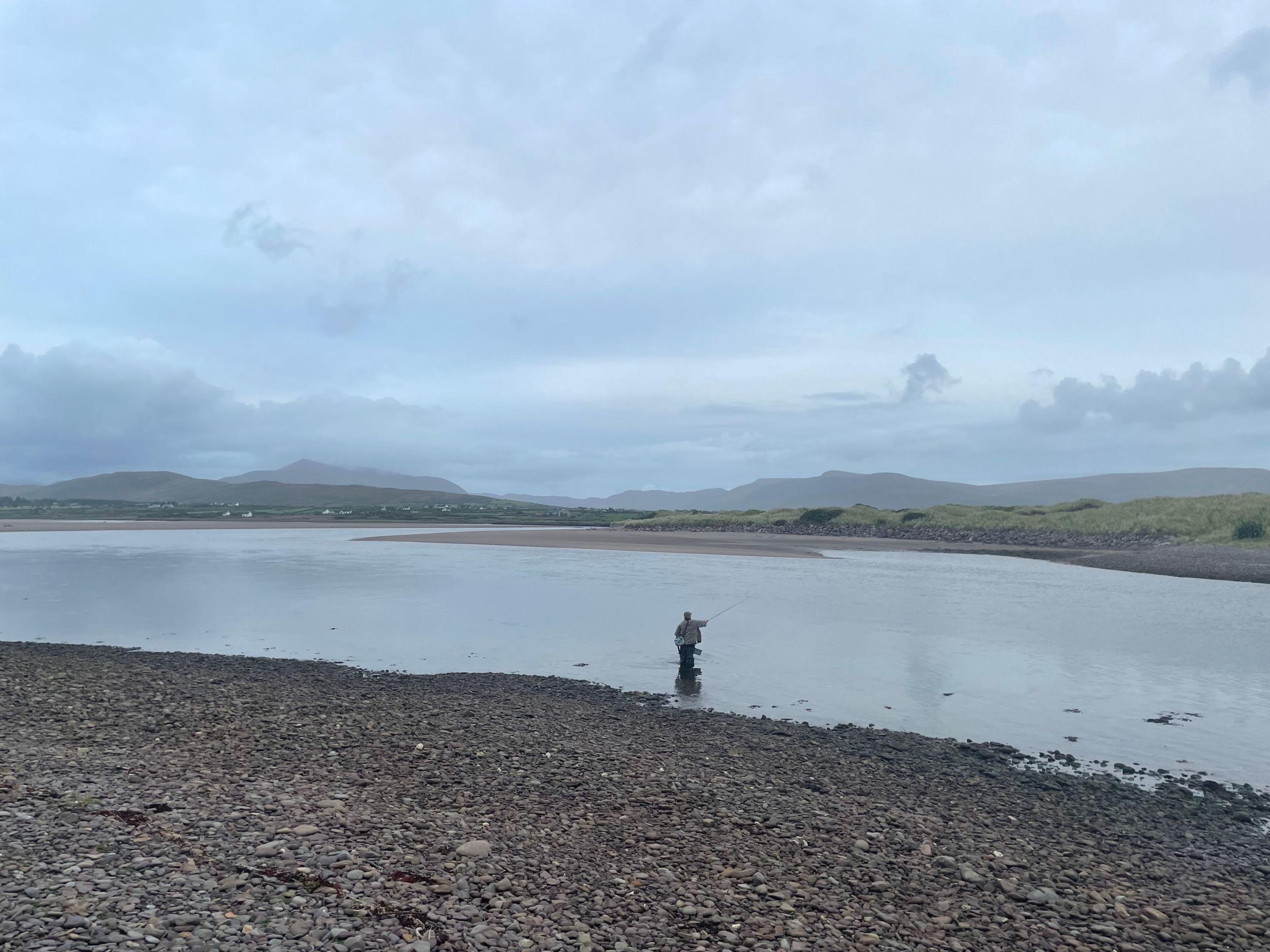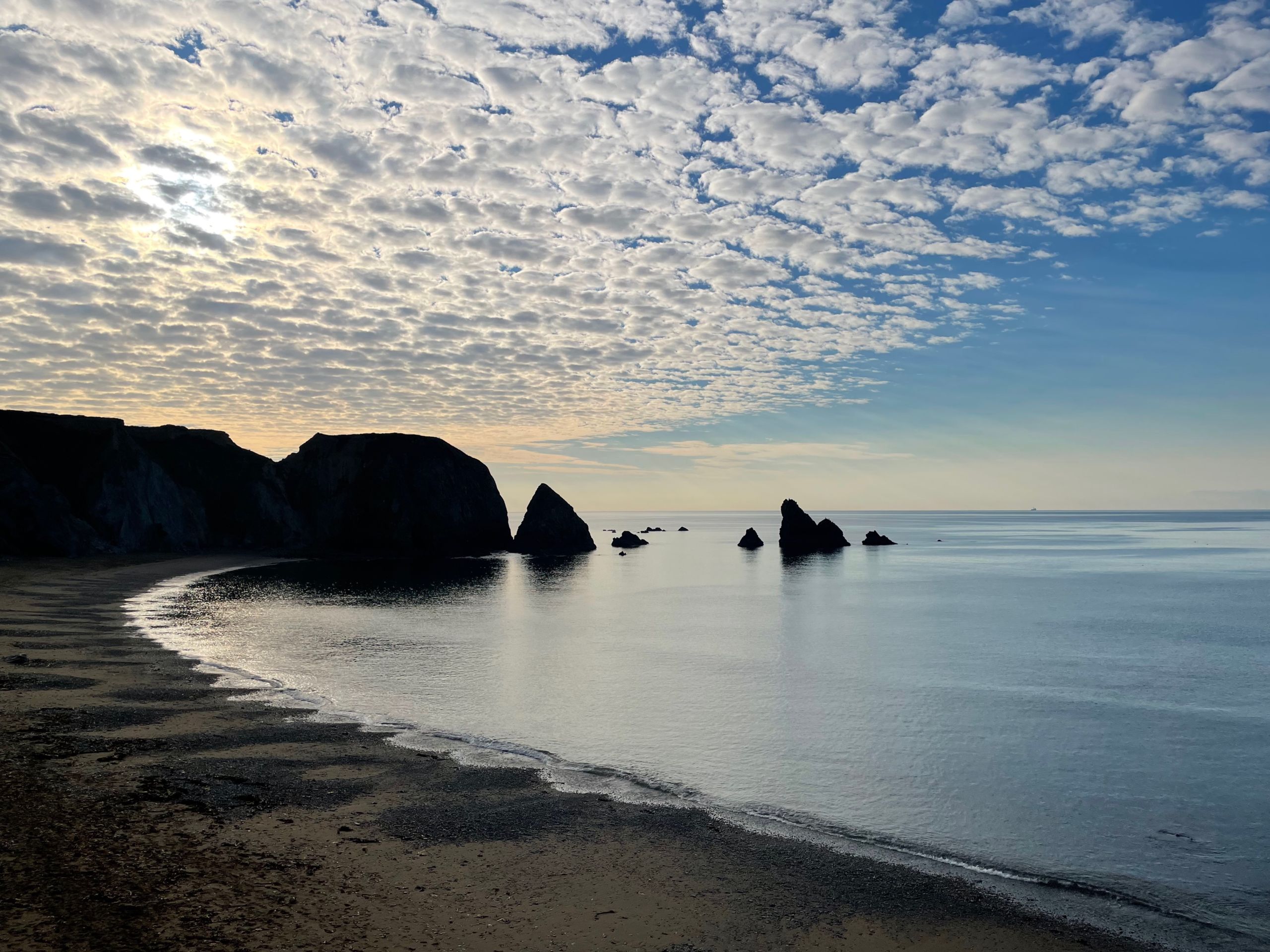 The next day is here and I'm still looking for the "right" spot, talking to locals at a tidal stream (rivers determined by the tides with the corresponding flow direction). "Yes – there are also sea bass here, but they only come at high tide with rising water, not now at low tide. But go around the corner back there, there's a big beach at the end of which a river flows into the sea. That's the hotspot where you're most likely to catch something."
When I arrive, an angler is just making his way to the beach. When I ask him if this is a good time for "sea bass fishing", he shrugs and replies that it is always the right time to fish. Okay, well then … I pack up my gear a little unmotivated and take a final look through the binoculars to see that the angler from before is already fiddling around with the landing net. So I go there, or at least near him. A long sandy beach spreads out in front of me and I really like it. I stand about 100 metres upstream next to him. Just 10 minutes later my rod is crooked and another five minutes later my first sea bass is on the beach at Inchydoney near Clonakilty. The spell is broken and I take the exactly 70cm fish with me. Thanks to my new vehicle I have a fridge and kitchen with me. Making use of the catch should be part of such an adventure anyway and will also be part of my diet on this trip. Because I have just had my 58th birthday, I take a photo of the "gift to myself" beforehand and use it in the social networks to thank the well-wishers.
The spot seems to be promising, but since I still want to see something of the landscape and also want to continue testing my new car, I move on. My guide app leads me to Union Hall Bay near Cork. I serve myself the sea bass as a fillet and make an extremely tasty ceviche from the raw fish remains, which I scrape from the head and bones. What's left over is given to the seagulls, who had watched me lasciviously and attentively as I fiddled with the fish. Interesting to see the show these birds put on: Screaming loudly and thus attracting all conspecifics: "That's mine! That's mine!" And competition also shows up in the form of a walker's dog grabbing the head of the carcass and eating it with relish amidst the cries of the gulls. I am happy that so many have partaken of the fish. The sea bass has been completely used up.
The next day, a message arrives on my phone inviting me for coffee. "I'm at Allihies beach working here." Someone I had met from 10 years ago in India who knew I was in Ireland invites me. Location check says an hour-and-a-half drive south. Fits. Alice runs a food truck there during the season, closing at 5pm. I am on time at her place and get my promised coffee. In front of me is a beautiful bay – far away from everything, hardly any people because it's the low season and a quiet camp site directly above the beach. Perfect, I stay here for the time being. After swimming in the sea, I fish for a while in casual beach wear. There are pollack and garfish. In the evening we grill the remaining sea bass. Next day, after a morning swim in the sea, I take a picture of Ballydonegan Beach. Here, too, the conditions are perfect: High tide and nobody there but me. Sea bass #2 and later #3 follow. Wow! This corner is a real paradise and I decide to fish here again tomorrow. Fish #4 follows, which ends up on our plates in the evening as sashimi, cerviche & BBQ.
An appointment in Dublin, which I made in between, is approaching and I make my way back. However, in a curve southwards over a closed pass, to the other side of the Beara Peninsula/Kenmare – Bantry. Past lonely coasts and harbours, in search of a place to spend the night and the possibility of fishing. In the shallow bays, shoals of mullet are now increasingly appearing. Fish I used to catch in the Baltic Sea when they were still there. I have the appropriate flies and a #6 rod in my luggage. At the moment, however, I'm still chasing sea bass and am equipped exclusively with medium-sized streamers, a #8 rod and intermediate line. When I return from the car with new equipment, the conditions have changed. The fish are now in too shallow water, feeding on algae. No matter, it would have been a nice try. I change gear again, because depending on the water level, smaller pollack could be caught from the cliffs almost anywhere near where I'm sleeping in the evening.
I then interrupt my trip for just under a week and fly to Sicily for my business appointments. The 4-star hotels are a real contrast to my rolling home. In the meantime, Stefan has cancelled his participation because he can't see any land before the evening. I meet some friendly colleagues after my return from Italy and we have a good time in Ireland's capital. By the way, Irish people are generally just super relaxed, sharing and helpful. They seem to have all the time in the world, which can also mean that on roads where 60 km/h is permitted, people occasionally drive at 30 km/h.
In addition to a big bed, shower and Irish food, I get a PDF with fishing opportunities on the west coast from a colleague who is also a fisherman, but rather chases pike. It is not explicitly geared towards fly fishing, but shows spots where sea bass can be found. I prepare for the next part of the trip, filling and emptying the motorhome, replenishing supplies. Then it's off again on the road south. It is the end of September, the weather is still beautiful and I make a short stop at the beach of Anneston-Benvoy before visiting the well-stocked Clonanav Fly Shop after researching the internet. I have forgotten my tying material and urgently need material for a catchable fly pattern. However, fly fishing in the sea doesn't seem to be really taken up yet. This shop, for example, finances and supports itself through online trade in equipment for fly fishing for trout and salmon as well as guiding. This is a fishing field that I was prepared for in terms of equipment, but in the meantime I have been completely captivated by sea bass as a target fish.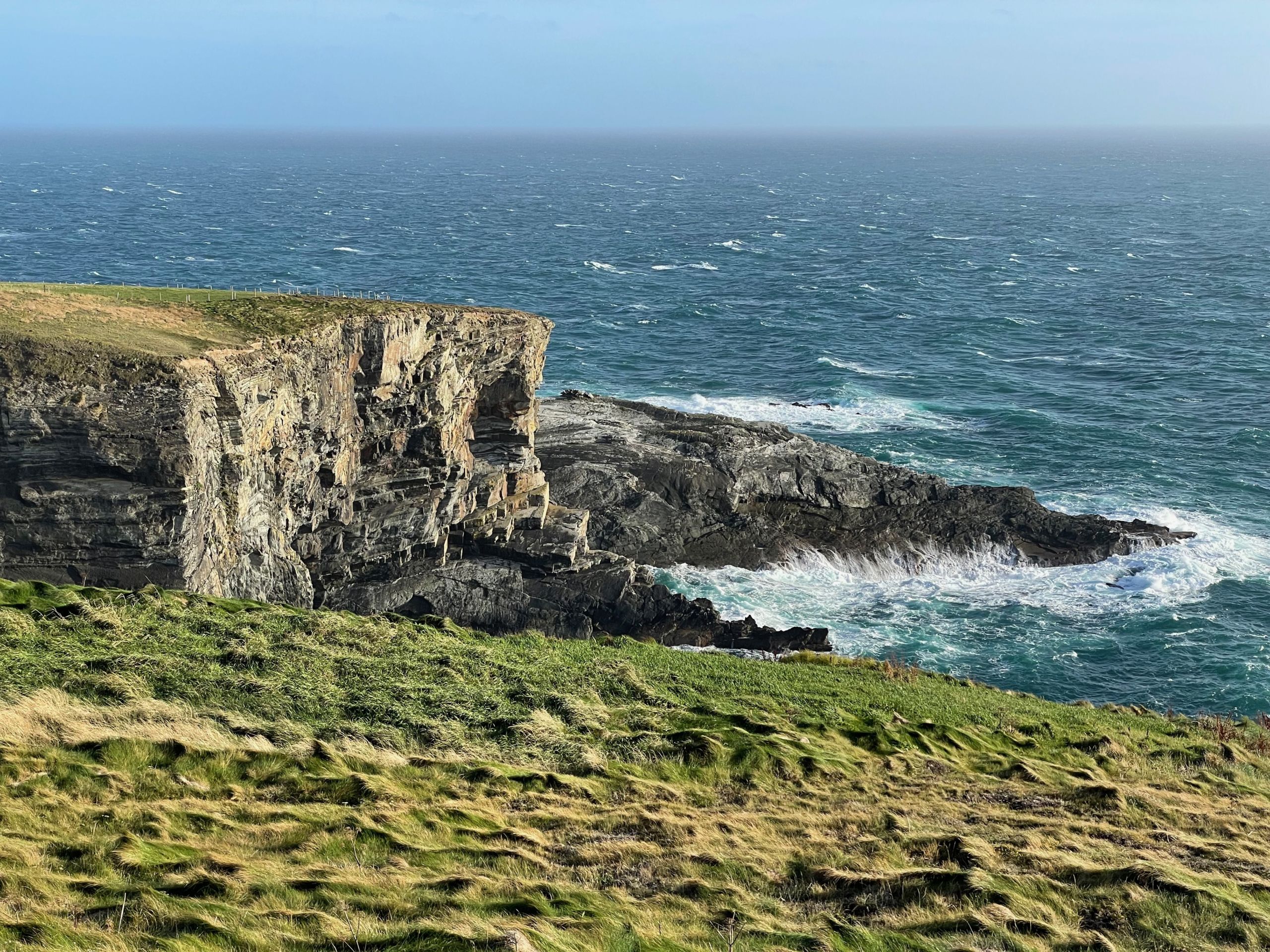 On my way south, I plan the trip so that, if the weather and tides are right, I can really clean up in Clonakilty at Inchedoney Beach. So I arrive back in front of the hotel grounds at noon on a Sunday in sunny, almost windless weather (the light wind is even perfect for me as a left-hander). The place and with it all the parking spaces are full of all kinds of excursionists, because the weather is good and it's the weekend. It is teeming with surfers, bathers and sun worshippers and the hotel parking area is reserved exclusively for guests. "Hello? I came all the way from Germany because I want to fish here!" I think to myself, but it doesn't help, I can't find a place for my car and briefly consider checking into the hotel. After a long search, I finally manage to park the car properly and set off barefoot in shorts, with a wading jacket and fishing gear to "my" water. But despite similar conditions to my first fishing trip here, I am unsuccessful this time after almost five hours of hard fishing. I give up. Today is not my day. So much for the plan.
The weather worsens and I decide to change things, to put the cart before the horse and use the bad weather to travel and explore as far south-west as possible. To where my PDF with the fishing spots stops describing spots. To escape the monotony of the rain, I actually stay in a hotel in between. Finally a hot shower, enjoying Irish food with Irish beer. I also want to tie streamers tonight to fill up my box. Red epoxy eyes – light-hearted/silver eyes with weighted head. When I leave the next day, I wonder what the cleaners will think when they find all the lint residue in my room.
It doesn't get any more southerly than this
The southernmost area on my fish PDF is the coast of Kerry Head-Blennerville Tralee Bay. The beaches there are extremely wide, and on top of the "lost feeling" that I'm currently experiencing, there's also a strong wind and high waves. So we continue on our way back – next peninsula: Dingle Peninsula. The weather conditions are still not inviting and by now it is raining cats and dogs. I spend the night in front of Brandon Bay beach and cross the ridge ahead the next day. I have to ignore one or two passing restrictions, because my new vehicle is heavy and big. As a foreigner, I don't have to understand every sign, I think to myself, and prefer to concentrate on the impressive landscape to the left and right of this narrow highland road. I'm still in check-out mode due to the weather, looking at locations around Dingle, and then drive to the headland of Inch Beach – a kilometre-long sandy beach that seems to be open to vehicles. I drive along the very beautiful beach until there is no other vehicle to be seen.
After fishing more or less unsuccessfully on several beaches in Kenmare/Ring of Kerry, I discover the Inny River with its confluence into the sea via a small side road – a wonderful spot. When I arrive I find myself between the tidal breaks but what the heck: I'm here to fish and in the end it's three released sea bass between 40-50cm. I stayed overnight to continue fishing here the next day. The following morning, with high tide and the tide coming in, several spinning anglers from England and Scotland show up. Apparently a well-known hot spot, I think. Bruno, as he introduces himself later, even comes from France and is the only fly fisherman I meet on the whole trip. In the end, I stay two days in this great spot. Bruno loses a sea bass – otherwise this spot doesn't bring any more fish. I work my way back along the coastline towards the Beara Peninsula. It's getting increasingly autumnal and I fish where I can, often having to settle for smaller pollack. Nevertheless, I feel the whole thing is just moaning at a high level, because I am still on incredibly beautiful, lonely, rugged stretches of coastline with river inlets and small bays.
The impressive landscape slowly broadens and I am overcome by a feeling of "rushedness" as I tick off one section of coast after the other. I try not to put any more pressure on myself to catch fish and focus on places like manageable bays and rivers or fjords with tidal currents that I think are very catchable. However, the somewhat difficult search for parking spaces for larger vehicles or motorhomes in the evening is becoming more and more difficult. At Warren Beach near Rosscarbery, I have to squeeze my van into a bush beside the road next to the height-restricted car park. At one end of the beach there is a recognisable tidal inlet and although the tide is not perfect, I give it a chance. And indeed, the first impact follows after a few minutes on the swing out of the dead drift, followed by a second a little later. Spinning anglers, who follow the tide calendar later to the appalling low tide, come away empty-handed today. Slowly I start to think about the journey home. The pressure of having to catch something has faded in the meantime. I know how to do it now, but I definitely want to attack Clonakilty again and fish a whole tidal cycle there – including the tide change from low to high.
When the weather forecast finally fits, I book myself into the hotel on the beach via booking.com to be able to fish for a whole day and the following one. But it all turned out a little differently. I unfortunately arrive late in the afternoon, so I can only fish the river mouth with the incoming tide. By the time I reach the estuary, the tide is in its last throes and the weak current is perfect. I can get the streamer on the intermediate in the dead drift down a bit and after I've blended the line into the current to force the swing, the take comes. The usual and by now "familiar" shaking of my opponent's head follows. Then a violent surge for freedom begins, which can't be stopped by holding the line with the hand. All right, so this is an adult, I think. I prepare myself to take the line coming out of the shooting head with the reel, and that's exactly what goes wrong. The fish gives accelerates so much that the reel, which still has a very light brake pre-setting, overflows. I'm busy untangling the tangled line when the fish "rushes" into the blocked reel with the rod lowered and breaks the 30mm tippet. The fish practically catches me unawares. Wow, that was a big fish, I think. Shit happend.
I take that as a sign and end the day's fishing. Back at the hotel I treat myself to lobster, oysters, white wine and a Clonakilty Irish whiskey and everything feels right and good. The whole next day I fish up and down the river inlet, but remain unsuccessful except for a few pollack that come with the tide. On the following days I want to explore the fjord around Courtmacsherry. There I head for several spots that don't convince me, only to enter the water at another river mouth – as is often the case in the middle of the tide. I stand in the outflowing water almost in the middle of the sea, only to experience a take with subsequent escapes a little later, reminding me of the day before described, which ended with a line break. This time I am prepared and am rewarded with an incredibly massive sea bass of around 80cm. What a finish – now it's time to go home.
I have seen all kinds of beaches and estuaries and fished many of them. I fished at low and high tide, sometimes also in the surf or in the last wave. I was most successful in lightly flowing water. Sure you can access more sinking lines, but my intermediate seemed to be the best all-round line. I stripped fast in moving, murky water in the sea and took it slower when it was calm and visible. Most takes were in the "rivers" (inlets and outlets) when the streamer was drifting with the current or starting to come away from it. All in all, I am very grateful for the experience on this sometimes very wild coast and can well imagine doing something like this again here without repeating it.
Thank You: Enda / Brendan, Lisa, Fionn & Norman / Alice.
Go raibh maith agat Éire.