The fine art of friendship
Text and photos: Frank Steinmann
I met Daniel personally a few years ago during the premiere celebration of his film documentary about lake trout. Of course, the name Daniel Göz was already representative for me at that time regarding a pioneering spirit in fishing, an expertise in the art of film and photography as well as his unrestricted love for aquatic fauna.
During a media trip to Florida, we learned to work together and developed a close friendship over time. Daniel lives in Frankfurt, me in the rural mountainous region Westerwald , these are quite contrasting localities and yet that is exactly what makes this "long-distance relationship" so appealing: City life versus country lust! The family get-togethers can thus be targeted according to urban or rural activities.
Especially in times of the pandemic, it was obvious to meet outside and our common passion for waters and fishing as well as photography often led us to choose the water as the venue for our meetings.
This was also the case last May, when I spontaneously invited Daniel to fish on my stream, the "big Dane" had finally hatched and the prospect of a pristine brown trout on the 3-wt brook-rod should be enough to lure my friend from the city to join me in the village.
We were to have a fantastic evening of mass hatching and mild pre-summer warmth. The light was beautiful and underlined the scenario grandly. We kept our equipment to a minimum in order to be able to engage with nature in a completely carefree way.
Daniel also equipped himself that evening with Patagonia's Swiftcurrent Waders and the latest River Salt Wading Boots which Patagonia created together with the US shoe legend Danner. The original Danner boots have already become an icon of the wading boots in a short time and the new, lighter River Salt version follows the principle of robustness, wearing comfort and highest quality.
The Swifcurrent wader is a product that is perfectly designed with a light comfort in mind, but still has a certain material strength and thus resistance that inspires confidence. Patagonia makes these waders from 4-layer, breathable H2NoH2N Performance Standard microfibre outer fabric, which is made from 100% recycled polyester and water repellent impregnated. The fit has been slightly revised and is slightly tighter than the previous model. The cut of the trousers is nevertheless such that it leaves plenty of freedom for movements of all kinds, which is an advantage when we climb together over driftwood and large rocks. In particular, the crotch of the trousers with its sewn-in gusset fits so that nothing pinches. The quickly and precisely adjustable shoulderstraps allow the trousers to be worn chest- or waist-high, depending on the water level or temperature.
Ample storage space is provided by the three outer pockets, one horizontal and two slanted, with the latter acting as a hand warmer if required. A waterproof inner pocket protects the smartphone, if you don't want to do without it on the water, or car keys and papers. The anatomically shaped neoprene stockingfeet are comfortable and fit any standard wading shoe without pinching. When we kneel down to take care of a fish in the water, for example, the removable knee pads help us to act comfortably and pain-free.  The areas in front of the footpads are also well protected by the reinforced material around the ankles and shins, especially when you are walking through undergrowth or the farmer has once again "hidden" the old barbed wire close to the ground in the tall grass. The Swiftcurrent waders are quick-drying and can be machine-washed at a maximum of 30 degrees with an appropriate detergent for breathable clothing. A little tip: always dry waders "inside out" first after use, so that internal moisture can evaporate before odours develop! Finally, it is worth mentioning that the waders are available in 13 different fits, so that in principle every anatomical peculiarity of the wearer is taken into account and can be purchased with a perfect fit!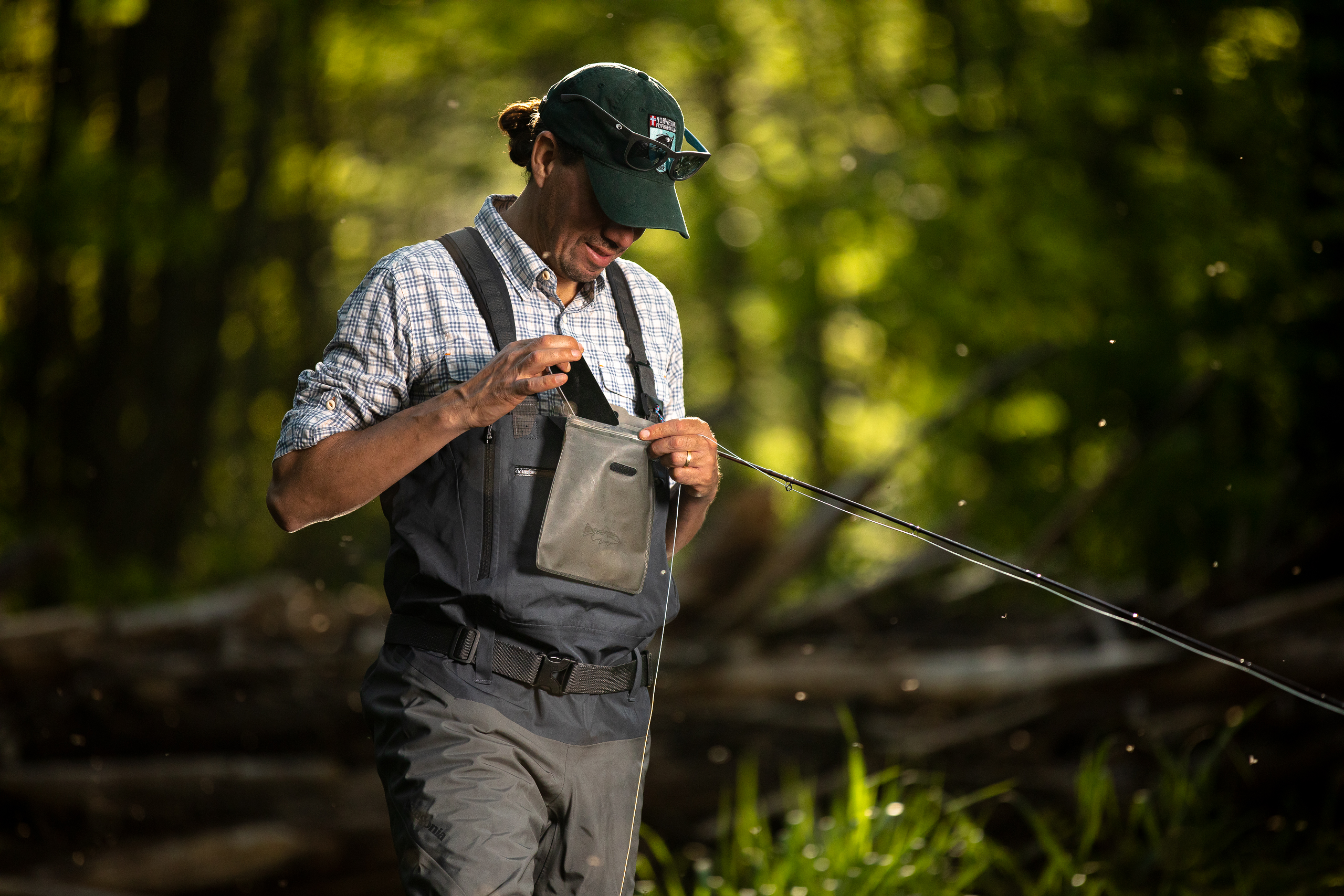 As we move carefully over the basalt stones that lend my stream its structures, we pass riffles and small pools. The trout use the slow-flowing sections between the falls and small cascades to rise after insects. On the way to the "perfect" pool we cover a considerable distance through the forest, climb steep slopes and squeeze through thickets and deadwood. The extremely light River Salt Wading Boots are a great support. I have never worn more comfortable wading shoes than the Danner boots! And unlike other models, I feel that the wearing comfort increases over time. The leather becomes supple and adapts to the wearer's foot. The River Salt waders are lighter than the regular Danner boots because they have inserts made of nylon rather than full leather. Especially when you combine fishing with hiking or simply covering distance, this feature is positively noticeable. The waterproof full leather is salt water resistant, so the shoes can also be taken to the sea. The welted construction, which is a quality feature of the Danner brand, is a guarantee for stability, protection and robustness. In addition, this type of construction allows the shoes to be resoled. This will take a few years, however, because the Vibram composite sole that Danner and Patagonia give their shoes is a fantastic product that guarantees long durability with perfect grip on both wet and dry surfaces! If you want even more stability, you can add the appropriate spikes to the soles.
The lacing of the boots is variable and all hooks and eyelets are permanently corrosion-resistant, even the lacing straps seem indestructible – I wear my Danner Boots practically every day, even from my job as a fish ecologist, and have still been using the first pair of straps for more than two years! Daniel also tells me how comfortable and convenient he finds this boot – and he is a harsh critic, that's for sure. So the River Salt Boots are great for anyone looking for a wading shoe that is truly sustainably created and can be used on that premise. It dries quickly and would be developed without "filling material" such as water-retaining foam or similar.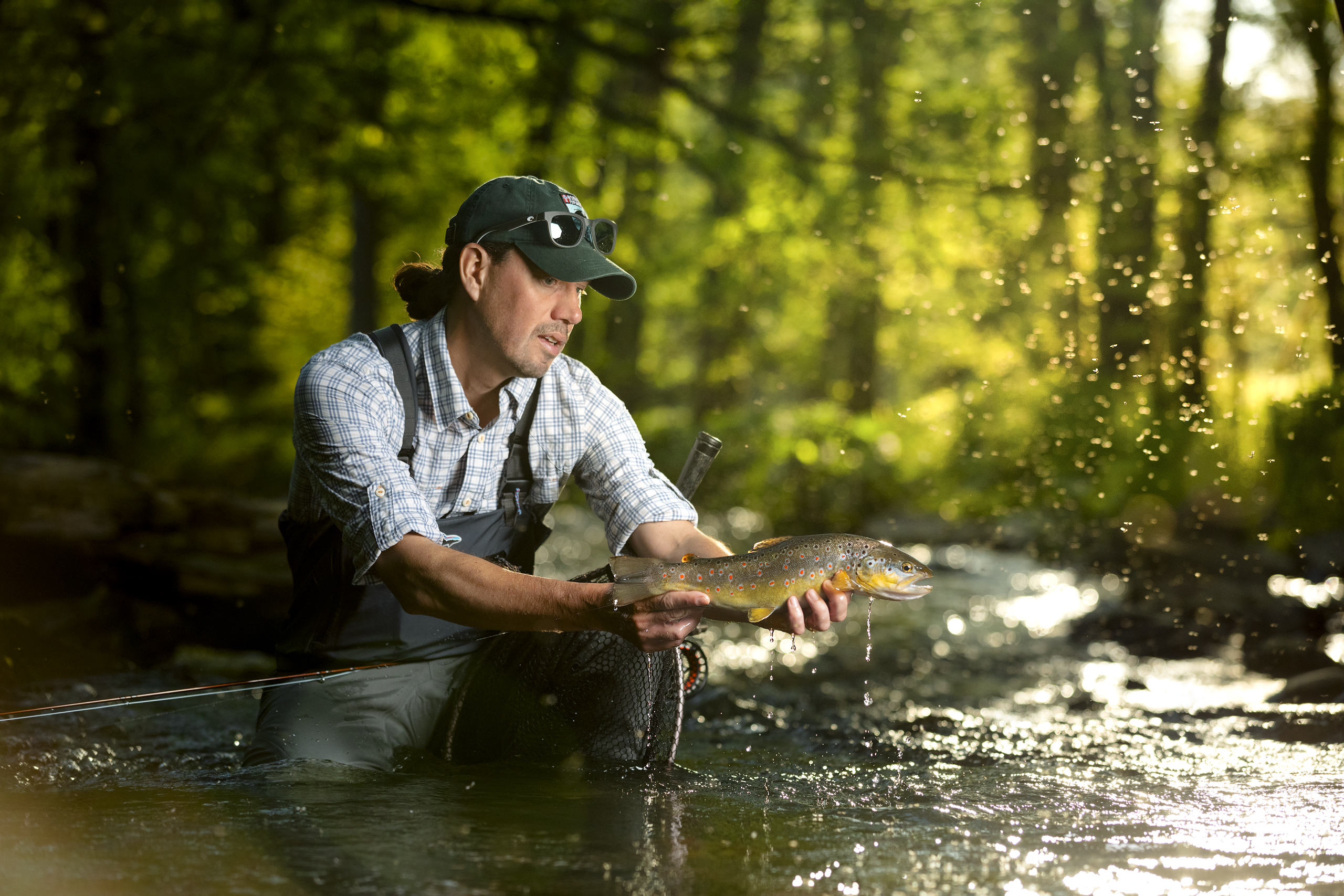 By now we have reached a section of the stream that seems tailor-made for presenting a mayfly: calm water after a wild rush, two large half-submerged boulders create stands for cautious brown trout. After a few minutes we make out several rising fish and try to probe them for size. Daniel finally makes up his mind and casts the fly upstream, precisely "parachuting" it gently onto the water's surface and it should not be able to perfom more than 2 meters of a drift. As a final salute, the trout slaps its tail fin on the water's surface as it disappears with the Danica in its mouth. Daniel parries and the fish tries to escape into deeper water. After a few "scuffles", the epitome of a brown trout rests in front of us in the landing net. Beautifully marked, perfectly formed and a fish from a natural population. Daniel becomes reverent and seems touched. I am happy for him, this is exactly how fishing with a good friend should work! We stop fishing immediately, such a fish remains out of reach, and together we sit quietly by the water and watch the rising trout. A few berries serve as a substitute for communication, at least our mouths are in motion, but sometimes it is enough to simply communicate without talking. Friendship can be like that.