By Stefan Küng
Stefan Küng grew up in the Zurich Oberland in Switzerland and is currently living in Uster at the Greifensee. He discovered his fascination for fishing as a young boy, while he started fishing together with his brother and grandfather. In his mid twenties he discovered mountain lake fishing for himself and since 2014 he has been an integral part of the fishing team of the traditional Swiss brand Stucki Thun. Stefan works as a photographer. Together with a fishing friend of the very beginning, he founded the company Löwenzahn Design in 2008. An excellent business, if hobby and profession can be combined. As a father of two boys, he naturally wants to pass on his knowledge about fishing and a sustainable approach to nature on to the next generation. Thus, all requirements are fulfilled to officially appoint the Swiss Namaycush whisperer as SCALE. Boy with valuable predicate. Grüezi and welcome Stefan.
NAMAYCUSH IN THE ALPS
The rain slowly subsided and the dark clouds moved away towards the horizon. It was just before dusk. After hours of casting with hardly anyone interested in my baits, I twitched the small stickbait over the rocky bottom with only half concentration. I didn't have much experience at the mountain lake yet and fished an ultralight combo without much hesitation. But then, right at my feet, the hard-hitting bite occurred. The fish immediately pulled line and the reel emptied more and more. After the first run, I tried to regain line. Meter by meter I was able to move my opponent towards the shore. Again and again head bangs went through my too short rod and I was worried about the small wading net. My friends were out of reach on the other side of the lake. Suddenly there was a big surge on the surface in front of me and again line was pulled without compromise. This game repeated itself twice again and by then I thought, "it's now or never." So I tightened the brake a bit and tried to direct the fish to the landing net. But this time he was smarter and pulled away sideways towards the shore. I was still going through my head "watch out for the rocks"! And then, rock cut… The tension was suddenly gone, I could hardly believe it. My first encounter with a big Namaycush was almost 10 years ago and it should take a long time until I hooked such a caliber the next time. But all in order.
A CANADIAN CONQUERS SWITZERLAND
The first Namaycush in Switzerland, were stocked in 1886 in the Sägistalsee in the canton of Bern. This was followed by stocking in several mountain lakes as well as in Lake Maggiore*. In many Swiss mountain lakes, especially in the large reservoirs, they have found an excellent habitat and can successfully reproduce. From a size of about 40 – 50 cm, the predators feed exclusively on fish. Some specimens grow to over a meter and weigh more than 10 kilograms! In waters stocked with fish they gratefully help themselves with freshly stocked rainbow trout, char, as well as its congeners. That is why in some lakes they are considered as a threat to the rest of the fish population and they are fished out using nets. However, only with moderate success and after a few years there are usually again impressive specimens. In the large lakes of the Engadine, ice fishing has been permitted under special conditions in order to decimate the stock. In the first two years this worked well and many, partly large fish were caught. In the meantime, however, catches have dropped sharply. One wonders if the sly predators have seen through the ice fishermen, or if the population has actually declined sharply. Probably both is true. In any case, large signals are repeatedly sighted on the echo sounder. These approach the baits, but almost always pull away at the last moment. Nevertheless, the Salvelinus Namaycush has become an important part of the Swiss fishery and every region now has its own names for the Canadian Arctic char. In the Italian-speaking Ticino it is called Trotta Canadese, in Valais Cristivomer and in the Bernese Oberland they simply say Canadian.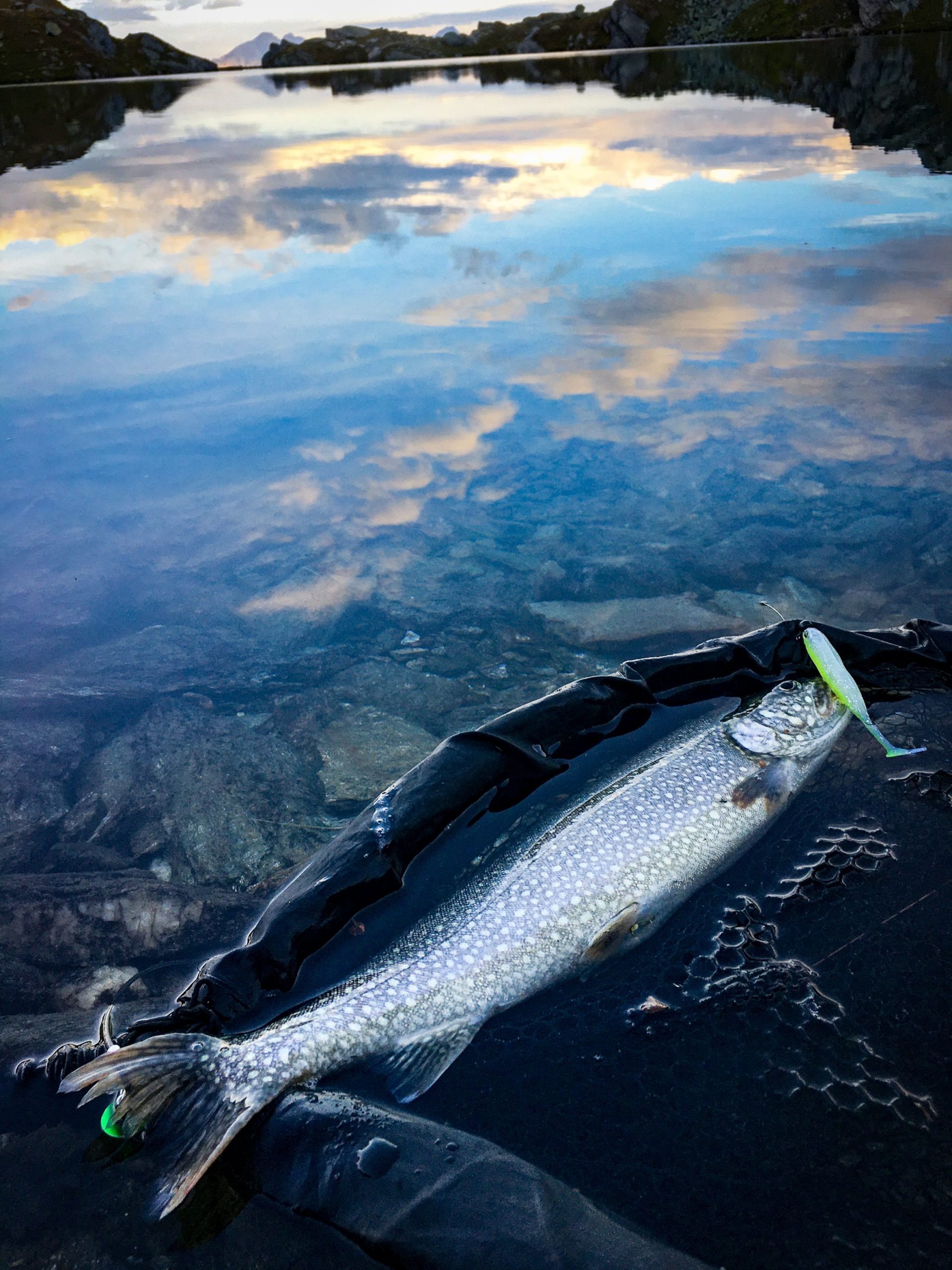 THE HUNTER FROM THE DEEP
To find the Namaycush, one should first get an idea of the structures of the water body. Transitions from deep to shallow zones are interesting, as is the change from rocky to gravelly substrate. Creek inlets are also good spots and dams have a magical attraction to the white spotted predators. Namaycush usually have short but intense biting periods, when they are active they often move to riparian areas to hunt. If you fish a good spot at the right time, it's often hit and miss. After that, however, there may not be a single bite for hours (or days!). Especially the big ones are rarely accessible from shore and it takes a lot of stamina to catch one. In my experience, they are active for only a few days at a time. Then they roam around alone or in groups of two to five, hunting for prey fish. After that, they disappear back into the depths for a week or two. Namaycush love cold water and on many waters they are most active in spring or early summer. Or then again in the fall when the days get shorter and the temperatures drop. In mid-summer, the best chances are in the early morning hours, or on bad weather days. Other influences on fish activity include moon phases, weather changes, and pressure changes.
The discussions on this topic with my fishing friends are at least as exciting as the fishing itself. After each trip, new experiences are added and old theories are thrown out the window. At this point I would like to note: The conclusions in this report, are based on the personal experiences of me and my friends. I assume that these will continue to develop and change over the next few years.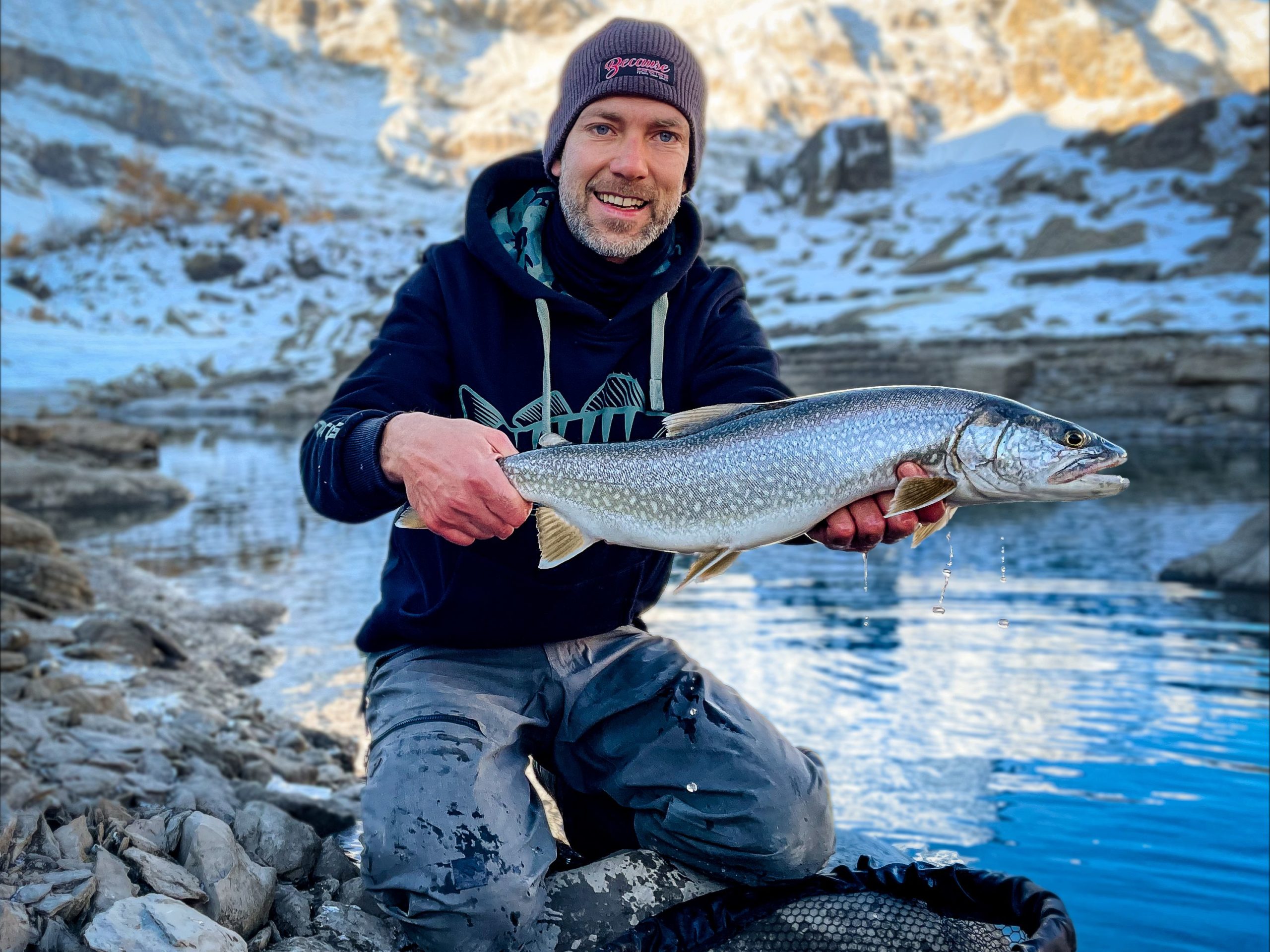 JIGGING OR TWITCHING?
When I have found active Namaycush and the water bottom allows it, I prefer to fish with rubber fish on a jig head. I choose the weight as light as possible. I want to jig slowly, but without losing contact with the bait. The fish are very interested in sinking or diving prey, so a long sinking phase is an advantage. The bites can be very cautious and if you are not concentrated you often don't even notice a bite. Bright green and yellow tones, orange and white have proven to be good colors. But natural decors have also proven their worth in the lure box time and time again. When it comes to locating the fish, I prefer to use wobblers. The hardbaits attract more attention and I can make a lot of distance or fish water area in a short time. At first I usually start with shallow running suspender models. If this doesn't work, I try my luck with sinking wobblers or with stickbaits further down. The ideal lure presentation has to be tried again and again. One time aggressive twitching works best and the next time even cranking. If wobblers and rubbers don't trigger any reactions, the good old spoon is often still the savior in need. With these heavy metal lures you can cast far, even in a strong headwind. Moreover, they can be fished at depths where modern spinnerbaits often appear outdated. Over the years, and after some frustrating experiences, I have continued to upgrade my gear. In the meantime I use spinning rods with a length of 2.40 – 2.70 and a strong backbone for fishing on mountain lakes. For the main line I recommend braided with a carrying capacity of at least 11 kilograms and for the leader a 0.33 to 0.40 fluorocarbon.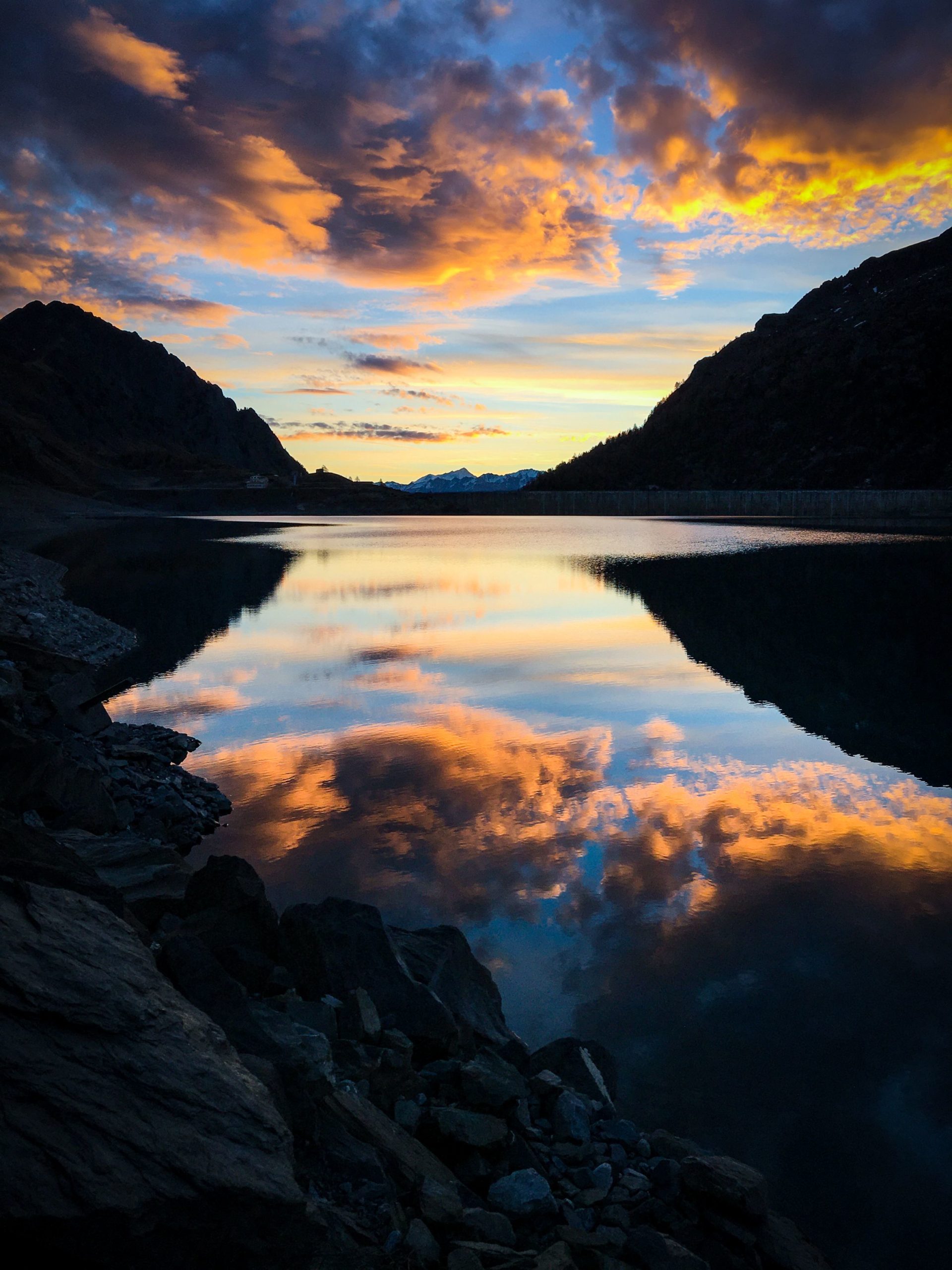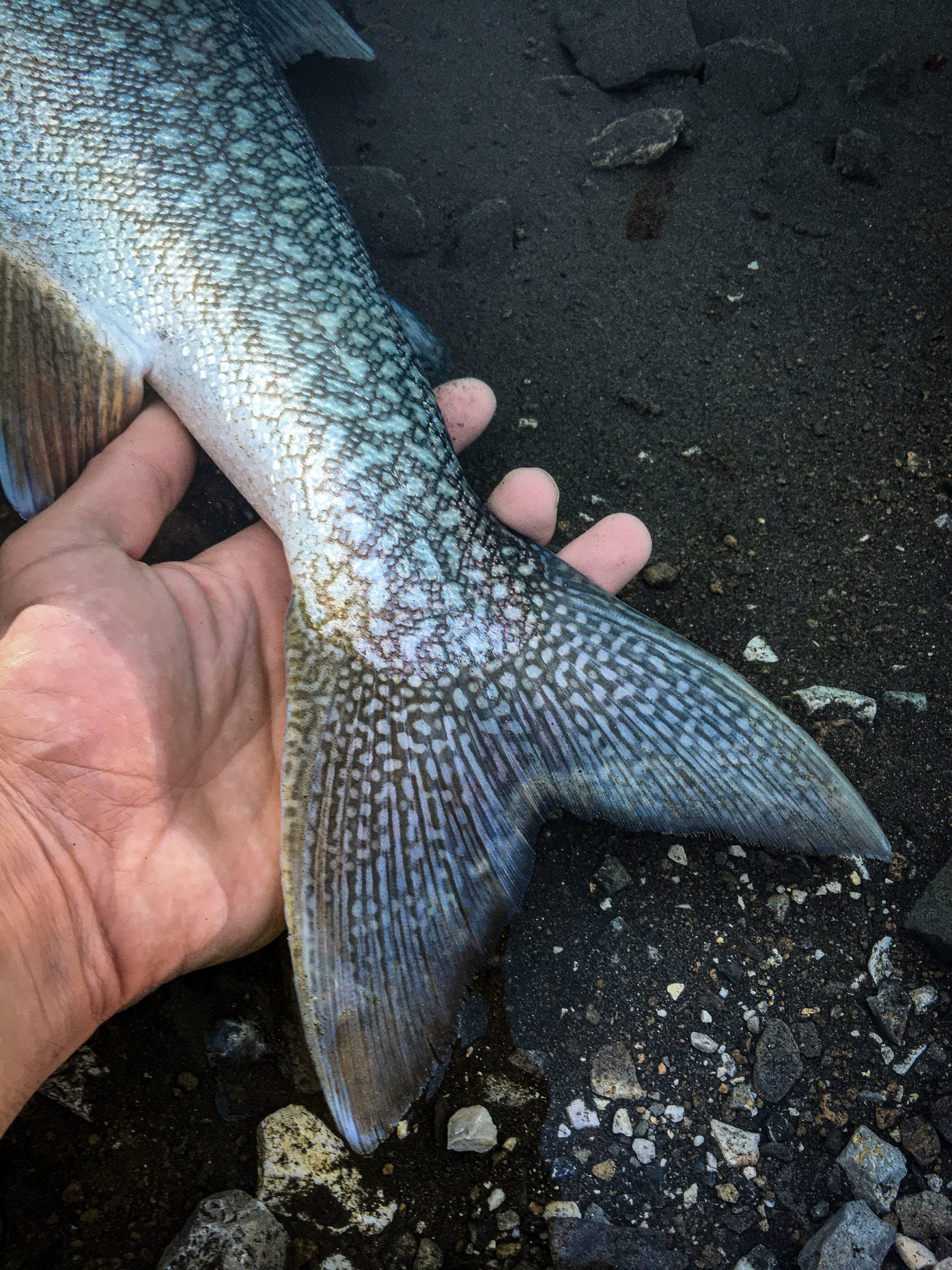 THE ADVENTURE IS IN THE SPOTLIGHT
When I catch a good fish, I ask myself whether I should take it or not. Is the size suitable for me and my companions? Do we have the opportunity to prepare it properly? Or should I let him swim again? On a body of water where natural reproduction works and there is no custom fish stocking, we should be aware of how important an adult specimen is for the future. I think it is important that we as fishermen address this issue and treat the fish and nature with respect. For me, on a mountain lake trip, the adventure and nature experience is just as important as the fishing success. The breathtaking scenery and the power of the moody mountain world makes me immediately forget about everyday life. I immerse myself in a world where very few things matter: Where do I set up camp? What will the weather be like? When do I drink the beer I've laboriously hauled up? And most importantly, where and how do I catch a nice Namaycush? Of course, the conditions in the mountains can sometimes push you to the limit. When the sleet hits me head-on in the face and my fingers are numb from the cold, the question arises from time to time: Why am I doing this? But only a short time later it becomes clear to me again. In these moments I feel part of nature, full of energy and focused as rarely before. And as soon as I'm back home, I'm already dreaming of the next mountain lake adventure.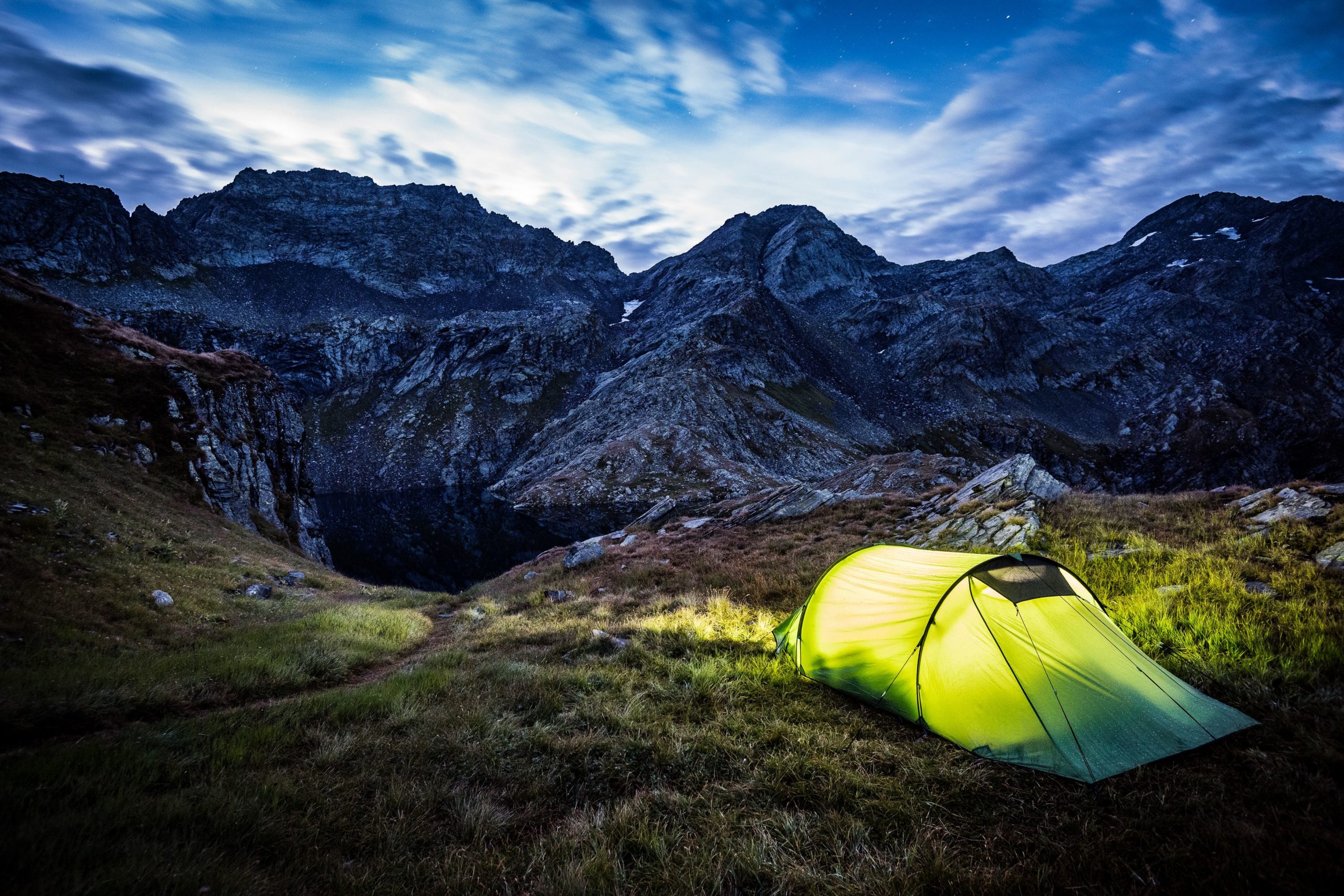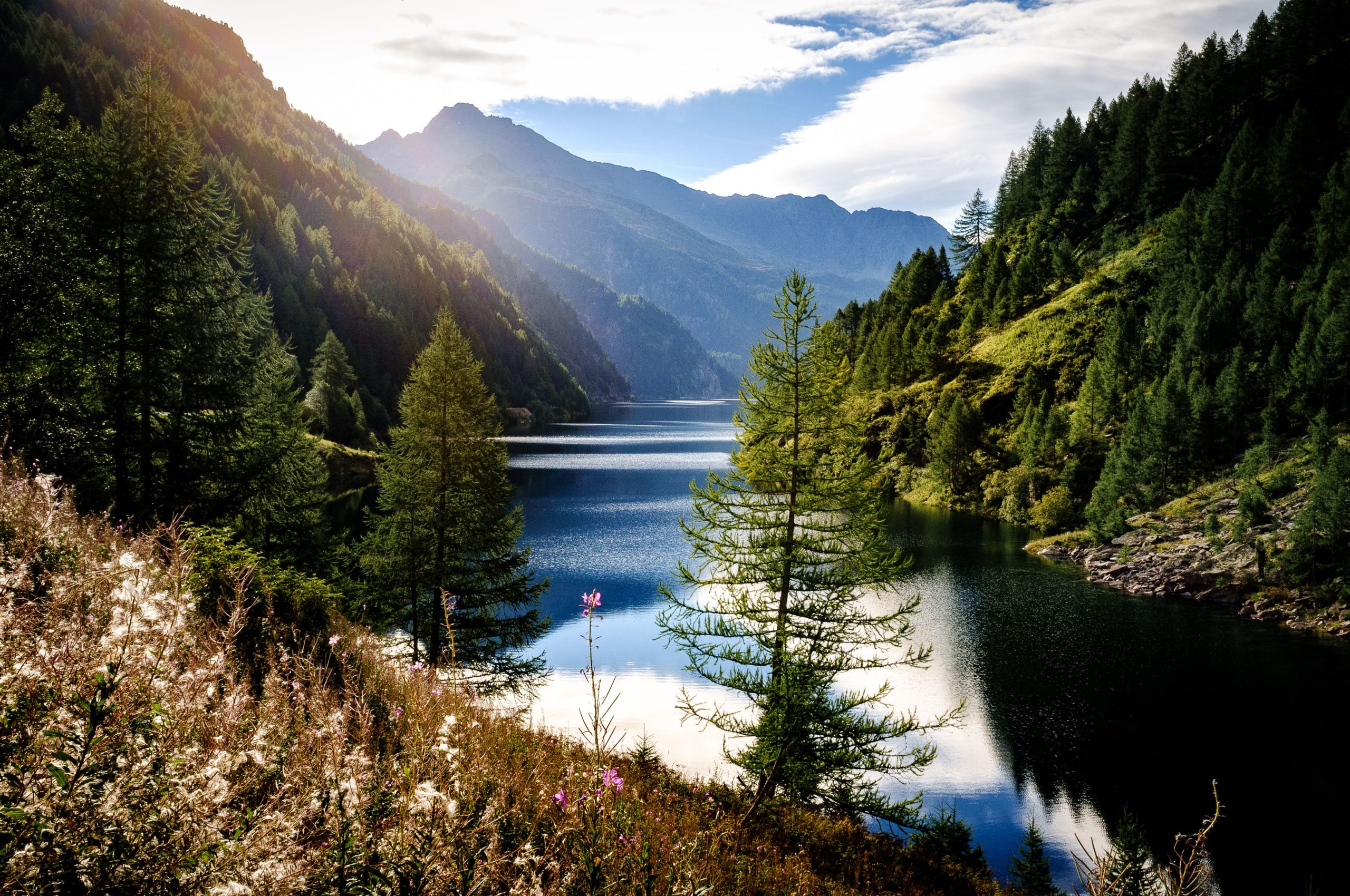 THE KING OF THE MOUNTAIN LAKE
On a beautiful autumn day in 2020, I was out with two friends at a mountain lake. As usual, in search of a wild namaycush. The morning was freezing cold and the rod guides had to be cleared of ice after each cast. When the sun finally broke over the mountains around noon and freed nature from its rigidity, the Namaycush suddenly became active as well. Again and again we saw beautiful specimens passing by. After several misses on my rubber lure I had lost a fish over 60 cm in the fight. Well, shit happens. And as fast as the squad had appeared, as fast they had vanished again. Back home, however, the lost fish gave me no comfort. I knew I couldn't close the story without returning again that fall.
I picked up the permission from my wife and boys and two weeks later I was back at the same spot. It was a picture-perfect morning and after taking a few photos, I tried my luck with a wobbler. On the second cast I first felt the bottom just before the shore and then, was that a subtle bite? To be on the safe side, I immediately set the hook and it was indeed a fish. And what a great one! A short time later it was lying in the landing net, a big immaculate Cristivomer.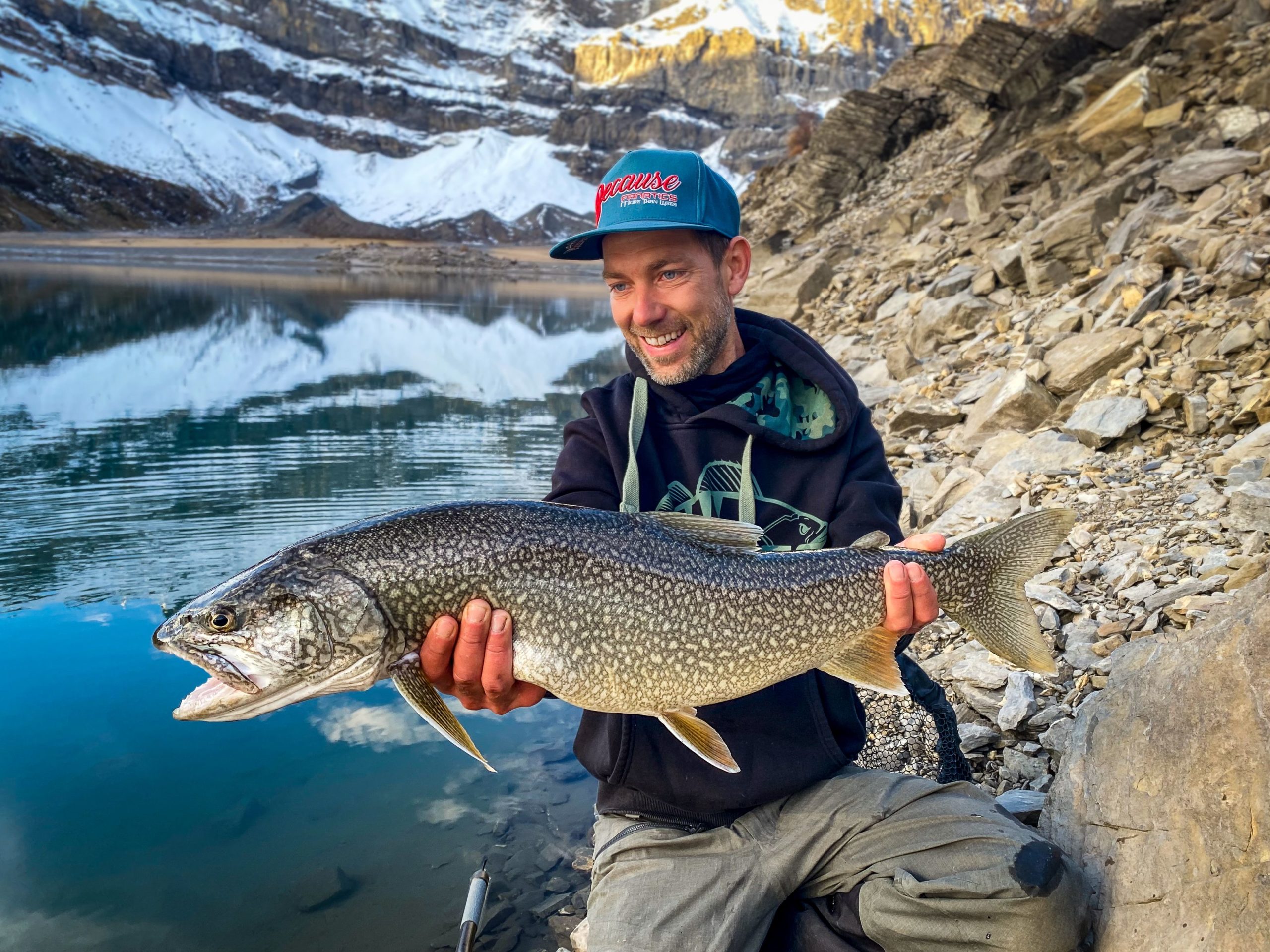 * Source: Mitteilungen zur Fischerei Nr. 72, Einwanderungen von Fischarten in die Schweiz, published in 2002 by BUWAL (Swiss Agency for the Environment, Forests and Landscape).