text and photo: Stefan Alt
The Task: By bike through southern Norway
The Goal: To fish a lot and to arrive
People rolling around on sandy towels, stuffing themselves with honeydew while reading Harry Potter Special Fan Edition Part 28. Mix this with inhuman temperatures add some overcrowded beaches and you get a perfect summer vacation. Right? Well certainly not to me. Not even at a young age. I always dreamt of searching for fossils in abandoned mines. I wanted to gather berries and herbs in dark forests. Or go look for Atlantis at the bottom of the ocean. Anyway it had to be something adventurous.
Naturally this spring when my 15 year old son asked me to join him on a bike trip through Norway in his summer holidays I was thrilled. I proudly thought to myself that some of my educational advances must have stuck. His childhood mainly consisted of using plastic bags to gain drinking water, gathering fungi every autumn and even climbing the Alps with me at the age of seven. Bear Grills would be proud. So we started planning – naively thinking that we were well prepared…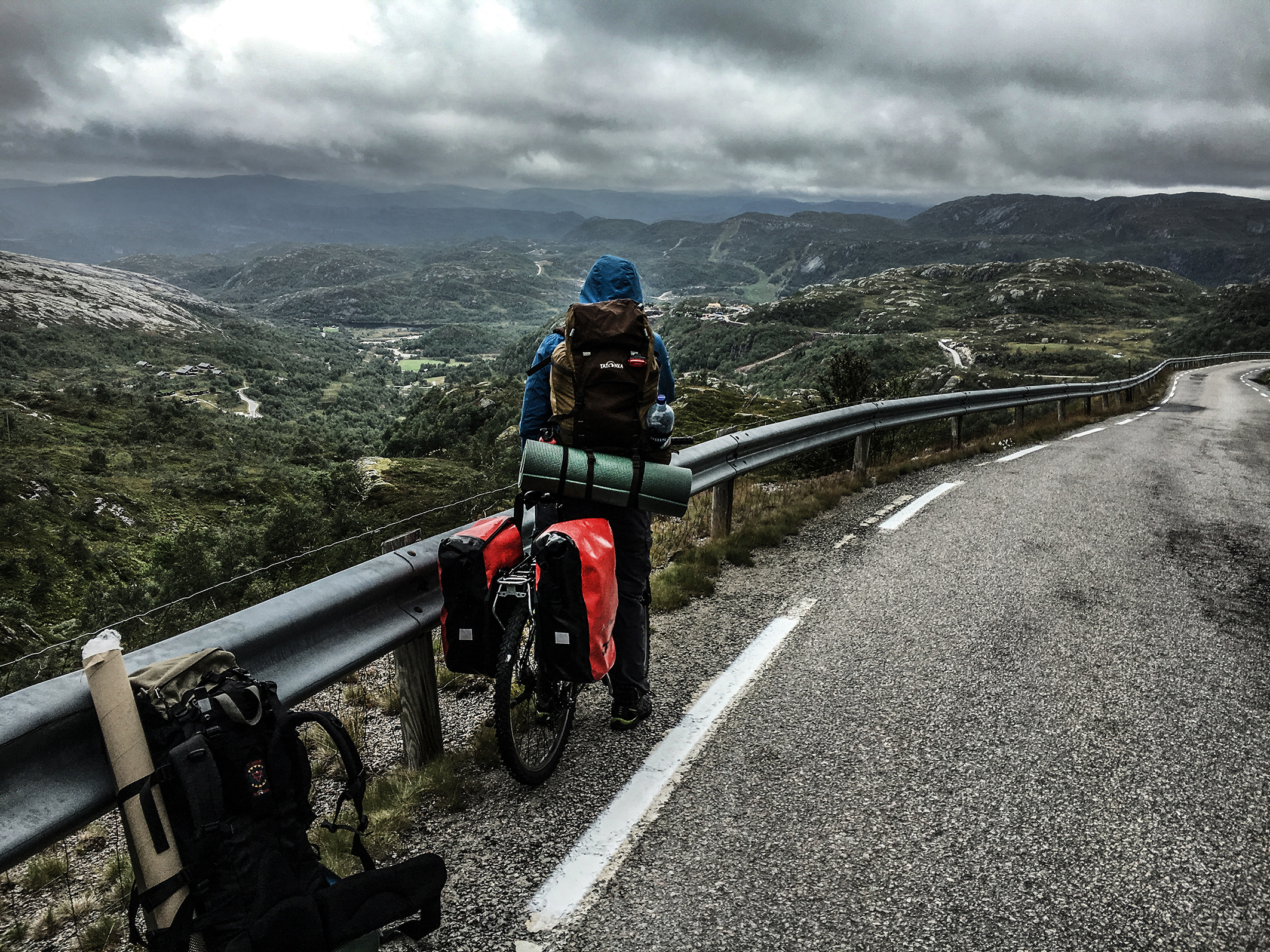 Last minute
A couple of weeks before we planned on leaving for our trip, we started packing Julius' desk with stuff we thought we needed. We had to pack light and take only what's necessary. Needless to say that textile-wise I would have left with nothing but shorts – but when it comes to fishing gear it's a different story. Trying to reduce the weight to a minimum I tossed my pliers and a clipper among other things. I'm mainly into fly fishing and the final version of my lure box looked accordingly: some wobblers, some of the old Mepps, a rusty sea trout spoon and three sviwels. I borrowed a light DAIWA travel spinning rod with a matching reel from Hauke, and regarding fly rods I decided to take my #6 SAGE XP and – again to save us some weight – only added a small Abel TR3 with a sinking line and a spare spool. I actually ended up taking some more lures, a net and the pliers also found their way into our luggage.
In the end there was a huge pile of textiles, clothes, fishing equipment and outdoor gear in Julius' room and we had no clue how to move all of this, so I had to buy two cycle bags and a carrier to allow us to carry everything on the bikes. After a nocturnal installing and loading session we packed our bags and finally tried to sleep. After three hours our alarms went off and the adventure had begun…
Not as planned
Our journey started at Hamburg's main station at six thirty in the morning after loading our bikes into the right compartment. We changed trains a couple of times and finally arrived in Hirtshals, Denmark, where we were to take a ferry that would lead us to Kristiansand in Norway. While my son was constantly worrying about if his smartphone would have a decent connection in between the Norwegian-Mountains, I couldn't stop thinking about the trouts and other interesting creatures. Arriving at the harbor, eager to continue our journey the first problem already awaited us. The weather. A storm delayed our departure by about three hours and the Fjordline-Catamaran which usually takes you to the Norwegian coast in about two and half hours needed as much as five to get there. Huge waves hitting the boat caused me to forget about the trouts and consider if it would be smarter to swim to Denmark or Norway in case the catamaran sank. In the end we got from board safely and can proudly say that not once did we have to use a barf bag. Something our fellow travelers couldn't quite claim for themselves.
Still because of the delay we weren't able to carry out our original plans which included spending the night on a camping ground out of town. Instead of gracefully arriving at early nightfall we arrived at two in the morning. It was pouring down with rain. Okay. So plan b. The thing is we still had to come up with it. After stumbling around in Norway's southernmost port for a bit we found a dry spot underneath a highway bridge. After having some tea and coffee to keep us warm – exhausted as we were – we crawled into our sleeping bags and called it a night. It was a surreal experience but at least it was dry. To complete the unreal feeling of sleeping on the streets of a city you don't know, we were woken by the atmospheric sound of trucks belting down the road ten feet above our heads. We packed our stuff and drove into the city to plan our further journey. At least the sun was shining now.
We decided to take a bus that would also transports our bikes. The next one was leaving town in the late afternoon so we grabbed something to eat and a couple of drinks and headed for Kristiansand-Marina where we had a pleasant couple of hours. Of course I instantly unpacked my rod and went for a few casts but I didn't catch anything. Eventually we boarded our bus heading to Setesdal, got out after about two hours and went for our first cycle trip. After another three hours or so we found a spot to settle on the riverbanks of the Øtra.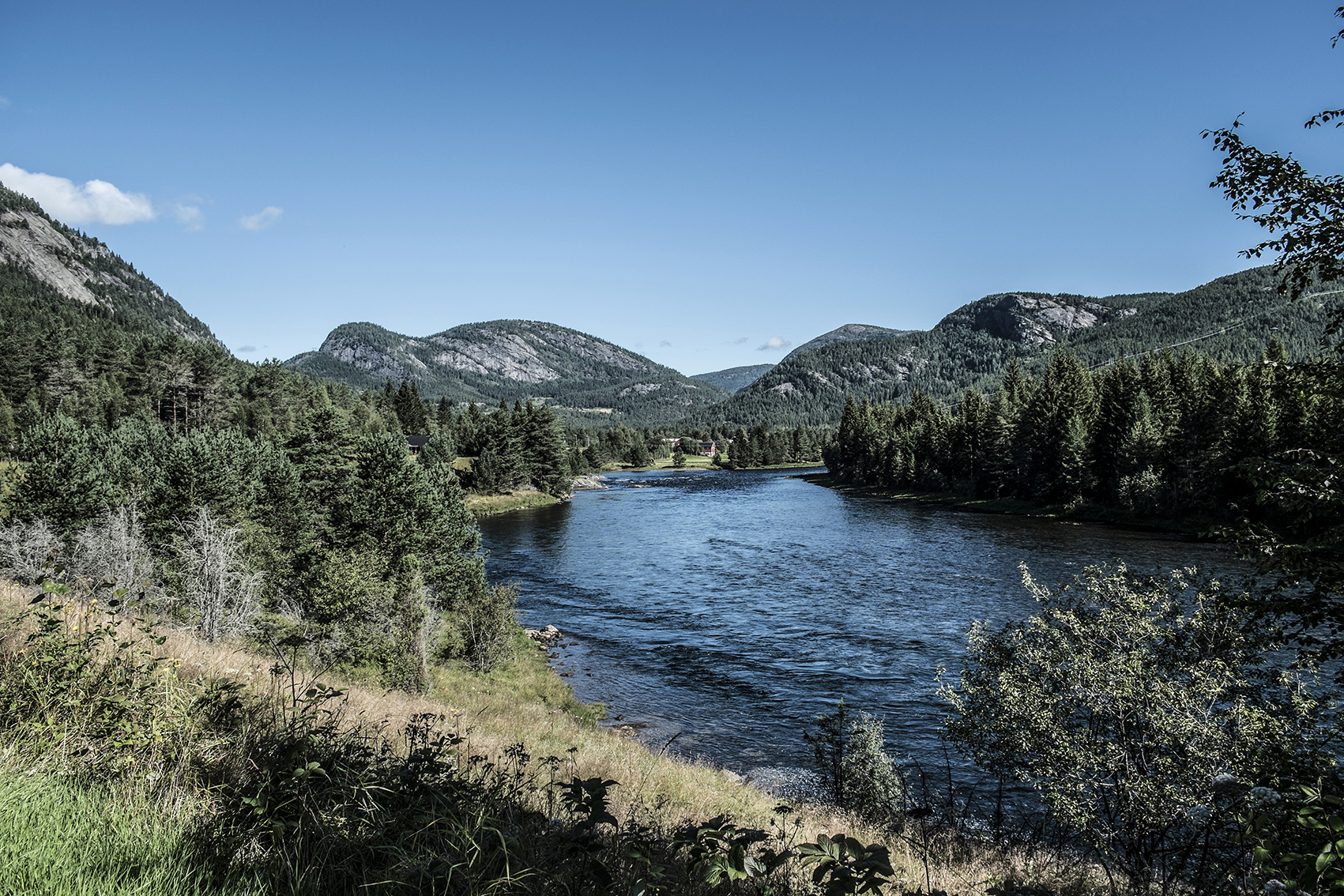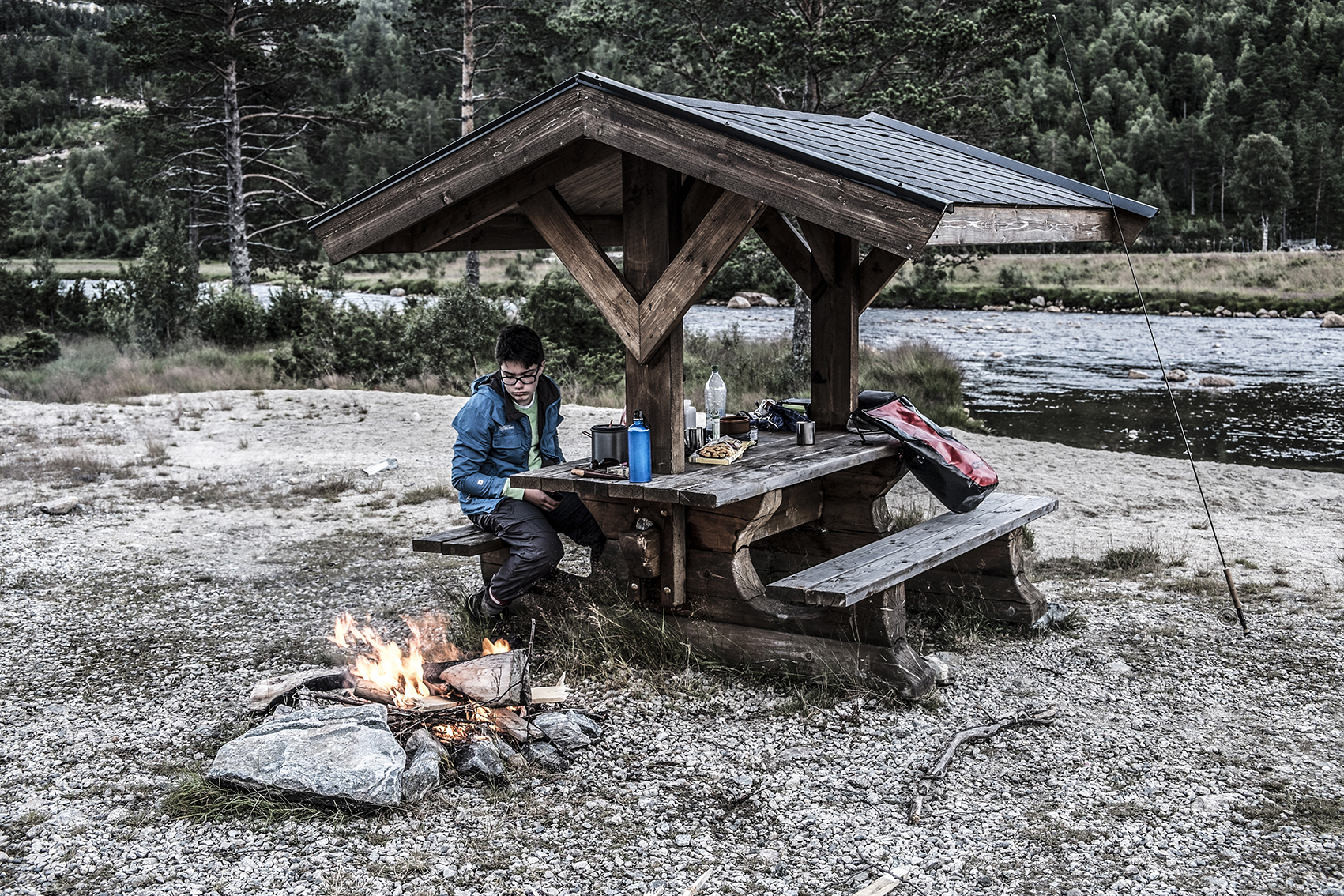 Lazy trouts
Sadly the river didn't carry enough water to realize my planned salmon fishing. I didn't have a license for these waters anyway but I would have bent the rules a little bit in this particular situation. The next morning we observed a beaver´s lodge and when the home owner didn't care to show himself – we jumped in the ice cold water ourselves to get a good wash. For the rest of the day we gathered blackberries and mushrooms, lay in the sun and examined small insects.
It was already afternoon when we decided to carry on. Packing up the tent and everything else we already set our minds onto our glorious destinations, Kjerag and Preikestolen further up the Lysefjord.
What looked simple on our maps turned out to become a real challenge. Our bags and carriers were way too heavy and though pushing our bikes uphill we only accomplished about five kilometers that day.
It was incredibly hot. The forecast predicted another storm for the next day and we´ve had quite enough of them at that point, so we concluded it would be smarter to settle in the nearby skiing resort Brokke. We found an ugly but usable camping spot. It could have been worse. We had a table surrounded by some benches which was nice but I hit my head on its roof a few times. Julius counted 18. There was another small river next to our tent that I started examining after we had dinner. Again it didn't carry enough water and I only caught some river trouts which apparently liked my gold head nymphs. We also had a fireplace and some wood to burn so I won't keep complaining. Promise. Okay one more thing.
The weather didn't get any better over the next couple of days so we stayed in our camp.
At long last I caught some decent trouts in less shallow waters close to a nearby dam. Two of them we ate. Interestingly enough my massive 0,20 tippet didn't have any 'scarecrow effect'. Instead changing from the nymphs to sedges and hoppers did the trick. In contrast to a lot of rivers where fish act a lot more careful in these water the fly couldn't be big enough and had to be dragged over the surface with a lot of action to get the trouts to take …
Fish in every puddle
The weather turned to be in our favor after two days and we decided to use this opportunity to explore and cross a line of mountains close to Lysebøtn. Problems awaited us at every turn. For hours we pushed the bikes from hill to hill and every downhill part was followed by more pushing uphill. I have to say that the brilliant landscape made up for a lot of the inconvenience and loss of time but after having walked and pushed our bicycles for 30 kilometers we realized that we still had two days of struggle in front of us until we would reach our chosen destination and that tired us a lot. The map function on my iPhone had only counted the distance between the communities (which are mostly quite remote) not the towns and we started to notice how big that difference was. By now we were back to stormy, wet weather and when we found a level spot to pitch our Fjäll Räven Akka Dome 2 we didn't manage to put the pegs into the rocky ground. We fixed the tent to some rocks and our bikes to ensure that it wouldn't be blown away. What followed was a cold, unnerving night. Mighty winds shook our tent and I began to seriously worry …
But once again the morning surprised us with the most brilliant sunshine and we were able to continue our journey. While Julius wanted nothing but to arrive I wanted to stop at every pond to fish because in nearly every lake you could spot fish at the surface. Before I had presumed that they would be tiny for a lack of food sources but after having spotted two extraordinary big fish I had to conclude that yes there were bigger fish to catch in these waters. While climbing up the pass way – the sun roasting our necks – I managed to convince my son that it would be a great idea to stop at one of the numerous lakes around us. I unpacked my fly rod and shortly after the sedge hit the water surface during my second cast  the first fish took it. It only took me half an hour to catch four more small but beautifully painted fish. I would have loved to stay but Julius kept nagging me to go on. At nine pm we arrived in a small community close to the slightly bigger town Suleskard. We treated ourselves with a cabin and while my son took great pleasure in two massive hot dogs, a hot shower, a television and a soft bed I headed out to the nearby sidearm of Lake Romarstjødn. Again some fish showed up but rather than fishing from the shore I would have liked to rent a boat to reach for the more promising middle of the lake.
Well sometimes it doesn't work out as planned and so I only caught a couple of tiny ones. I also lost four(!) flies that got stuck in some plants while back casting.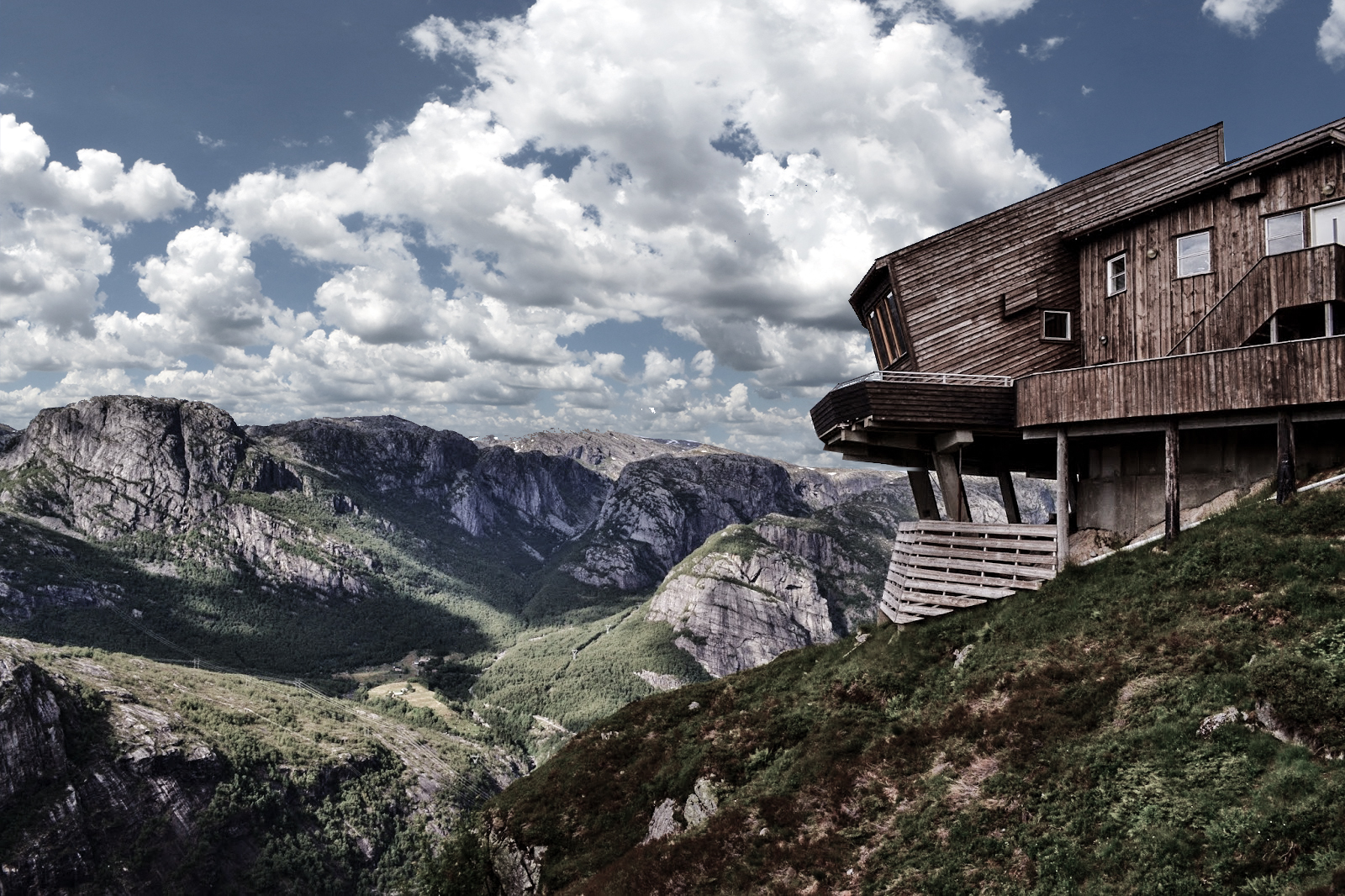 Downhill
Well rested, full of thirst for action and after a pleasant breakfast we headed back out. We couldn't fill our water bottles fast enough. Stream after stream, hill upon hill we pushed further and grudgingly watched cars and sometimes motorbikes pass. I had accidentally packed a tanning lotion (that some one night stand had left at my apartment) instead of sun block and so my head and my sons arms looked and felt like a turkey fresh out of the oven. Even though we sweated like youngsters dancing in a small and not very well ventilated club we didn't take of any jackets or hats. Burning skin and a cottonmouth – hour after hour we walked and drove on and at long last made it to the famous Kjerag Café. What a view!
We were already too late to climb up to the also well known rock and so after a refreshing cone of ice cream and some photos we decided to drive down to the fjord, pitch our tent and plan our further route. Cycling down there turned out to be just as bad as the last couple of hours had been. We had to overcome a thousand meter difference in altitude which would have been hard enough without it being stretched out over 7,5 kilometers of winding
roads followed by a dark, wet and steep tunnel. Having to brake a lot our hands got so tense that they literally stuck around the brakes. We had to stop several times to ease them up. After what felt like days we arrived at our destination. The end of Lysefjord. Our brake pads were nearly gone but we had made it!
Glad to have arrived but showing obvious signs of the past days ordeal we pitched our tent and while Julius decided to relax for a bit I grabbed my tackle to provide us with something for dinner. There were a few other men on the only footbridge around and just like me they tried for something to eat. And as it often occurs the one with the least experience – an Iranian with a boater who told me flat out that it was the second time he held a rod in his hands – was the luckiest and went home with two fat mackerels. Us 'pros' to the contrary. When nightfall came I at least knew that it was theoretically possible to catch something in these waters. My son was asleep anyway and I contented myself with a modest dinner consisting of a box of nuts and raisins.
Basejumpers and other minorities
In the early morning hours I was right back at the water and saw the mackerels on the left side of the footbridge in their hunting mode. At first I thought that there would be trouts rising because the river joins the fjord on this side and therefore I estimated a lower salinity. But couple of minutes later I had a mini tuna dangling from my 16g BOSS spoon.
Another 30 minutes passed and I caught two more fish. Just for fun I changed to my fly rod and voila! With my sinking line and a 'Shy Frede' I caught two more. A nice breakfast was guaranteed now. After we filled our stomaches with the fried fish we spent the rest of the day cleaning our equipment and observing base jumpers dive from mighty heights. It's fascinating really to watch them jump into the fjord from about a thousand meters. While they're in a free fall they are very hard to spot – a little game of Waldo! Try and find the base jumper in the picture on the next page – but as soon as they open their parachutes they are easier to see. Another great sight are the wing suits. We were able to hear their flapping outfits from quite far away before they soared over our heads and skillfully landed a couple of meters away.
When I went back to the river later that day I was able to exchange a few words with one of these adrenalin junkies. He introduced himself as a fellow fly angler. He was cooking a nice little soup on his gas stove and I was able to inquire about base jumping. He had planned another jump later that day but we arranged a fishing rendezvous for the evening. Sadly I didn't see him again but I'm convinced that he survived his jump.
My son and I spent another day recovering at this overwhelming place. My observation of arriving caravans more or less confirmed my prejudice that most caravan owners belong to a most peculiar species.
While everyone else was more than happy with this simple lifestyle and actually came out here to celebrate it the occupants of these moving shoe boxes didn't seem to want to take part. Upon arrival they usually went through the following ritual: parking their vehicle through countless turning and reversing maneuvers followed by installing wedges all around it of course supported by a spirit level for horizontal correctness. Then they would adjust their satellite dish because what would we do without a range of exciting TV channels. Of course then they're gonna take out their foldable tables and chairs. Impeccable. The only thing left to do is for daddy to empty the portable toilet while mommy is heating up some potatoes. Well not quite because if you are the owner of a ridiculously oversized plastic box with the charming interior of a dusty, smoky dive bar you definitely need to take a ton of self-important self-portraits in front of said vehicle. To me it will be forever a mystery how one decides that this is his or her preferred way of traveling …
If there weren't any caravan owners to make fun of my attention shifted to a second minority among our little outdoor community: Honda Gold Wing owners. Nope, these cruise liners on wheels are not to be confused with motorbikes. They are not made for bikers. More like pensioner couples. Wide like a gazebo with huge speakers and countless pennants taped to their antennas they are more likely to remind you of moving disco balls or a bumper car than a motorcycle. At last we continued our journey on one of the small, rarely running ferries and left the valley through the fjord. We passed through the town of Stavanger, a magnificent little city. We had to pitch our tent once more and had to sleep in a train station again. We went another 150 kilometers by bike, fished for plaice in a port and at some point went back to Denmark by ferry. From Hirtshals – second stop on our journey – we took a train back to Hamburg where we arrived drained but happy to be back home.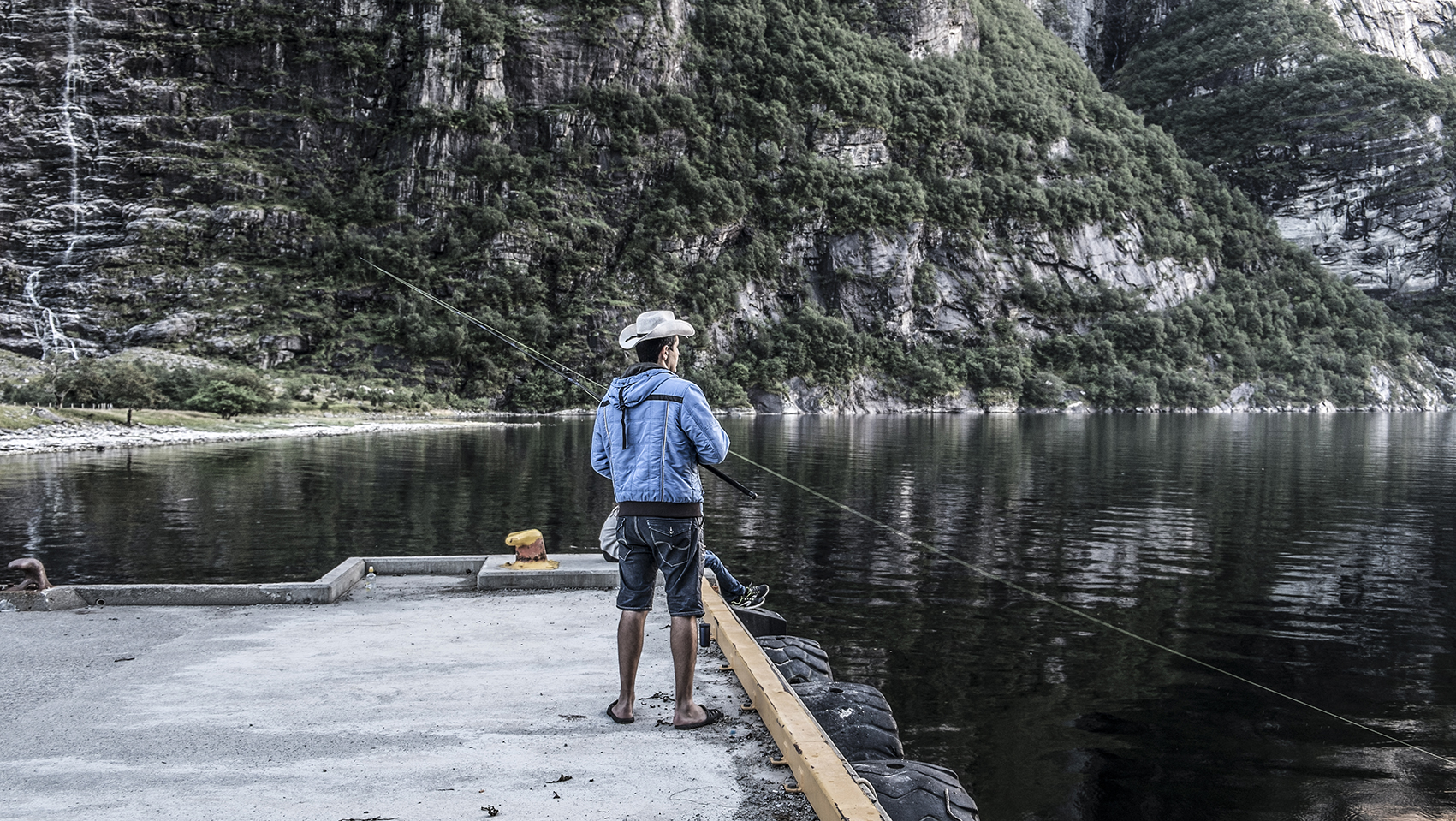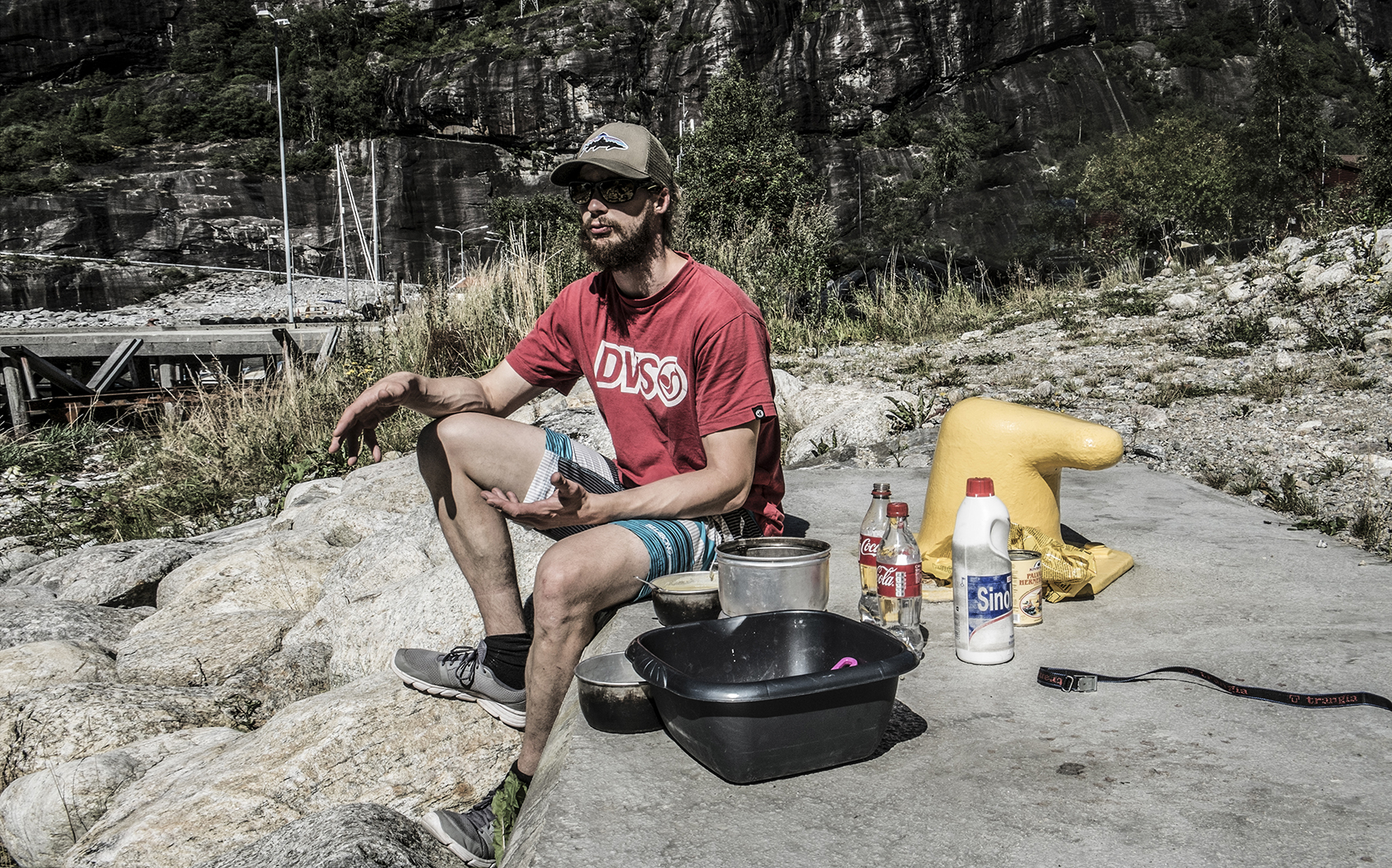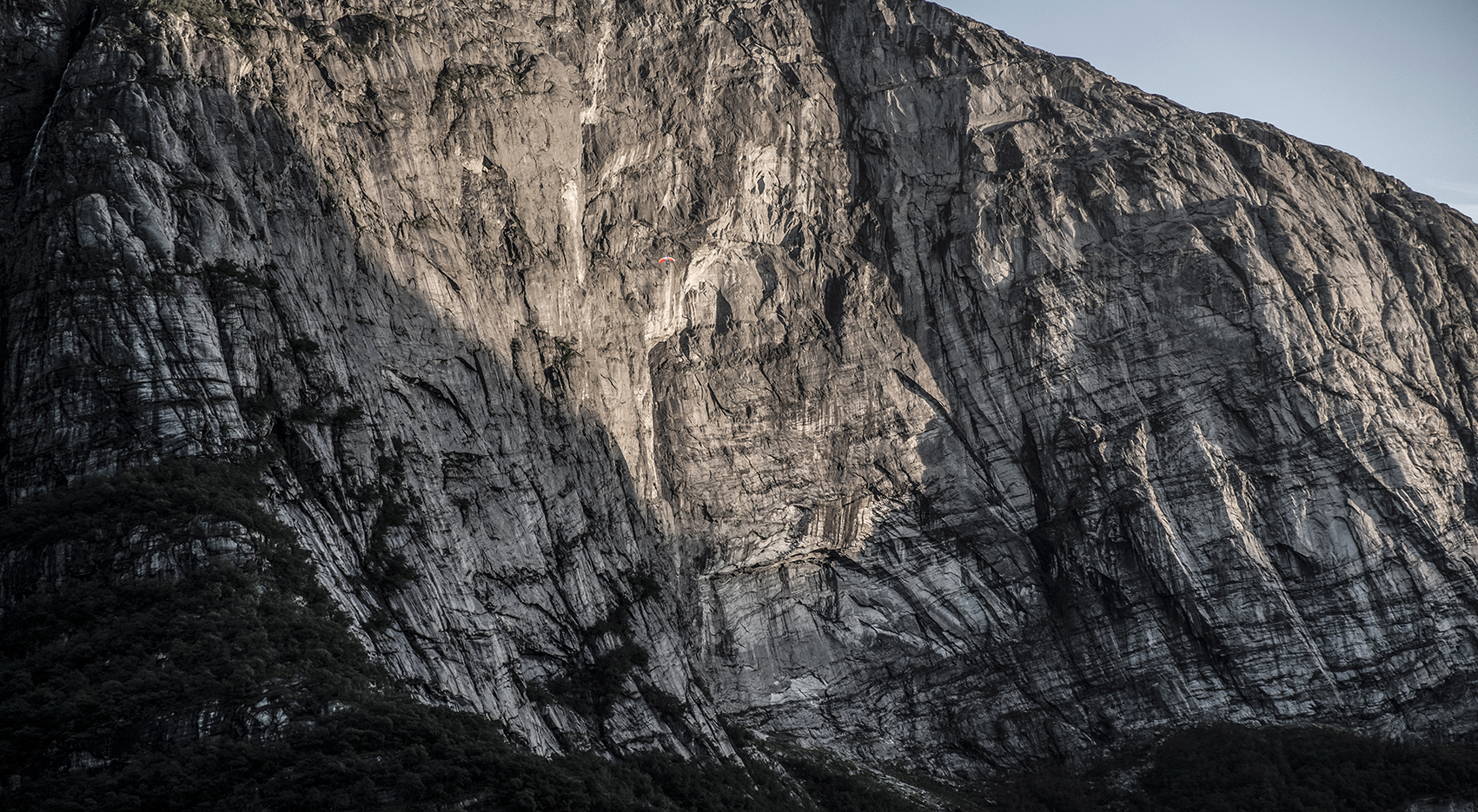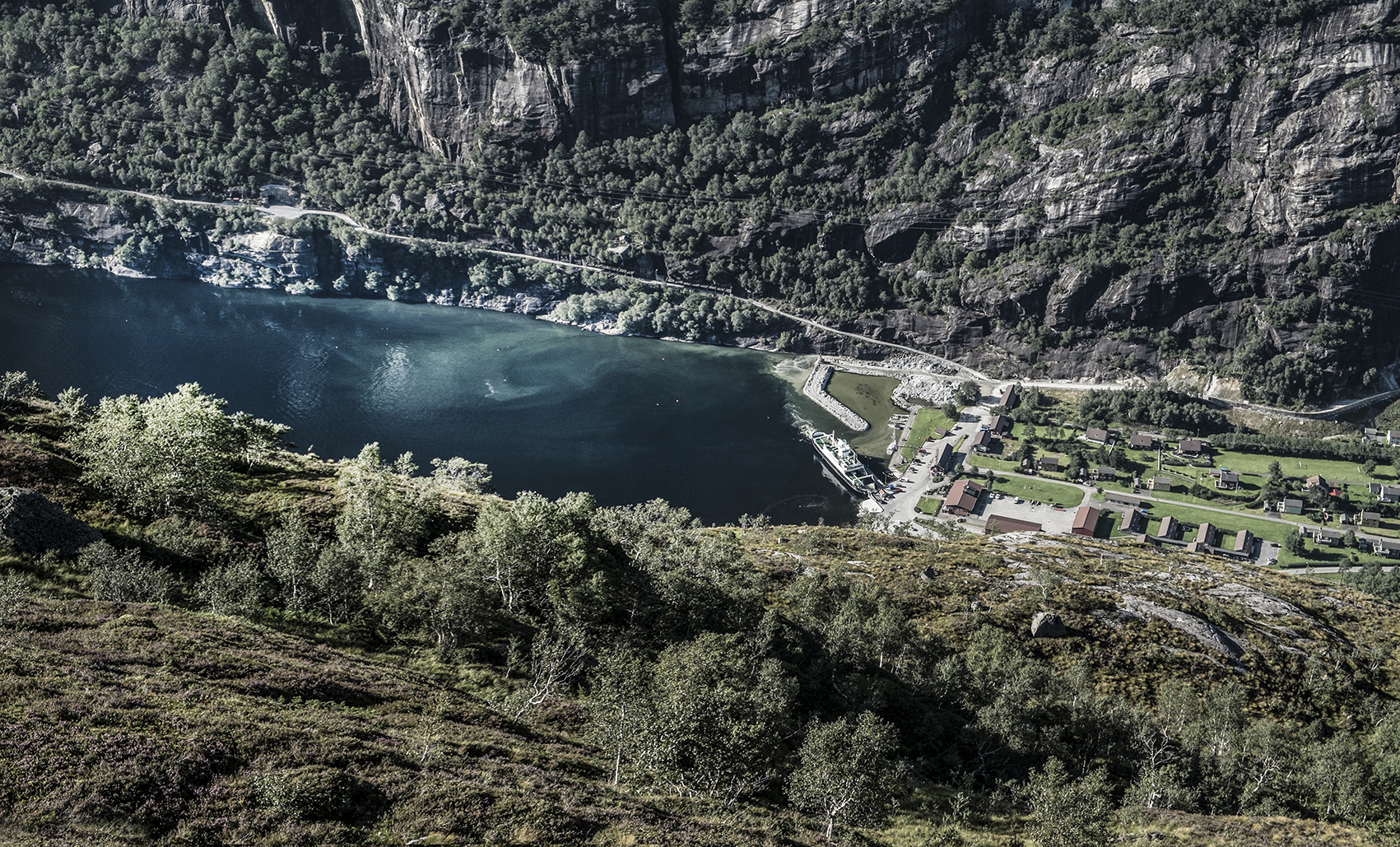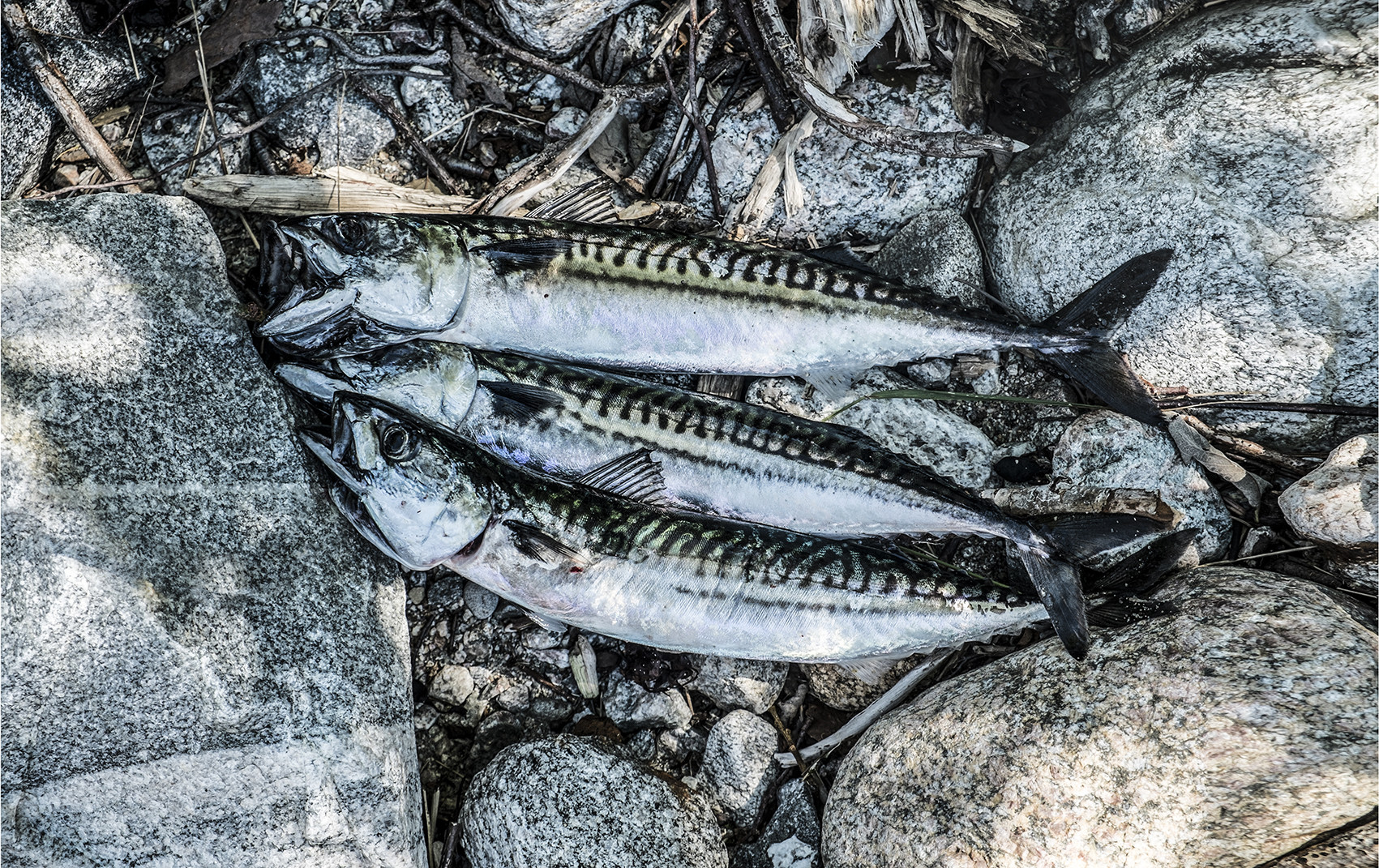 Same same but different
Looking back on it our trip was simply amazing and I would definitely do it again – however I would pack light, use better bikes and try to read the maps correctly this time. Regarding fishing though I have to say that one either needs more time to spend or has to go by car otherwise there are too many interesting waters and fish to miss out on. It is safe to say that some of the countless lakes are home to massive trouts which might never have seen a fly. Fishing the sea is an exciting quest as well because beside Mackerels there are massive codfish, saithe and plaice to be caught if you can believe a photo I was shown at a local restaurant. I'm planning to do it again next year and this time I want to focus on my fishing. The short distances to rivers like Mandalselva, Bjerkreimselva or Øtra make this voyage even more worthwhile. Julius who doesn't really care for angling will forgive me if I go on this trip again without him. Two weeks on a Spanish beach will repay him for his loss. And I will have to dive for sunken cities again. Otherwise I'll be bored …