Pictures by
Florian Kaiser & Breno Ballesteros Rezende
Or how to catch the largest Tyrannosaurus Temensis Rex on a fly
Giant Peacock Bass (GPB) is one of the lesser known South American jungle species, at least in Europe. Wrongly so. People are more familiar with another highly aggressive predator from there – Golden Dorado, a native to the North of Argentina and Bolivia. Golden Dorados were my prey in Tsimane (Bolivia) during the first week of my fortnight long "Ultimate Jungle Blast" to South America. Combining two top destinations, I decided that Tsimane wasn't enough. I wanted more and chose GPB as icing on the cake.
GPBs are mainly found in Northern black water tributaries to the Amazon River. The more remote, the higher the chance to catch a real specimen. Fish weighing more than 13 lbs – fish that carry a 'teen' to the scales are considered big. Specimen at 20 lbs and more are considered the exception. That's what anglers long for, particularly fly fishermen in the Brazilian jungle. GPBs are known for their aggressiveness. When attacking a lure they literally inhale the fly and put up a brutal fight.
This type of fishing can be found deep in the Amazonian jungle, on a remote tributary of the Rio Negro, itself a tributary of the Amazon River. Throw in a luxurious boat and you're ready to visit the very best destination of our globe, to catch one of these +20lbs GPB on fly. The relatively young destination "Rio Marié" is located in a nature reserve, which is carefully developed with local indigenous tribes and has exclusive fishing rights to 800 km of rivers consisting of creeks, lagoons and lakes.
20lbs – would I achieve that? Certainly, I was confident but not certain. With high expectations I departed from Bolivia to Brazil in September 2016. A big part of that pleasure was to reunite with my friend Breno – a fly fishing fanatic. We met in Manaus, where the famous opera house had its doors closed on us again (yet another reason to return). The following day we first got on a small turbo prop and then on to a larger float plane for our 1.000 km long journey north-west towards Colombian border. Below us, the land was green jungle as far as the eye could see. Much to our delight, as other regions of the Brazilian rain forest are being destroyed by illegal mines or clear cuts at ridiculous high speed, destroying our planet's green lung and thus our livelihood.
We touch down after a four hour flight (make sure to empty your bladder before departure or become MacGyver) at the upper Rio Marié, to arrive at our floating home for the next week: "Untamed Amazon". A spacious, newly constructed boat for up to 12 angling guests with a large dining and lounge area, Jacuzzi, good kitchen, free bar, great rooms including air condition and showers. Perfect! During the next six days we would depart each morning from the boat, two anglers to a skiff, each skiff to a different section and connect with the mothership again at the end of the day several miles upstream.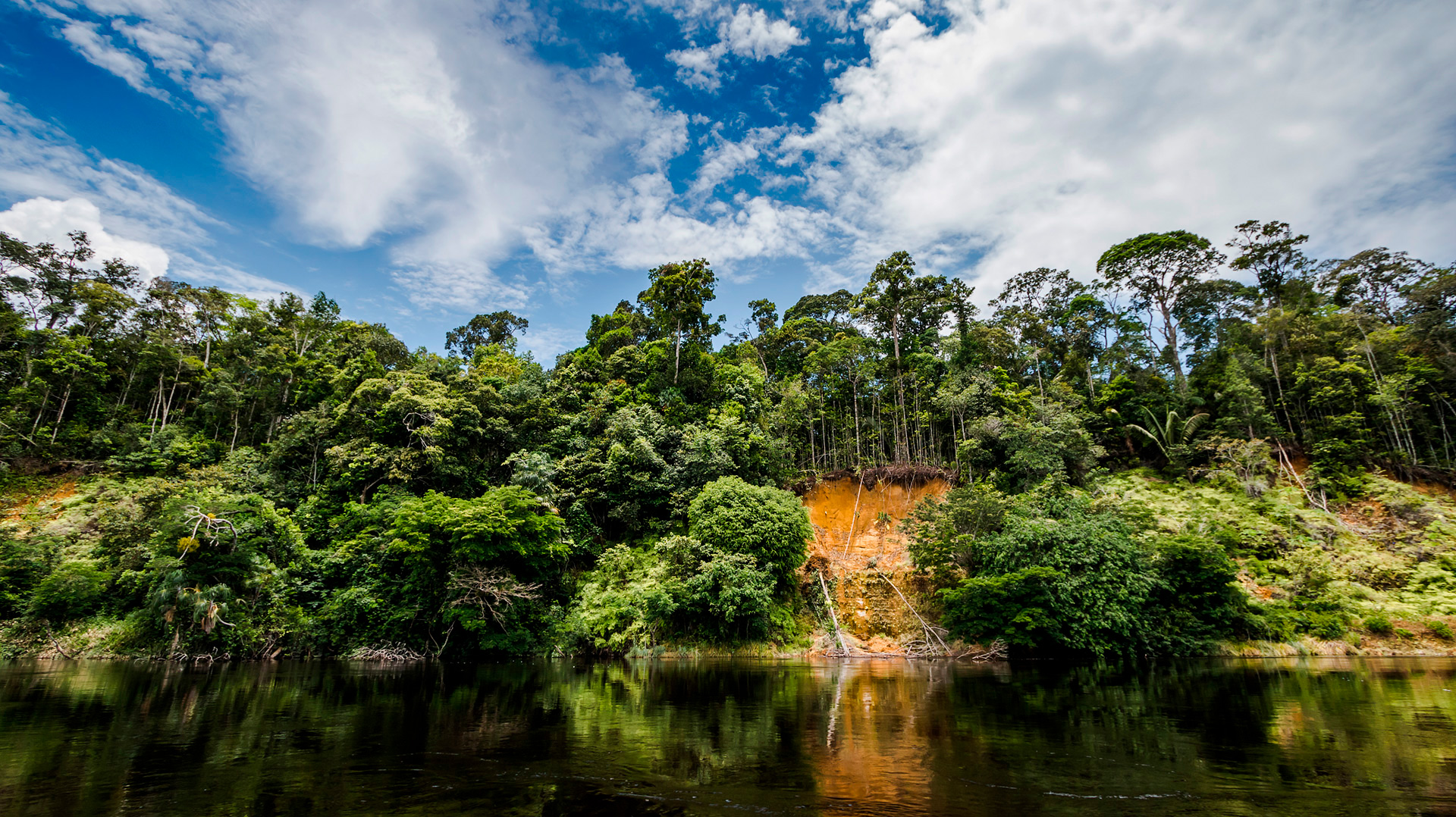 Ready to go!
The following day Breno and I prepared our tackle. #9 rods with tropical intermediate or sinking WF lines, 6 feet of a 40 lbs leader and a barbless Deceiver e.g. size 4/0. Poppers, Pole Dancers and everything else noisy would work too – the most important thing of all is that you can trust your tackle. Depending on water levels most of the fishing is done from the boat which is slowly motored parallel to the bank by the guide. Casting your fly towards the bank, retrieving it with alternating speeds. Over and over again.
Having a dislike of streamers I was somewhat irritated and bored by the monotony of it during the first two days. Breno told me to not make such a fuss and just to take it as it was. He was right obviously and nothing will come of nothing. While GPBs eluded us for the time being, we caught many butterfly peacocks between 2 and 6 lbs. Even those put up a remarkable fight and tested the stiff 9# rods. In my mind I scaled these to a GPB and wondered how I'd be able to stop, let alone land a fish weighing 20 lbs. These fish kept us entertained, even if the real biggies hadn't shown yet.
Fishing for a whole day in temperatures well above 30°C – expect the odd thunderstorm and heavy downpour though – requires a lot of stamina. Therefore we were really looking forward to an excellent dinner at night with a nice aperitif or a glass of Malbec in our hands. Particularly if it got prepared by the excellent chef Leandro and served by our charming hostess Manuela. Most likely she made a few heads spin and broke a few hearts on a weekly basis. The entire team is highly professional and the experienced guides – mostly Argentinians – spoke good to very good English. A few days before departure Breno mentioned a group of Russians would be joining us on the boat. What, I thought? Russians and free bar? My knowledge based on hearsay and rumors told me to brace myself. In the end it all came much different to what I expected. All guys were dedicated fly fishermen. Yes, they started drinking early but they also went to bed much earlier and in the end it was me and Breno who usually stayed up having a drink or two with the crew.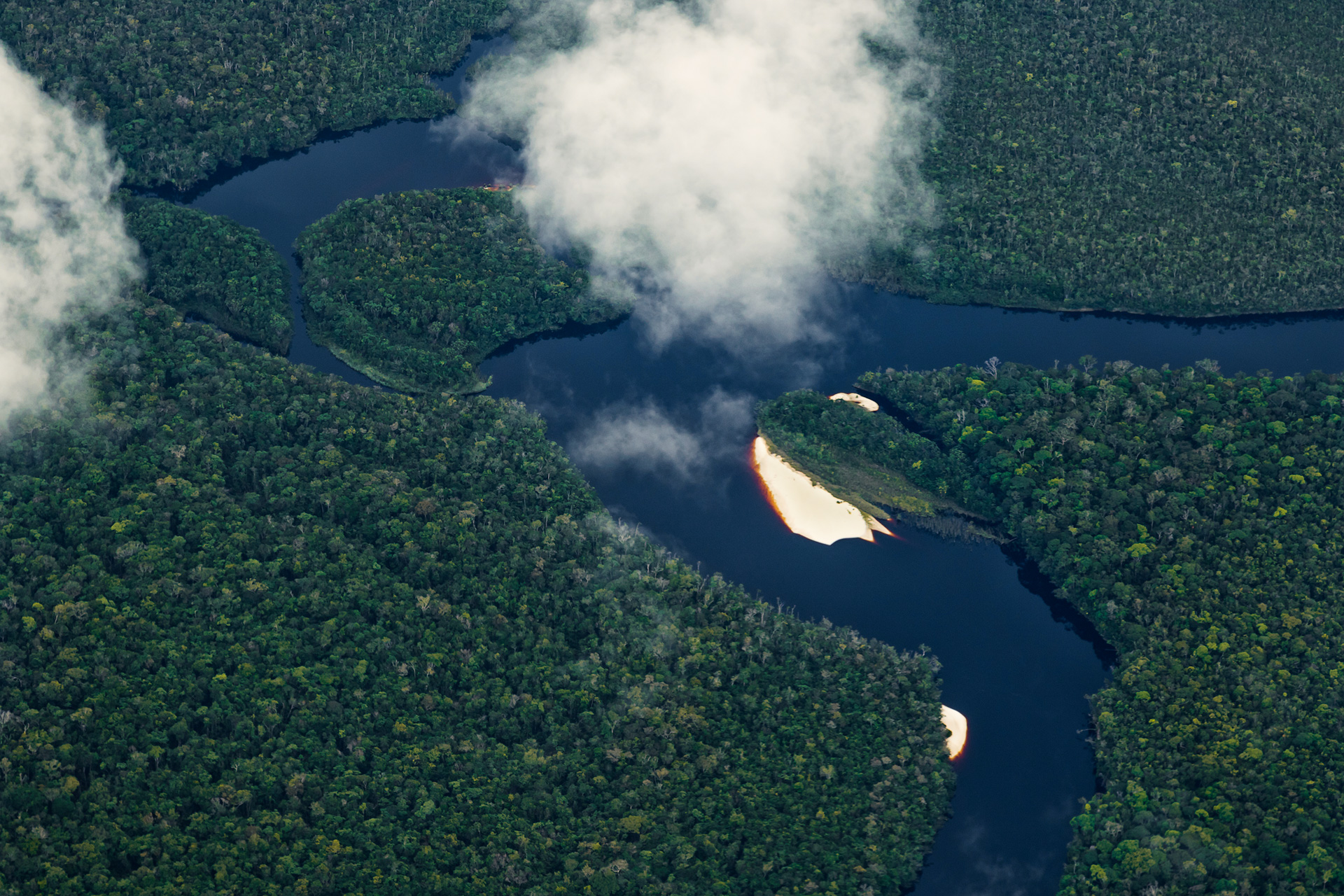 Welcome to the club!
On the third day my stamina got tested to the max. The cut-offs and creeks we fished in looked promising, but we only got hooked up to several butterfly peacocks. My mind wandered and I started concentrating more on the Amazon river dolphins but on the fishing. It's easy enough to spot them, much more difficult though to take a good shot of them. Therefore I constantly switched between rod and camera. I somehow must have picked up the rod at the right time because all of a sudden I felt something unusual in the line – a massive pull by something heavy. Applying pressure and trying to give not an inch was my goal. These fish know their territory and any sunken tree in which to hide and tangle the line. After several short runs though, we managed to land the fish. A 23 lbs peacock bass – welcome to the club! We'd cracked the code. 300 grains sinking lines were the weapon to get our flies down to where the fish were, because in September, the beginning of the season, water levels can still be rather high.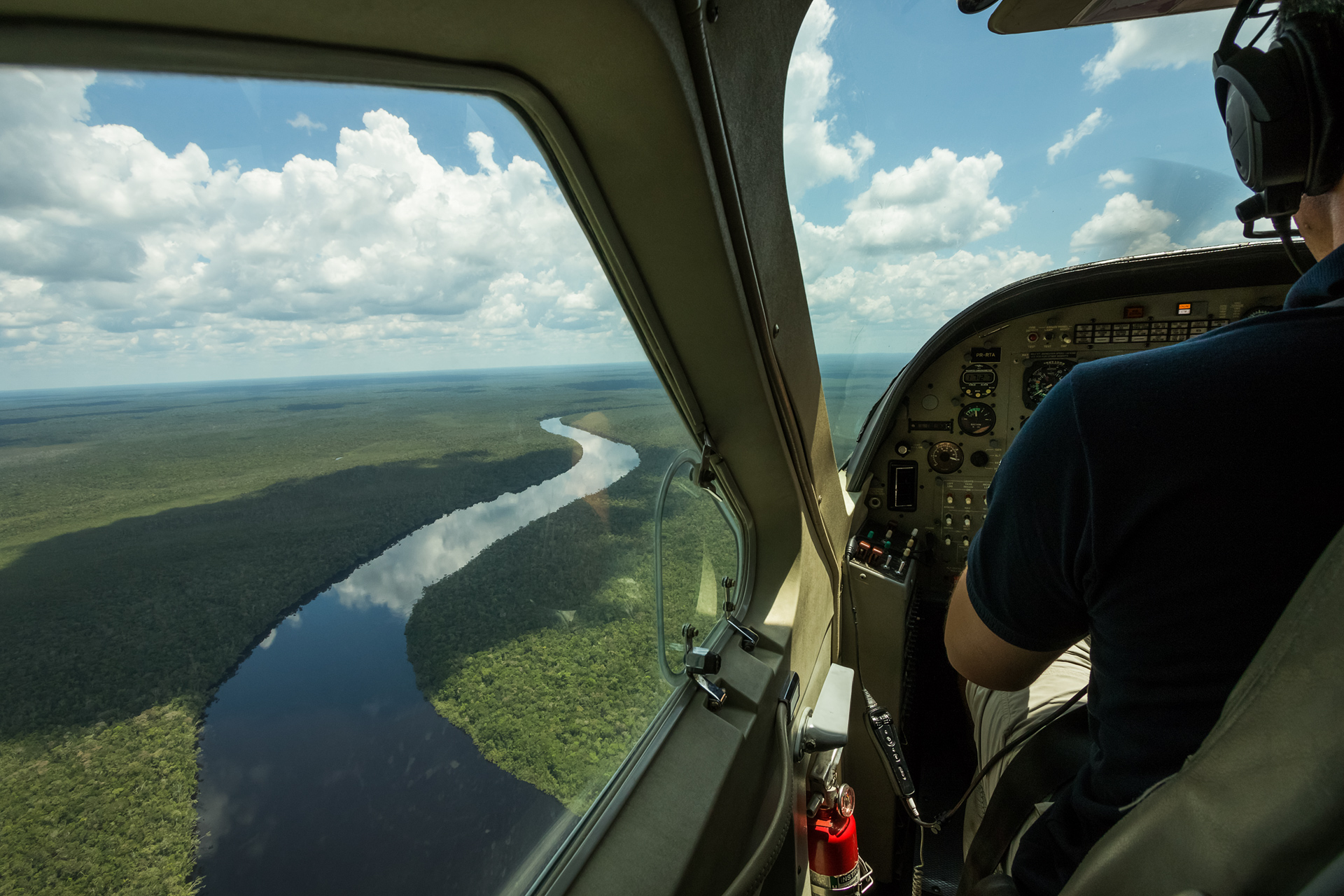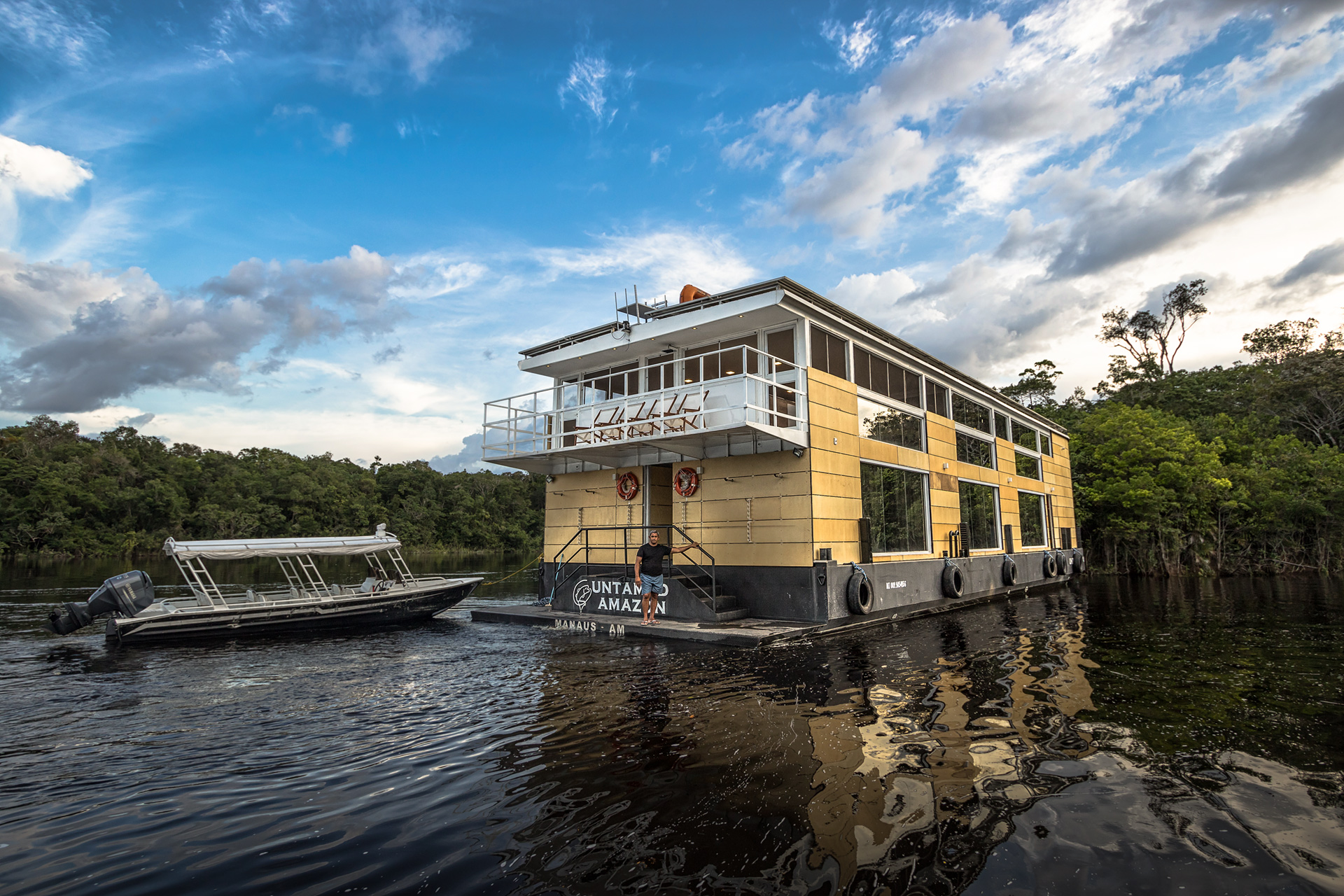 Informations
Clothes and tackle are similar to saltwater fishing. #9-10 rods with tropical floating, intermediate and sinking lines and reels with reliable brakes – bring backup of each. There were surprisingly few small insects but protecting yourself against them and the sunshine is crucial. I found the numerous, non-aggressive bees to be a bigger annoyance. Best time to travel to Rio Marié is the dry season from mid-September until the end of November. Get there via Manaus.
Operator:  www.untamedangling.com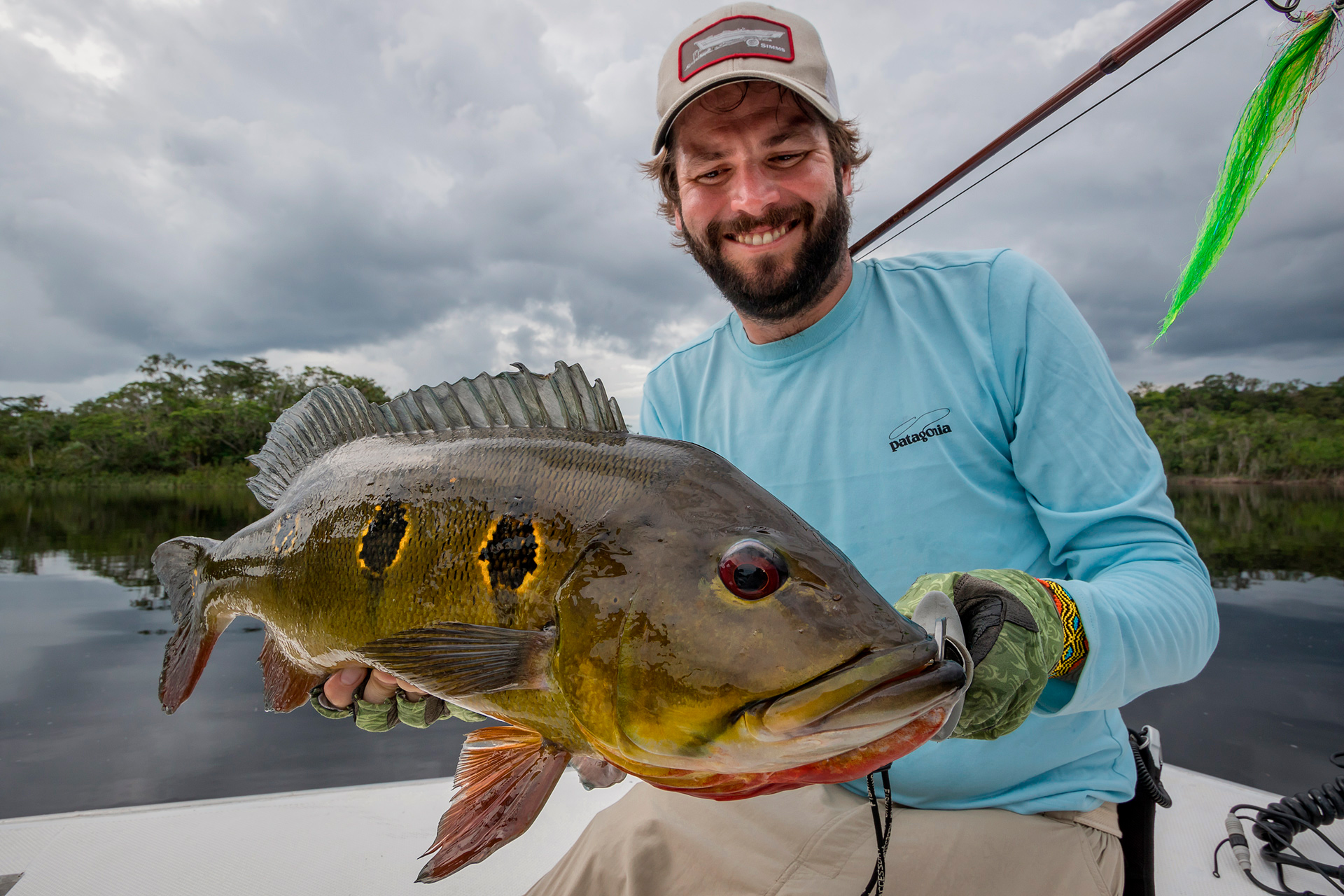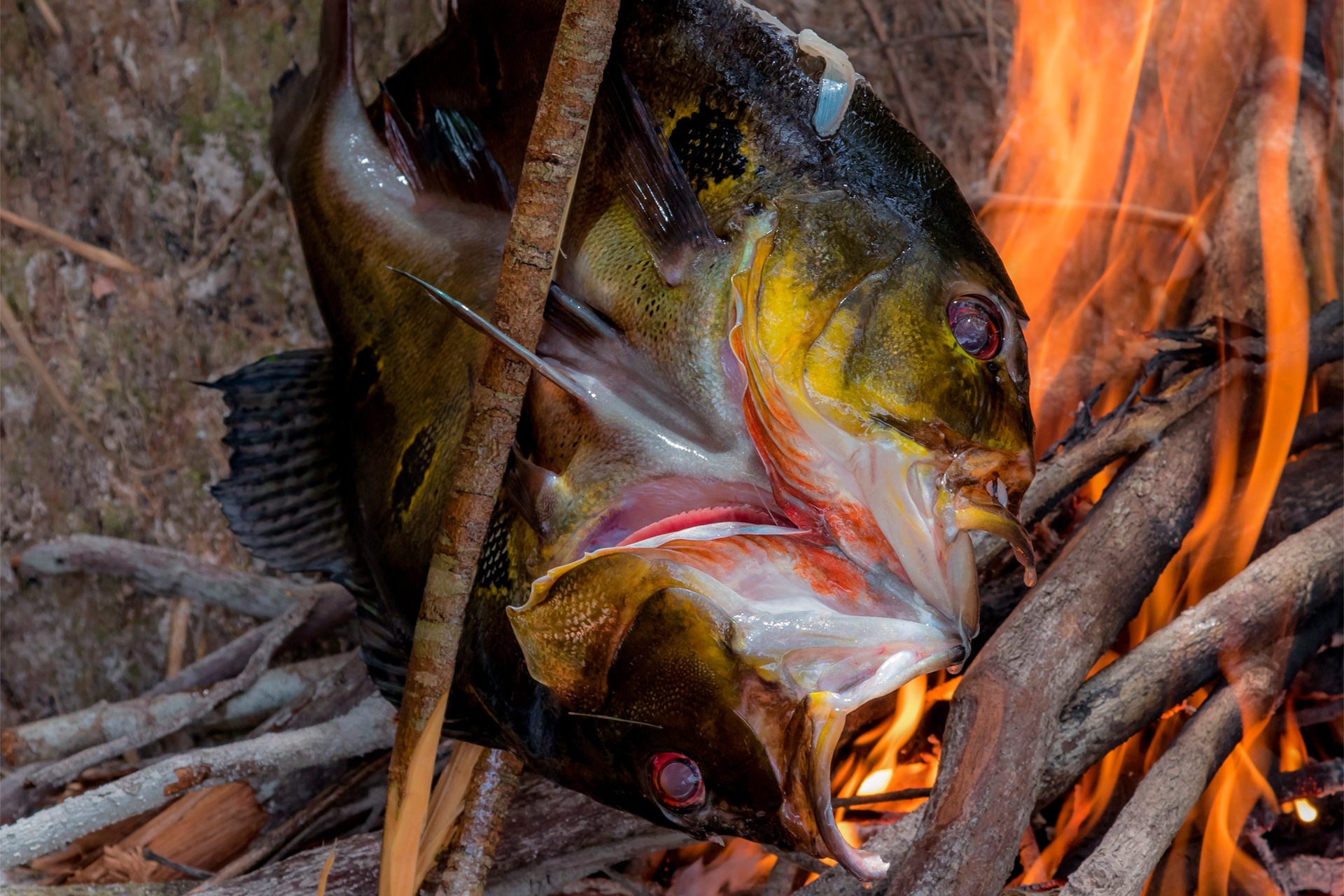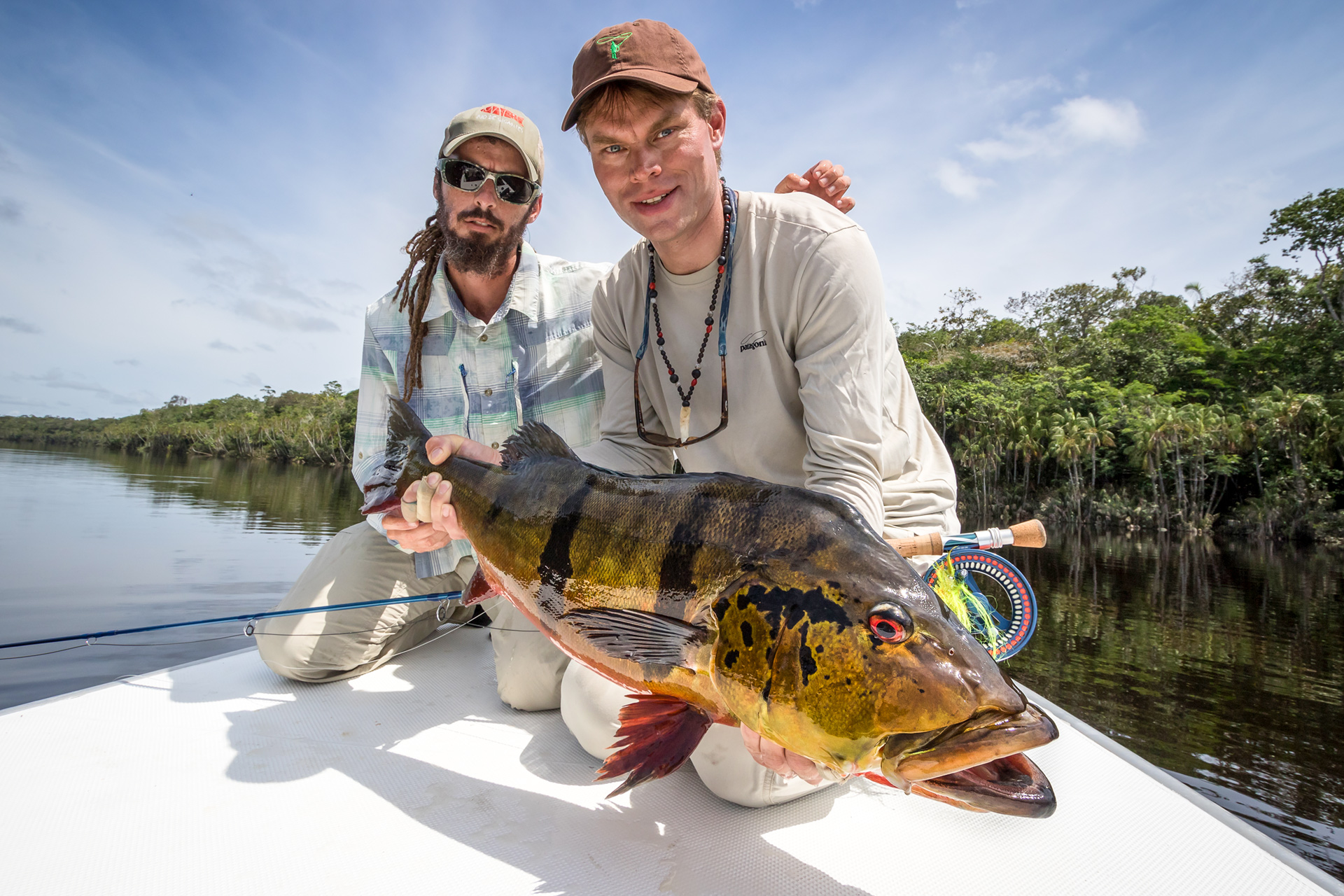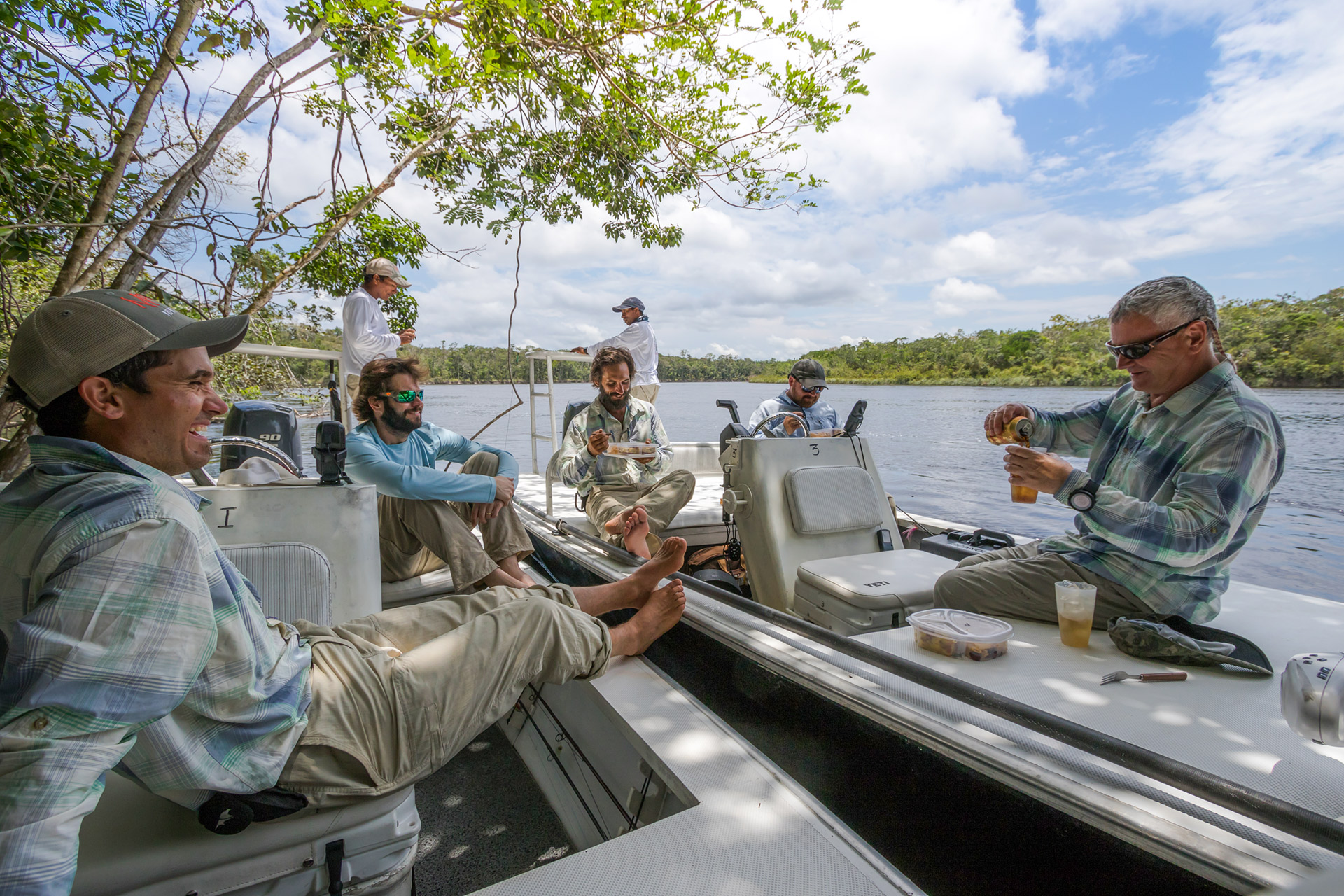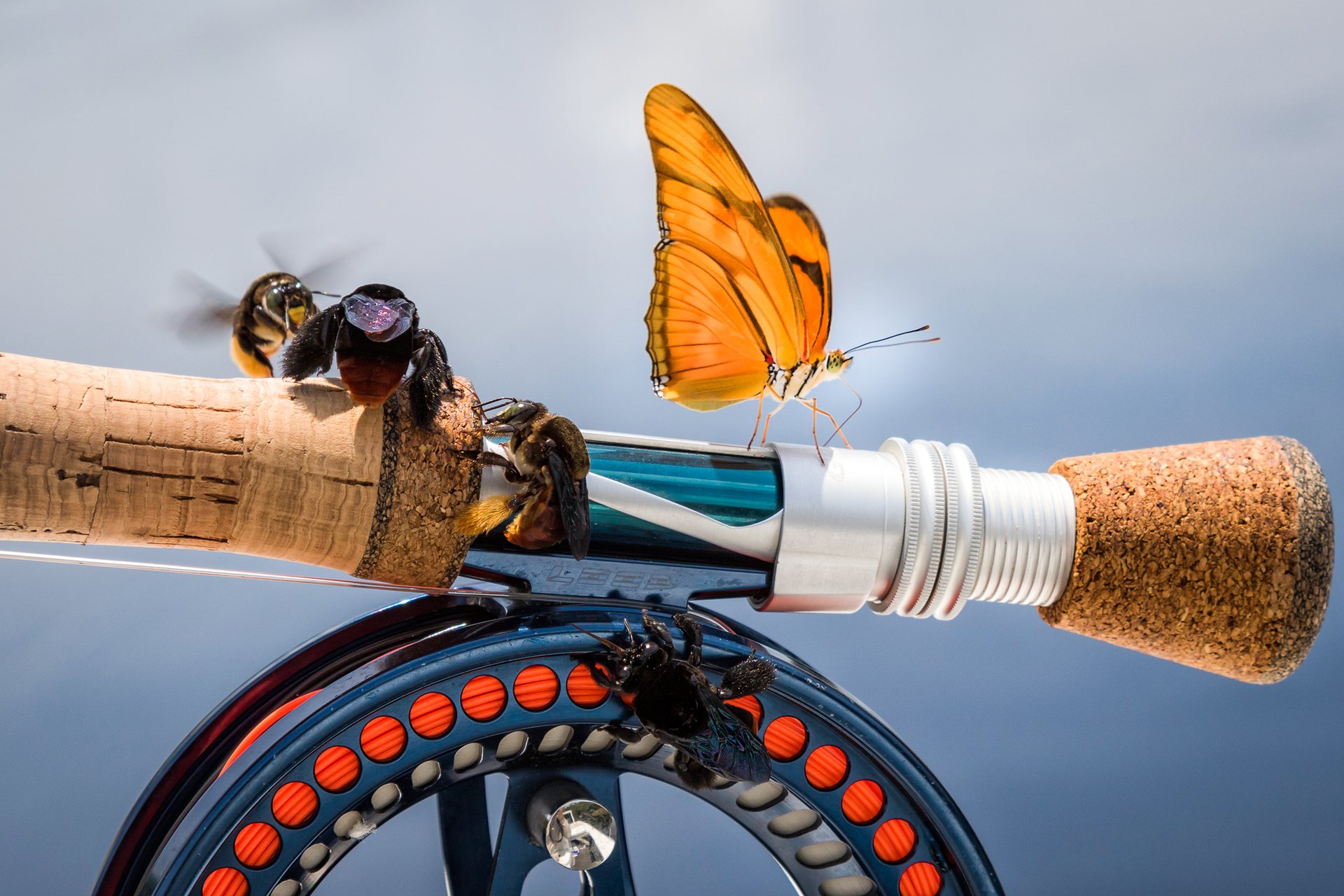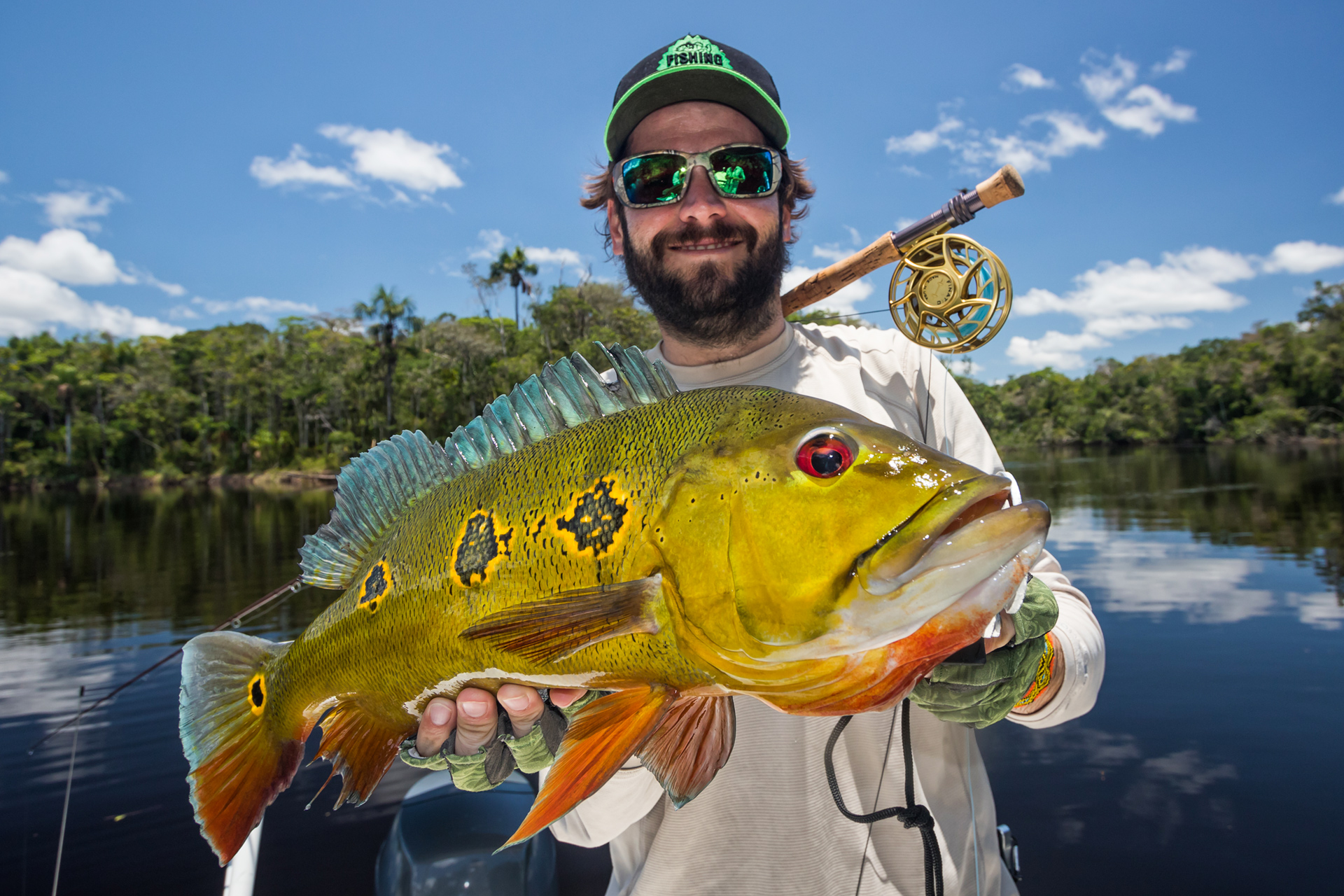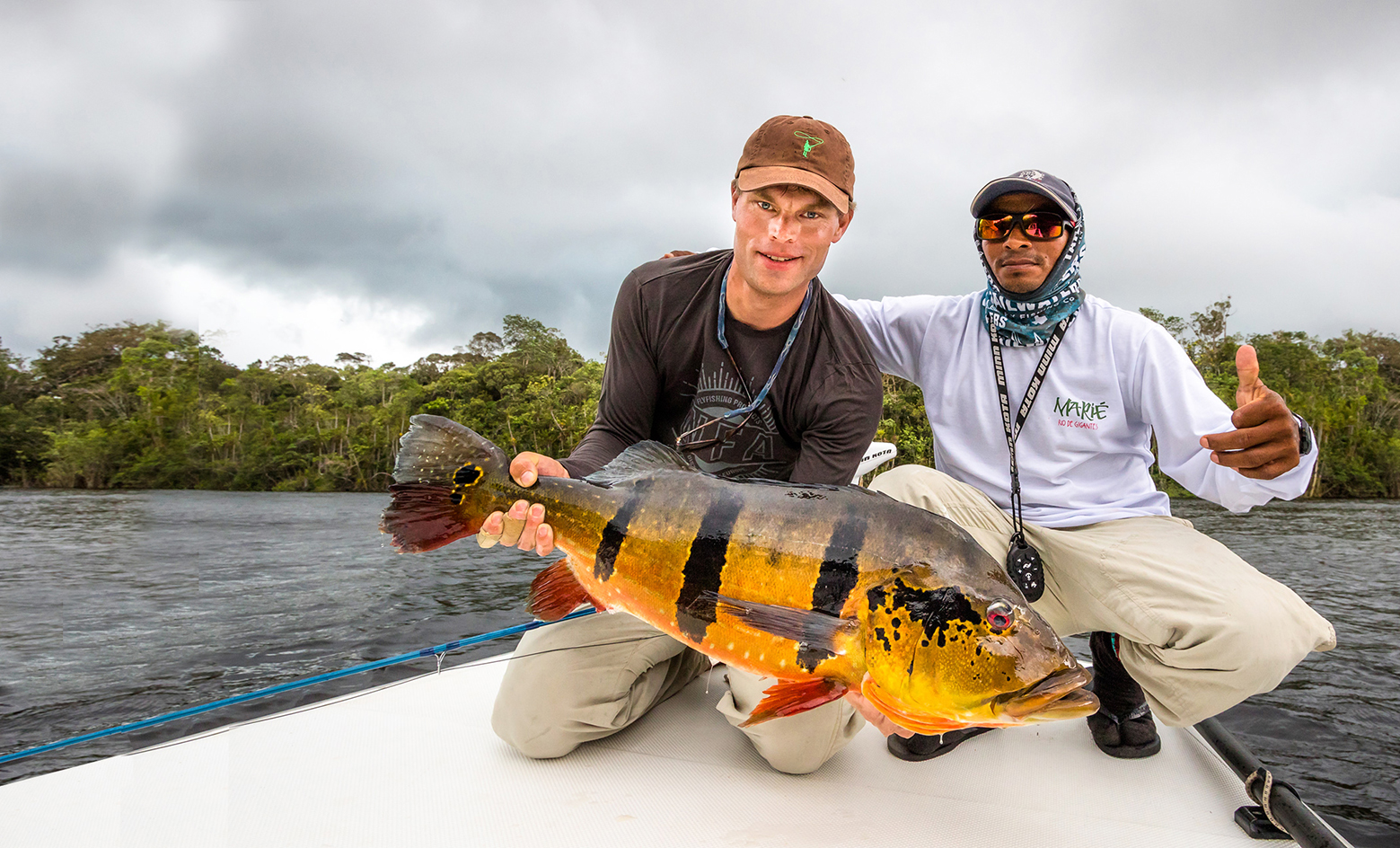 Giante Peacock Bass
Could this be topped? Of course it could! The following day, hot and sunny again, we went out with our guide Agustin. Again I got distracted by the dolphins and took a while to get into the swing of things.
Shortly after lunch we drifted through a promising cut-off and I cast a Deceiver towards the bank and sunken trees. Baaam! That was an extra-ordinary strike! A few sweaty moments later (a knot in the leader, the fly line tangled around a branch of a tree), a monstrous fish gave in to my hard fight and showed at the surface. Agustin and the other guides got nervous. Four nerve wracking attempts with the huge landing net later we knew, that I caught something quite special.
Obviously this Temensis T. Rex was huge, but not before we measured it with the IGFA approved measuring tape and scales we realized its size: 28,5 lbs and well over 90 cm! This giant fish turned out to be the largest fly caught – barbless obviously – peacock bass recorded up to date. Pretty close even to the all tackle record. We all were over the moon! Particularly that rookie – the author – who was about close to resign. Without a doubt Rio Marié is THE destination for +20 lbs GPB. During the 2016 season, sixty fish tipping the scales over 20 lbs were caught and released on a fly there.
For more information, advice and booking:
florian.kaiser@gmail.com
http://theflyfishingfamily.blogspot.com