WANT TO RIDE WITH THE SCALE CREW?
The first European-based online fly- and spin-fishing magazine! Our diehard fans want the best content and access to the best products. Having put 10 years of solid fishing journalism on display, we are developing SCALE Magazine to engage our loyal audience with modern content delivery. This high-level video, photographic, and journalistic content is created and delivered worldwide; always respecting nature, while ensuring that the world's best writers, photographers, anglers and outdoor fans want to contribute their hottest content on all our channels for the most important factor of all: OUR READERS!
You want to hang out with our hardcore fanbase? Kick in some gas money and we would love to introduce you. Our subscribers' loyalty extends across decades, and that is exactly the type of customer every badass brand needs.
CONSTANTLY MOBILE
Fishing with headphones on? Mobile devices in waders? Yes, times have changed, and anglers are fully mobile.
Always checking the weather. Always checking social media. Hate it or love it – it's there to stay.
And so is SCALE. A full mobile presence, meaning your brand story is
accessible anywhere and everywhere.
Your Brand in Scale
Partnering with SCALE Magazine means you'll be using the skills of global marketing experts. The guys behind SCALE
have been working in the media business for decades. Your marketing strategy gets embedded into
our special interest format which enjoys multi-channel access to a worldwide readership.
We tailor your needs in both time and budget to harvest maximum performance and emotional impact.
Strong story-telling, simple brand exposure, pinpoint product placement,
all within a framework of authentic journalism: All this offers a unique way to project the story of your brand via our channels,
at the same time supplying agency work which is included in our pricing.
STRONG TARGET GROUP
The sport fishing industry caters to more than 220 million recreational anglers worldwide. This strong growth market is estimated to show a 2.86 billion-dollar increase by 2025. The target group of SCALE – fly fishers and spin fishers – tends to be high-end anglers with close contact to a wide variety of quality brands. From expensive SUVs used on angling trips to all those luxury gimmicks and gadgets that abound in the fishing world – nothing is too expensive when it comes to investing in a very special hobby.
Outdoor Equipment
Tents, sleeping bags, torches, grills, flasks, backpacks, knives, binoculars. Anglers choose long holidays or weekends at their favourite haunts, better equipped than ever for anything that's thrown at them.
Tourism
Scandinavia, Patagonia, New Zealand or Canada – no fishing hot spot destination is too far in their pursuit for the experience of a lifetime. Most SCALE readers travel the world on their own, with pals or their family. They spend a fortune on getting there by car, ferry or plane. They are willing to fork out huge sums on accommodation and necessary licenses.
Food & Beverage
Frying, barbecuing, marinating, smoking – most of our readers make use of their catch, are interested in ingredients and cooking utensils and generally love good food and drinks. Starting with organic muesli bars for the day out at the water, to juicy pasture-reared beef for dinner in the evening accompanied by elegant wine and mature whisky.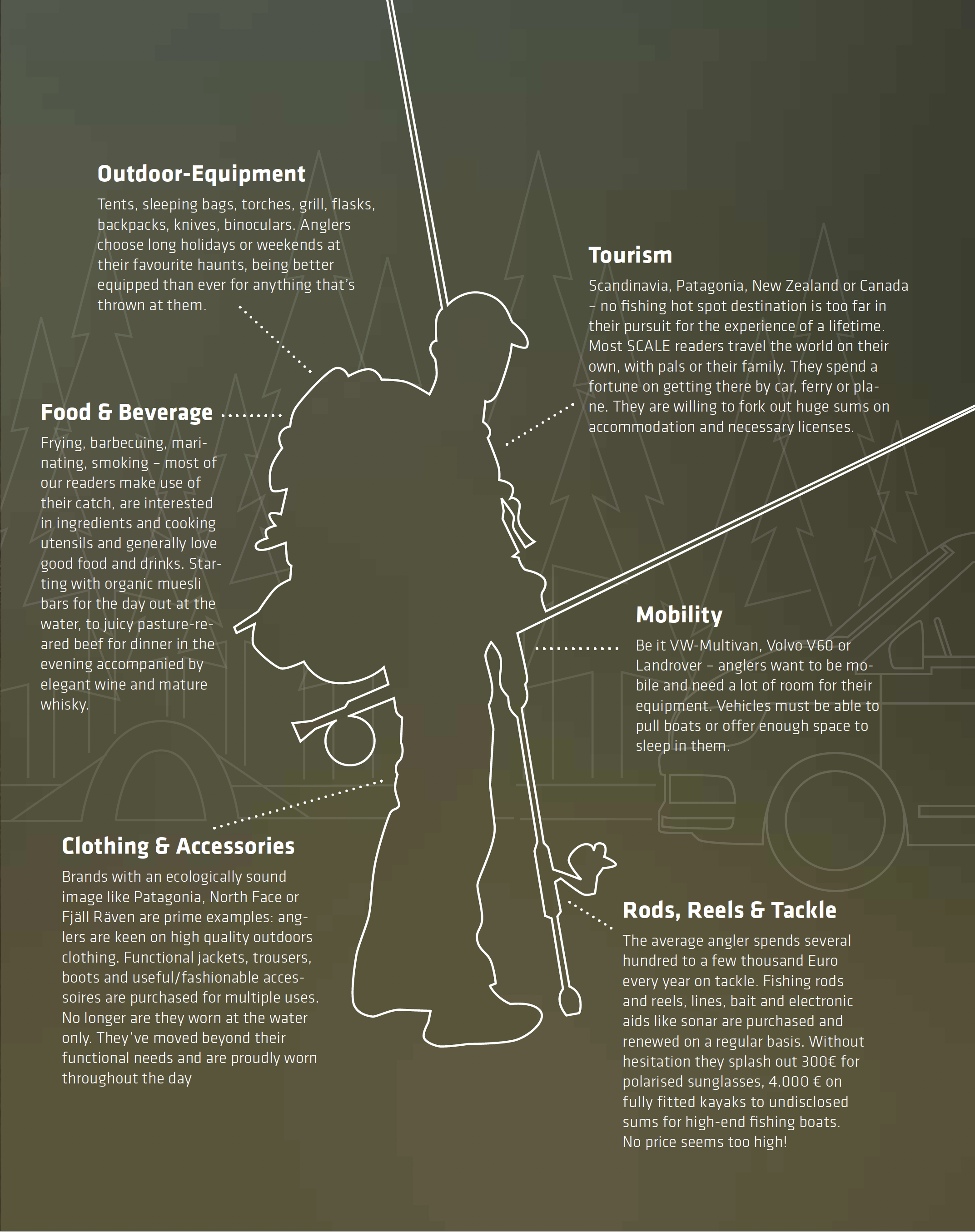 Mobility
Be it VW Multivan, Volvo XC60 or Land Rover – anglers want to be mobile and need a lot of room for their equipment. Vehicles must be able to pull boats or offer sleeping space to sleep in them.
Clothing & Accessories
Brands with an ecologically sound image like Patagonia, North Face or Fjäll Räven are prime examples: anglers are keen on high quality outdoor clothing. Functional jackets, trousers, boots and useful/fashionable accessories are purchased for multiple uses. No longer are they worn at the water only. They've moved beyond their functional needs and are proudly worn throughout the day.
Rods, Reels & Tackle
The average angler spends several hundred to a few thousand Euro every year on tackle. Fishing rods and reels, lines, bait and electronic aids like sonar are purchased and renewed on a regular basis. Without hesitation they splash out 300€ for polarised sunglasses, 4.000€ on fully fitted kayaks to undisclosed sums for high-end fishing boats. No price seems too high!