Gone Fishing with the Sámi
Early one grey, gloomy north German winter morning, my business partner Brian Bojsen (TV chef, restauranteur and surfer) called me. "Well," I asked, "been on tour? Still awake?" Surprised, I didn't hear a sleepy voice at all. Nothing but pure enthusiasm poured from the phone: "Let's go – I have to get out of here!" It was the only logical reaction to the prevailing Corona blues – and I felt the same. A brief chat, and the destination was already clear: Lapland! We'd already planned the previous year to visit the nomadic Sámi people, but somehow something else always cropped up – and anyway, we wanted to be there when there was snow.
For me, a passionate sea trout angler, thoughts naturally revolved around the fish. The trout. The first thing you think of is the rod, then the streamer flying through the air… But wait. It may be spring in Germany, but Lapland? "Clunk" – you picture the fly landing on ice in the Lapp winterscape. No matter, there'll be a bite somehow, somewhere, even if conjured out of a hole! The main thing is a road trip!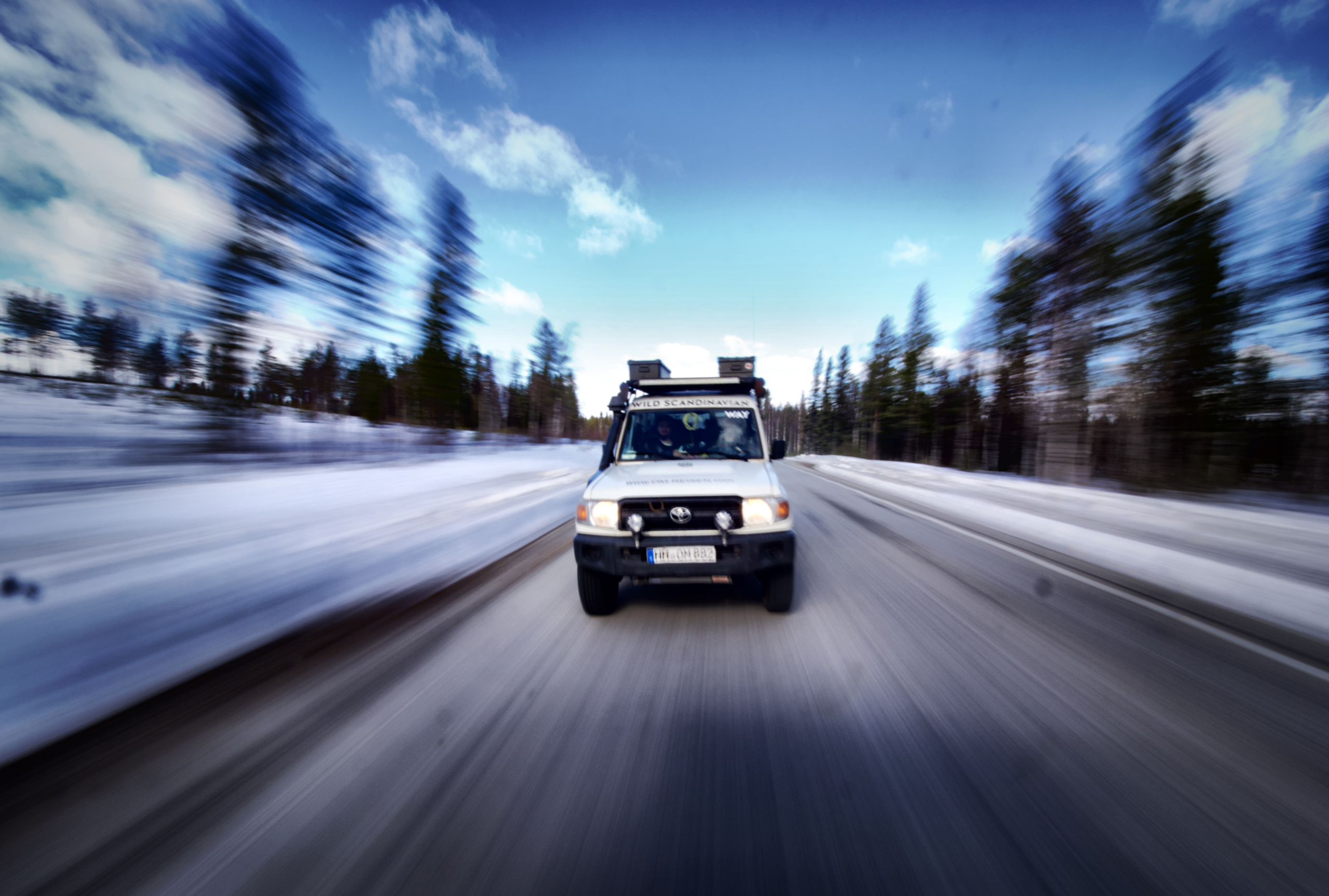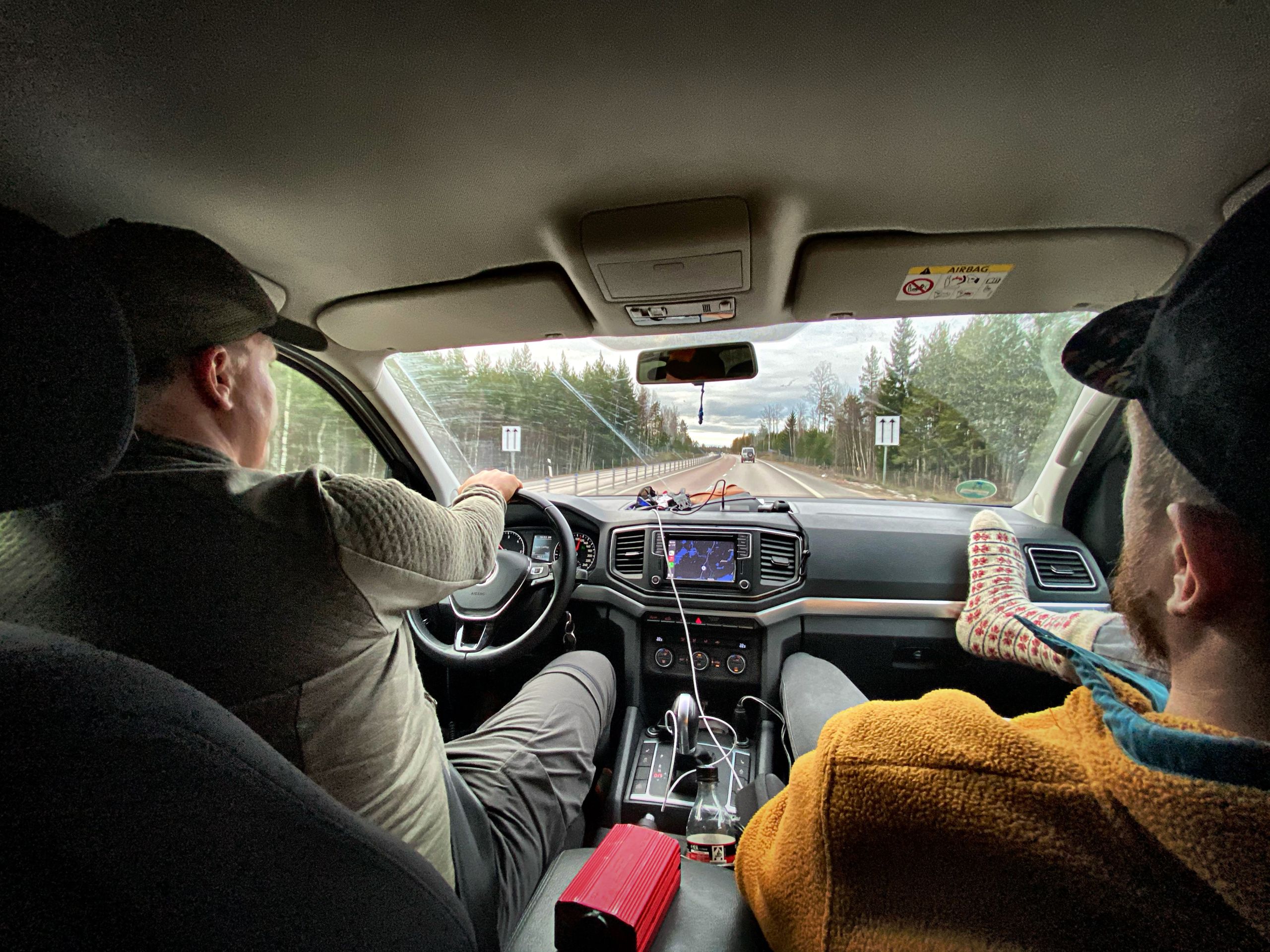 Go with the flow

One result of the pandemic was that we had lost our partner Volvo, who had been due to be part of our Wild Scandinavian Way film project for the next season. "Marketing has to save money," they had said. So how do we get up there now? My urban SUV would be no match for the Scandinavian climate zone and heavy snowfall. Damn – what were we to do? The difference between an expedition and an adventure is simple: One is well organized, the other utter chaos. And the latter was, frankly, more us. We had shot seven films in 2020, reaching 500,000 people – and not one of those productions had a running order or a packing list. "Go with the flow". Now, too, the same chaos beckoned – the only major difference being that we had no cars. I picked up the phone and called Germany's best offroad specialists: OFFROAD MANUFAKTUR HAMBURG. I'm passed on to the company's CEO Florian Raasch. "Hi Florian, we haven't met yet. We're going to Lapland next week – and you're on board!" Florian laughs, and tells me his business partner Michael Schäfers is at that very moment on his way back from Lapland. What a coincidence! Not even five minutes later I get a call from Michael, who's on the return trip ferry. "Sure," he says. One of those phone calls you don't forget so quickly. Less than five days later five of us are sitting in a Toyota Land Cruiser and a VW Amarok heading for Lapland. Bye bye Corona blues. Done in style.
Flat tyres and missed opportunities
I had completely forgotten what it means to cover around 2,100 kilometres in a car. With breaks and ferry rides, that's easily 32 hours. From Hamburg to Jokkmokk. Changing drivers every five to six hours and patiently waiting for the first snow. The first white patches appeared two to three hours after Stockholm, but quickly disappeared. Then suddenly there it was, the white front. And soon the first frozen lake. It took a moment for the brain to switch from spring back to winter, my senses on a roller coaster ride with every raging stream we passed. Then suddenly: BANG! One of the Land Cruiser's tyres had gone, and the spare had to be fitted. My chance – the puncture happened right next to a stream. Spot on cue I nipped to the boot, pulled out my 7-weight rod with a shaky hand, fitted the reel, threaded the line. Waders? What if it's a pike? I don't care. Do you need a licence here? Let's say, maybe – not sure… Before the rod was set up, Michael had changed the tyre. It was inhuman. What a machine that guy is. So…everything back in the car. It just wasn't meant to be. Back on the road – Rubber Duck style! Throughout the trip the breaks were a culinary highlight. Day or night, whatever the time, there was truly tasty catering prepared by Michael, a seasoned traveller who has been all over the world in his Land Cruiser – a geologist and outdoor expert who's an icon when it comes to travel organization.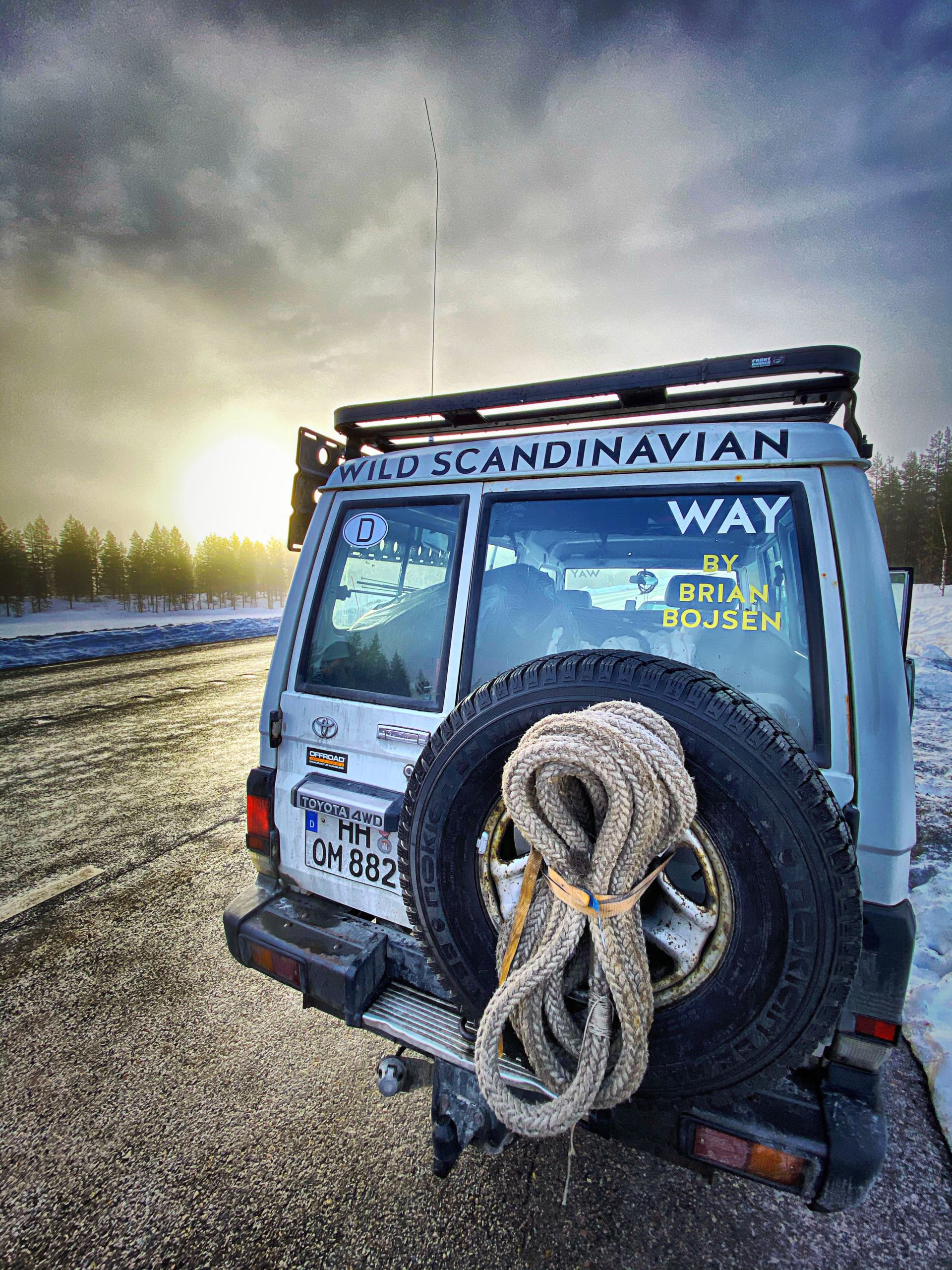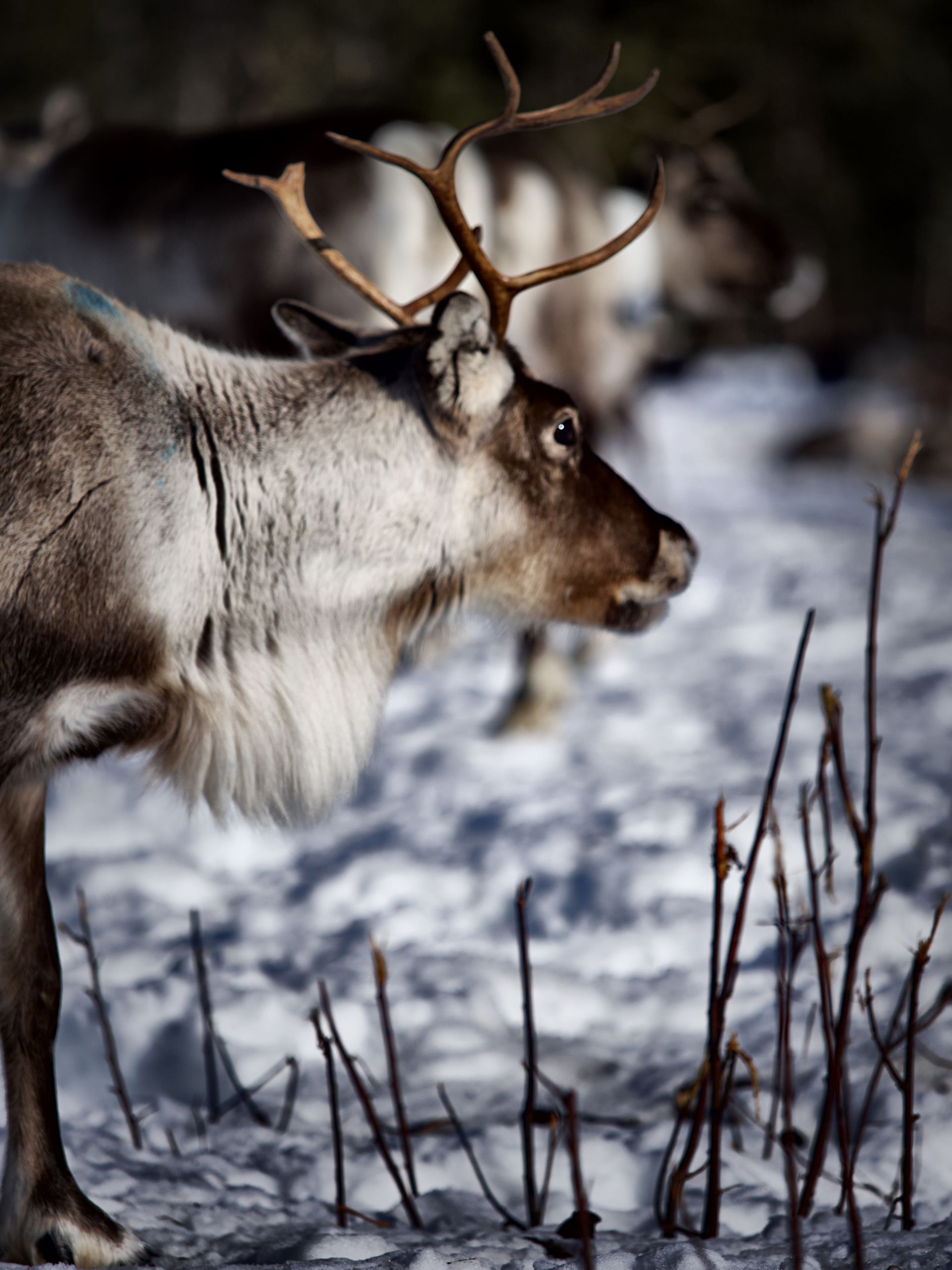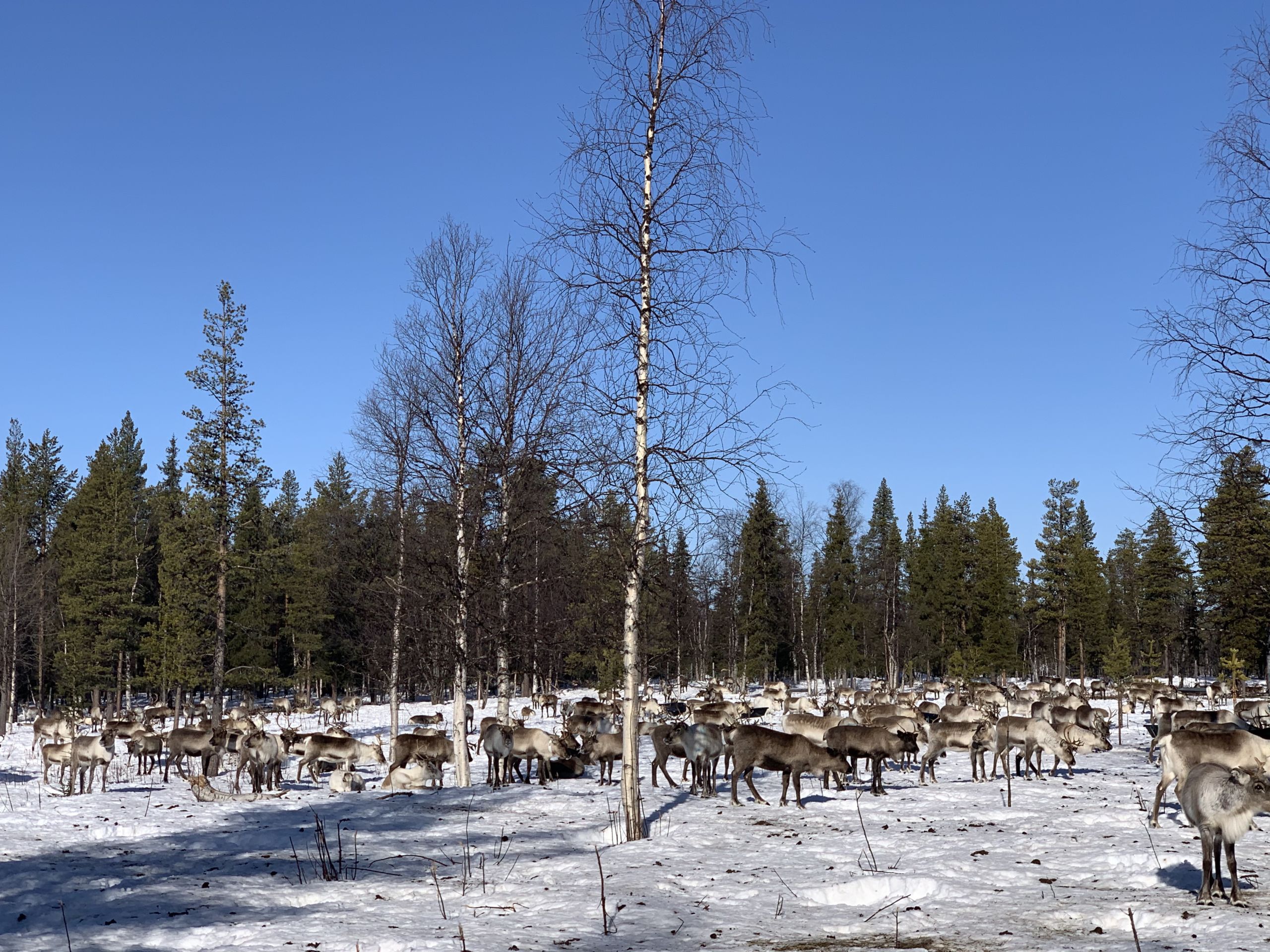 Longings against a white backdrop
As it turned out, we reached our destination sooner than planned. Instead of the scheduled 7-8 o'clock in the morning, we hit Jokkmokk a good five hours earlier. I had contacted a hotel in Avidsjaur around 23:00, completely overtired on a Monday night. Jackpot! German voice, nice guy – the night was secured. So only 27 hours on the road after all. As experience shows, the last hours are always the toughest and we're all only too glad to fall into bed. Next morning we awoke to the land of eternal winter. A breathtaking white backdrop. We drove onto a lake and took our first beauty shots. But my thoughts were constantly on a river I had seen on the way. I had to get to the water now, even if it meant the rest of the crew had to stand and watch me fly fish. Surprisingly, my request was well received, as everyone was hungry and we combined fishing with lunch.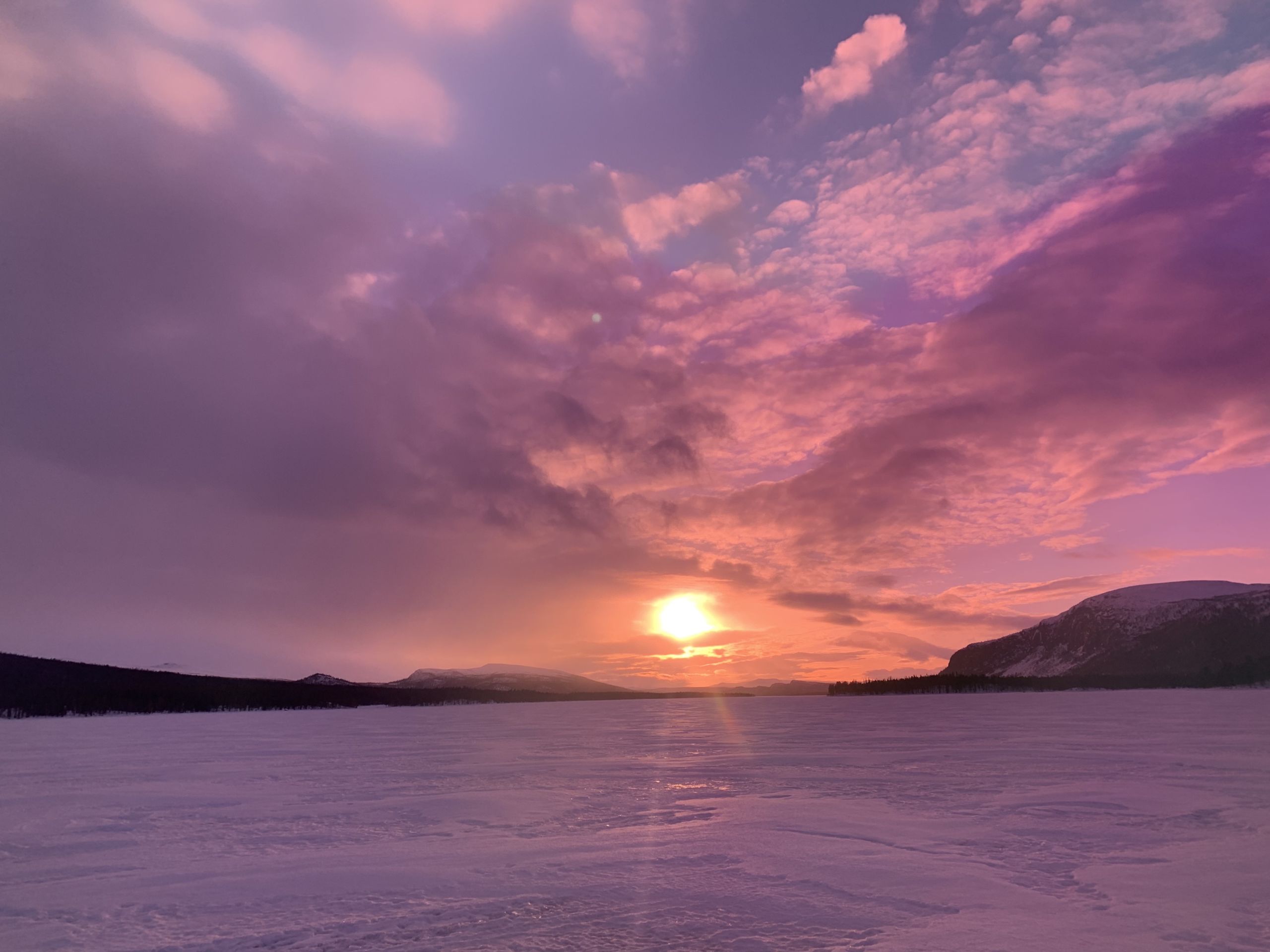 Calling Miss Smilla
However, by the time I'd booked my fishing permit online, everything had already been repacked and the entire crew was waiting for the Englishman squatting in front of the reception PC. I lost my nerve – and again found myself without a fishing permit by the water. This was now getting really uncomfortable, so I then made the effort to take a crash course in "Written Swedish", by the stream, mobile phone in hand. The permit was bought after a good half hour, and I now promised myself the necessary peace and quiet while fishing. Rod quickly rigged, waders and jacket on – and off we go. Oops. The path from road to river was no more than 150 metres – but through one-and-a-half metres-deep snow. My first step ended up 90 centimetres deeper than expected. My God, how was this supposed to work? Heart racing, it took a good 40 minutes to cover this short distance. Fortunately I'd put on extra thick clothes. It was still minus 8 degrees – the cold version of hell. Exhausted, sweat streaming, I took a little break and a serious look at my hip flask. It was then that I saw Michael and Brian sedately gliding to the water's edge in the tracks of a snowmobile after an extensive lunch. I was an object of mockery. And rightly so.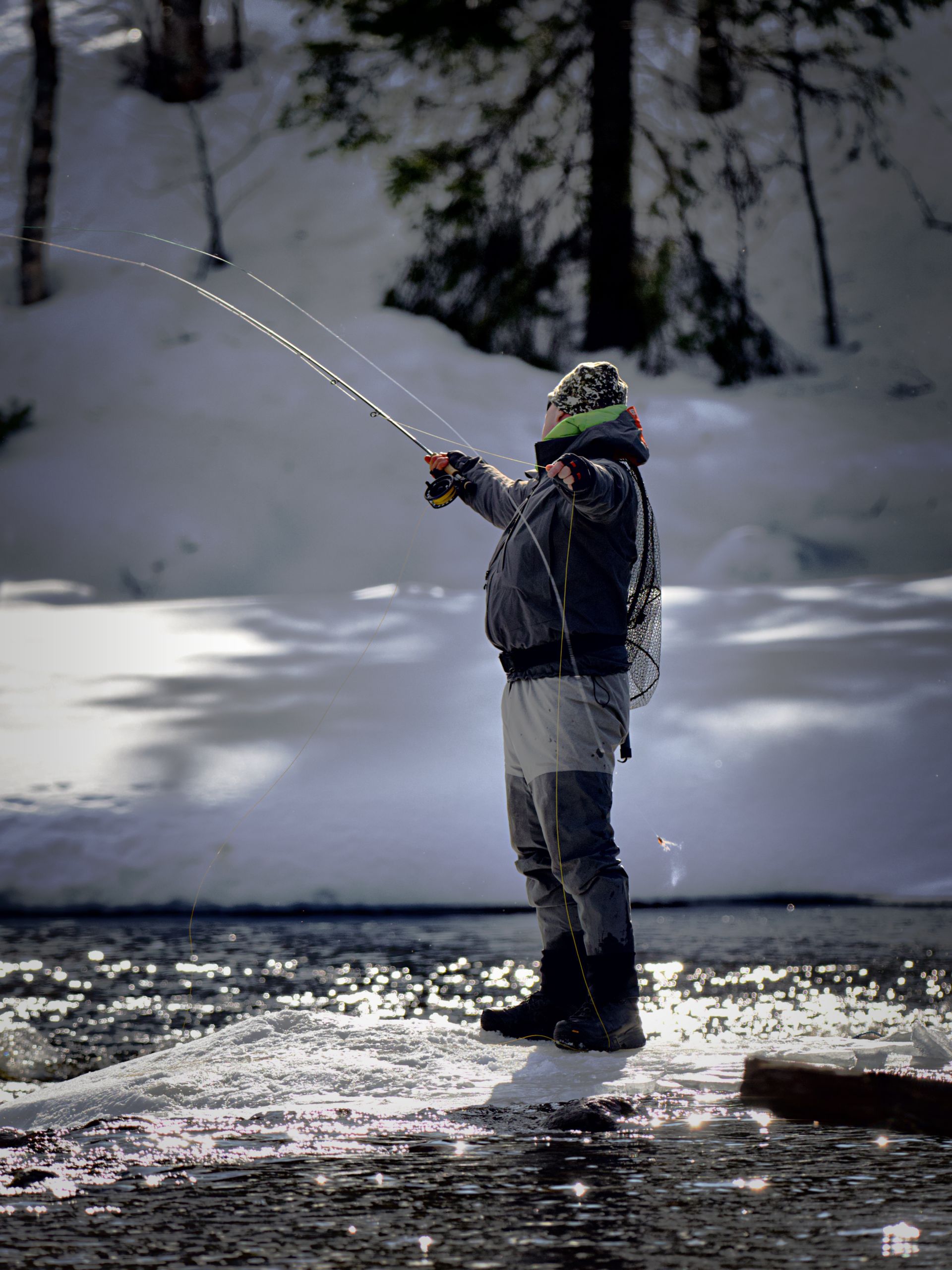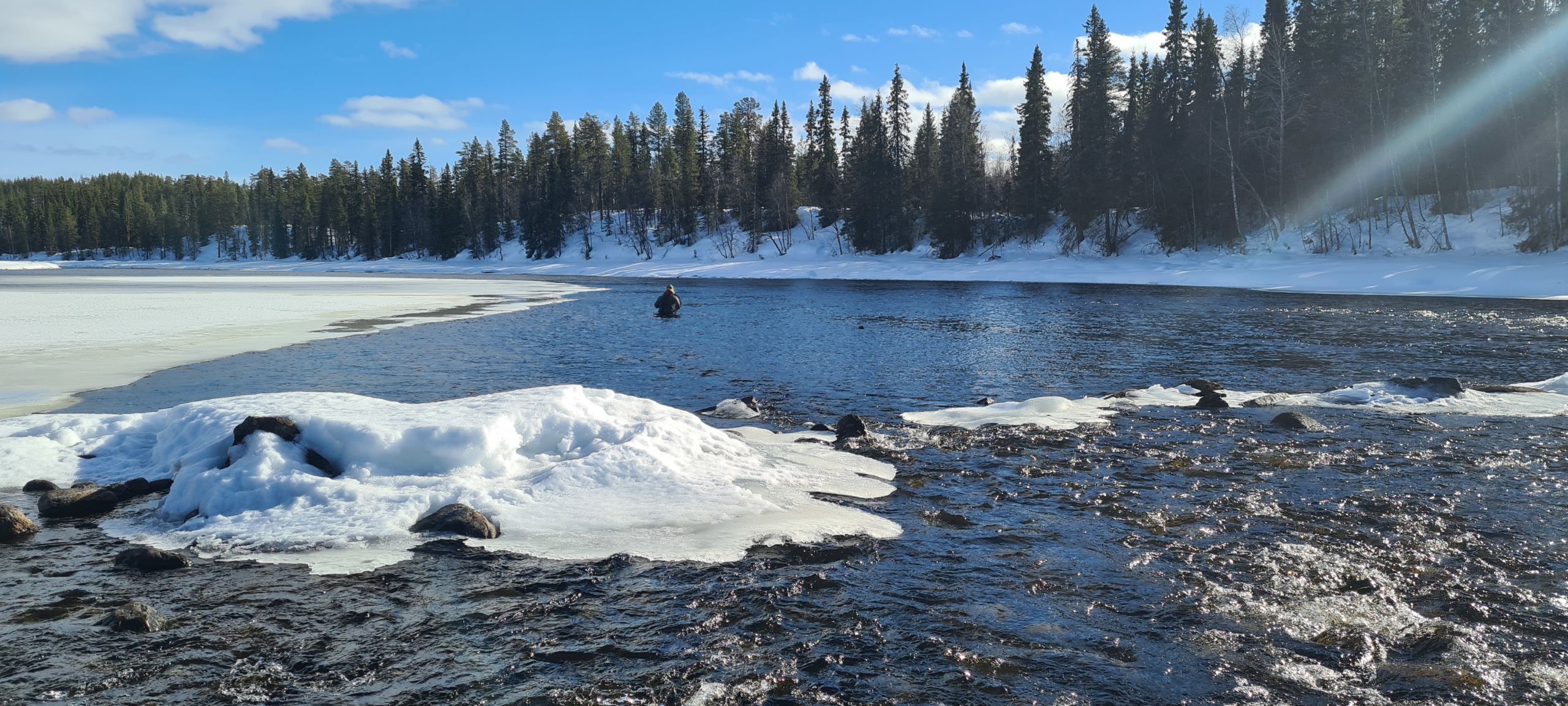 Char, Arctic Char!
What followed was one of the most fantastic casting sessions I've ever been part of. Ice all around, sub-zero temperatures and raging, melting water barely one degree. Arctic char are not called Arctic for nothing. We had a force 5 wind, but as a sea trout angler you have no problems with wind. Quite the opposite. I love fishing in 4-5 winds. I had to cast back-handed almost all the time, but the line landed exactly where it was supposed to. Nix. Nada. Not even a twitch. I soldiered on until the rod rings had all frozen and my fellow anglers were fed up. "Oh come on Ben, there's nothing in there – we're cold, pack it in." I wanted one last try and left a big rock to fish further downstream beside an ice ledge. The icy water was up to my chest, but even in this promising spot – nothing! I gave up after an hour and a half. A rueful smile – no matter, the rod was wet, the line had sniffed Arctic Circle water, and I was at one with the world. With ten more days in the luggage, there was still plenty of fishing time.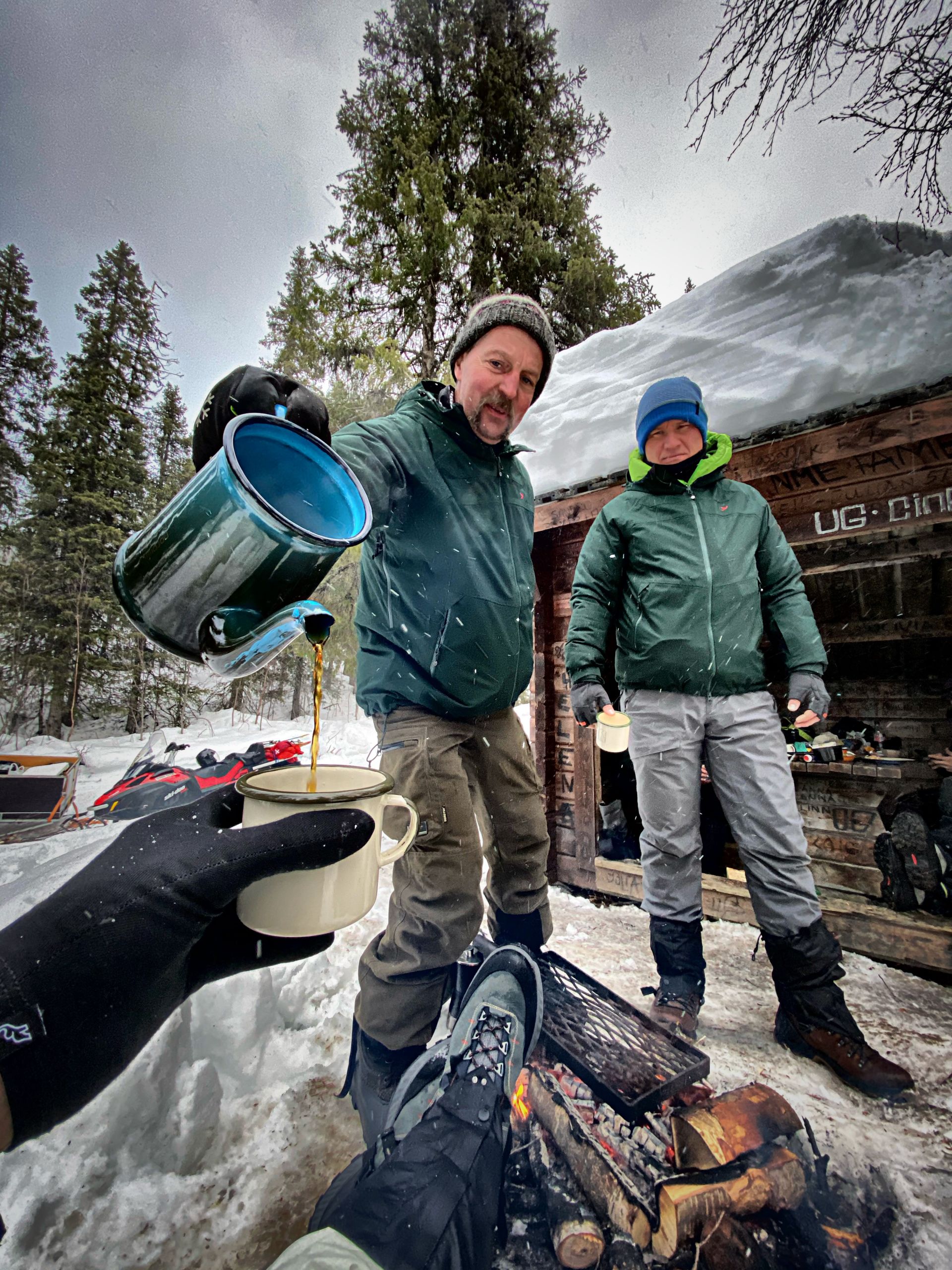 Jokkmokk, Krille and tip of the tongue
We made our way further north and an hour and a half later Brian decided to serve drinks to mark our arrival at the Arctic Circle. Michael produced his Mount Everest ice axe from his luggage and hacked out fresh lake ice for the drinks. Rosemary, fresh blood oranges and elegant glasses filled with champagne. It's just great to have a top class chef on board, and that was one drink I'm not going to forget in a hurry. The journey continued towards Jokkmokk, where we were to meet our guide Per and Krille, the Sámi. After a good four hours we arrived in a small village and moved into our base camp. In the early evening, a car with a trailer drove up, and two very fit-looking men unloaded snowmobiles.
We knew we wouldn't get to the mountains in cars, but none of us had driven one of these things before and the respect towards these projectiles was great. The door opened and a somewhat stern-faced Sámi said: "Hi guys, I am Krille." You could already tell by his hands that this was a tough guy. "And this is Stompy, my most important friend," he added, referring to the dog at his side. While we were helping with the unloading, the cautious question came from Krille: "Er, have any of you guys ever sat on one of these?" A loud "Sure, I have, many years ago," came from Brian at the back of the group. Well, it was clear that the Dane had done this in his past, too – and that I was more or less the only greenhorn when it came to snowmobile driving. We unloaded the rest of the gear. Our partner Nordisk had sent us their best man for the trip: Per Kristensen. Per had been on tour with Krille many times before, and after a few beers on the first evening in Jokkmokk we'd warmed as a team as we discussed the four-day tour through the nature reserve of Northern Lapland.
The Sámi are very proud reindeer herders and breeders, and Krille explained a lot about the more than 140 tribes, their territories and how they mark and keep their reindeer apart. Each tribe has its own carving mark on both ears of the animals. A Sámi has to know all the markings and be able to distinguish between them. At the same time, Krille started salting the reindeer meat he had brought with him. It's amazing how this man can handle a knife. The Sámi use the whole animal – with one exception that is not eaten out of superstition: The tip of the tongue. Evil spirits are said to live in this part of the animal. Krille, however, had a much more down-to-earth explanation: Most bacteria are found at the tip of the tongue, and for centuries this was how successive generations have been made aware of it. Fascinating.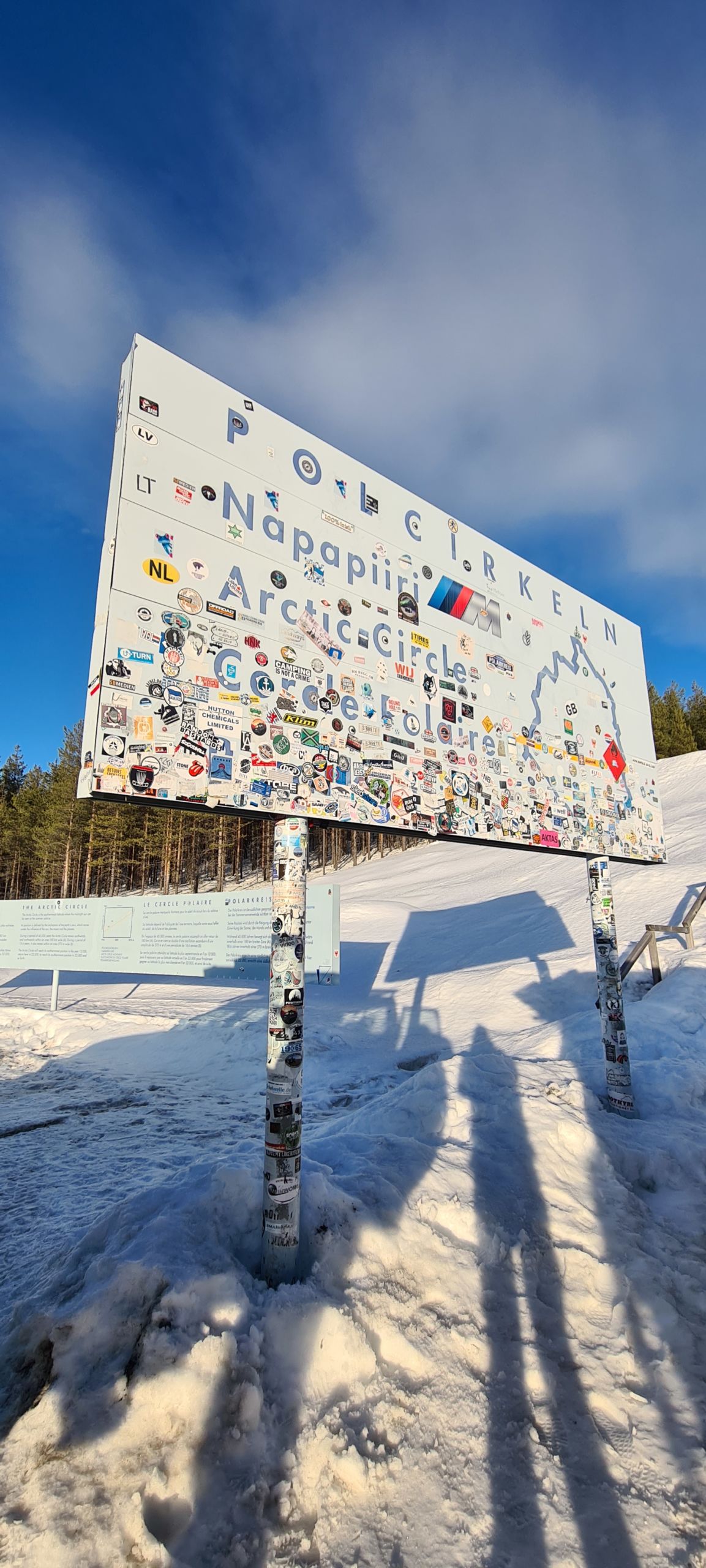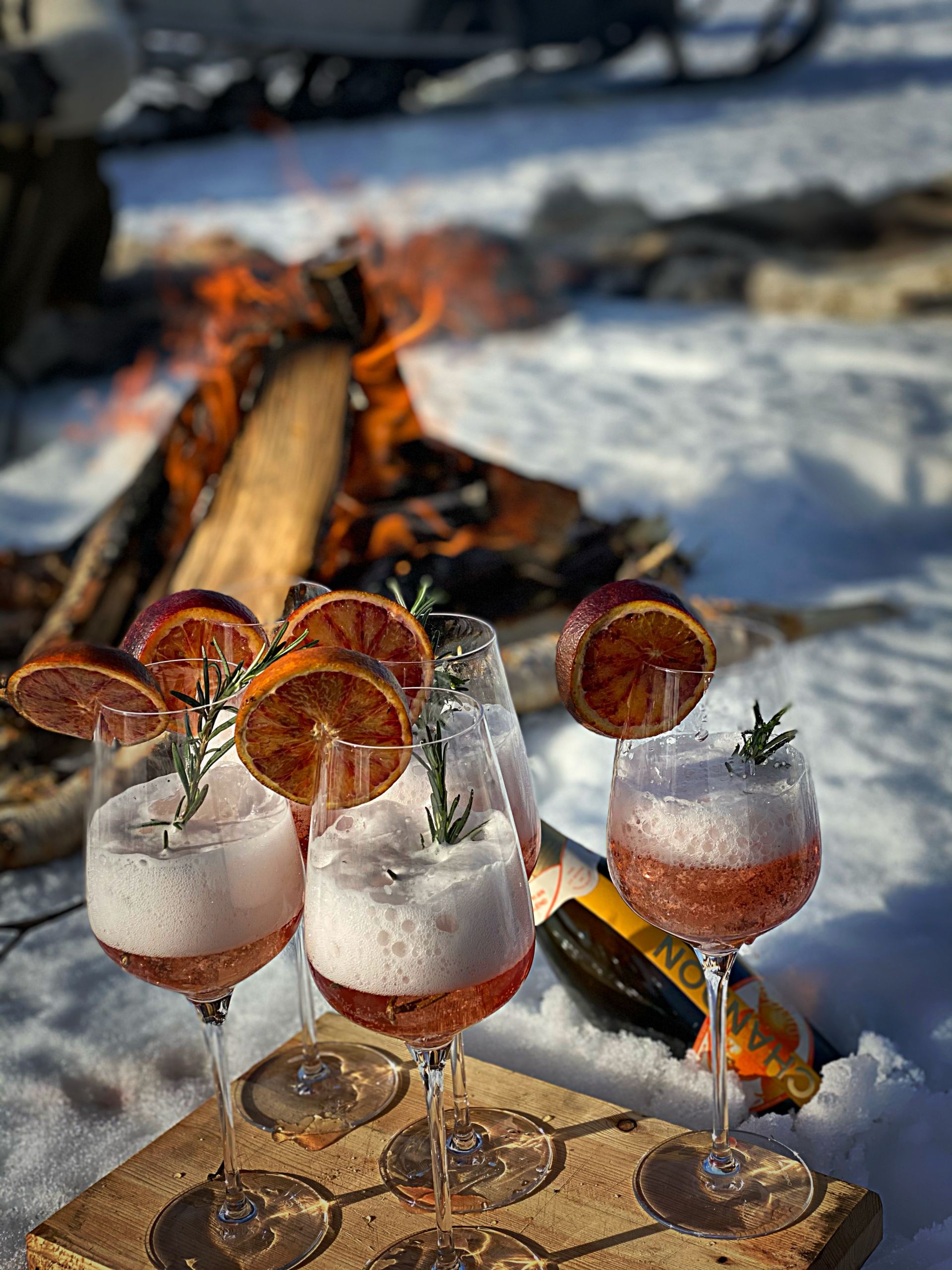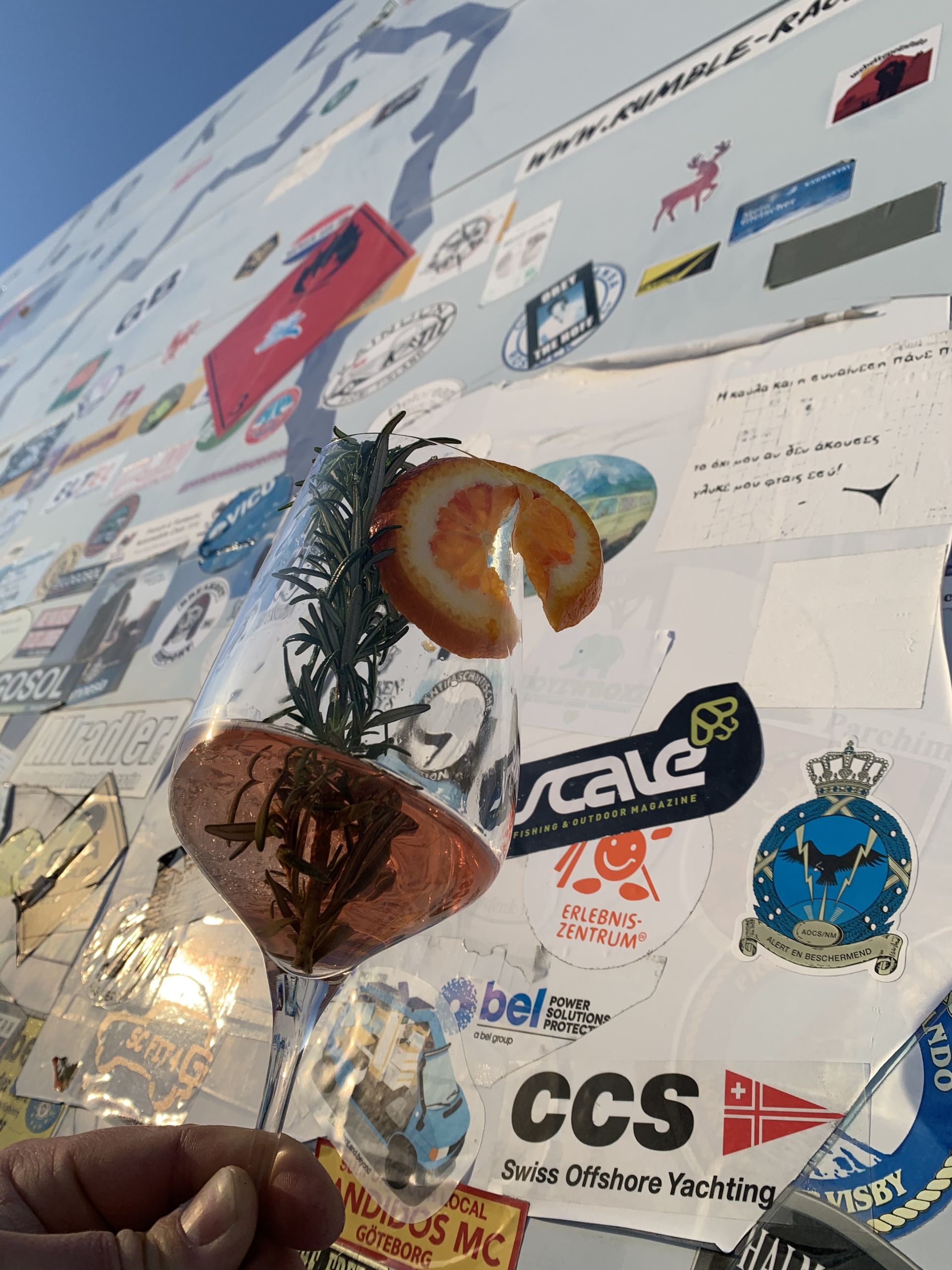 It's stuck, my ass!
Next morning I realized I should have said "no thanks" to the Sámi schnapps Krille had offered us the night before. Too late. Helmet on, and onto the snowmobile. "Please be careful, they can go up to 160 kilometers and hour." We'd been warned, and my concern grew over getting back home in one piece. I know myself well, and once I'm on the thing, then… Well, half power for now, it'll be fine… No way. There it was again, that tunnel vision. In the middle of the idyllic holiday resort of Jokkmok, I opened up the throttle – and made my first howler. It produced a prompt and loud warning that you're only allowed to drive at 15 kph here. But my God, I'd understood how it works, and was really getting into it: 150 through the 30 kph zone. Jana from Team Offroad Manufaktur Hamburg managed to top me, though. She'd mastered the Ski-Do from day one, during the test drive. But now it was down to the nitty-gritty. Krille, meanwhile, clearly saw us as apprentices. Him: not a gram of fat on his body. Us: Obelix. Just impressive, how he steered that snowmobile. Well, I told myself, he did nothing else all day. You'll manage, I told myself. Then: Bang. The 20,000-euro snowmobile ended up in the ditch. Krille looks at me, shakes his head. "It's stuck," I say. His simple retort: "it's stuck, my ass!" It made me realise what an amateur I was in the snow. This 170 centimetre tall, maximum 70-kilo Sámi was a machine. And me, just a spare part. It didn't take him five minutes to pull the mobile out of the snow and boom, on it went. I was happy as a snow king to have met this terrific guy. But the next test was not long in coming.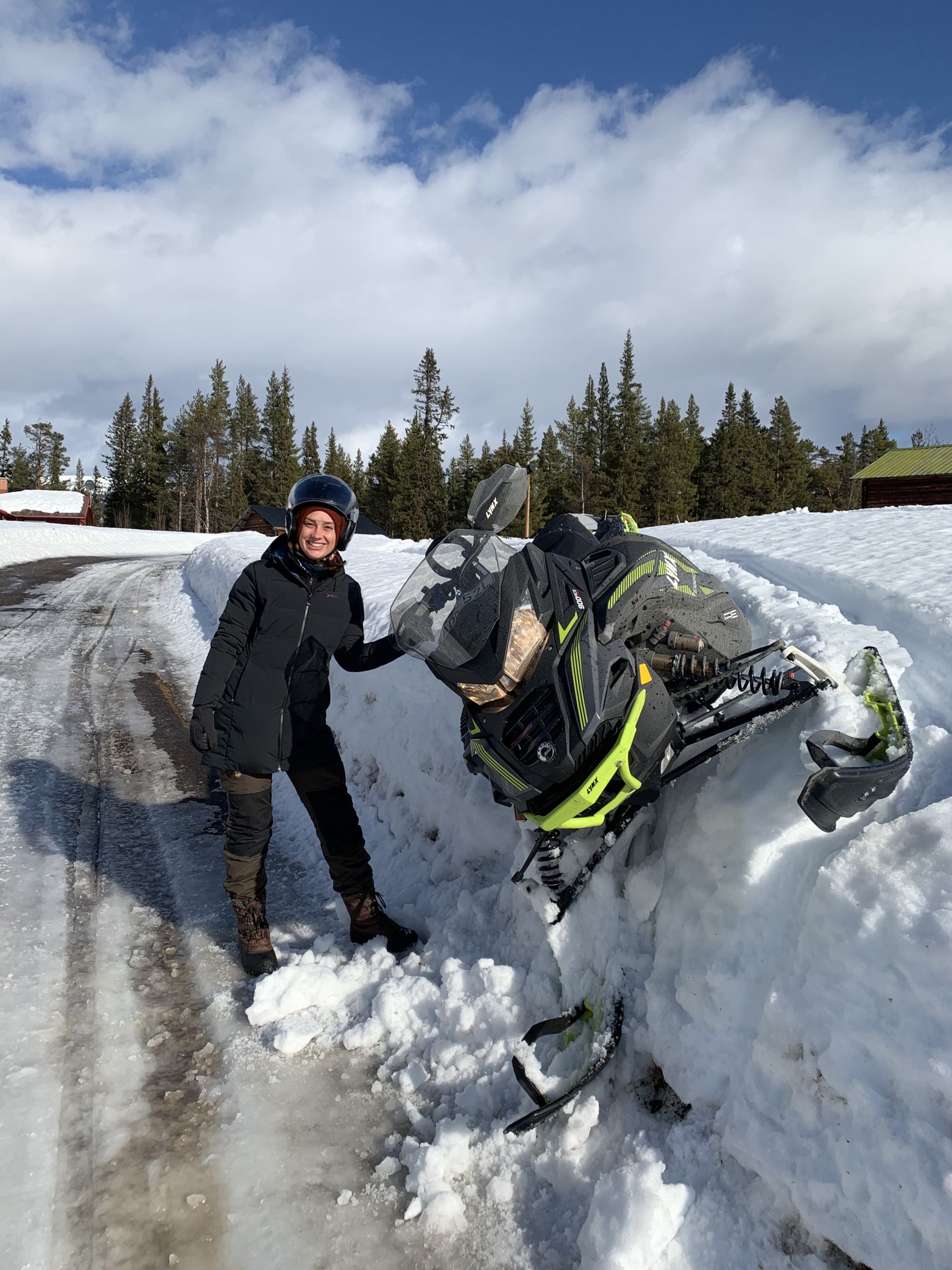 Camel with four humps
We were trying to set up a tent and camp for the night in a wind gusting at force 6. For this, you need to cut branches for the base resting on the snow. Per had the latest equipment from NORDISK on board – a good, solid cotton tent. But now we had to cut down branches using axes, and so off we went on the Ski-Dos in all directions to find these. But the time factor? I had forgotten that the Arctic spring still had short days and long nights. The sun had quickly disappeared, and our camp was still not up. And there was the wind problem. In Michael Schäfers we had a real professional with us. Krille quickly noticed that, too. The two conferred with Per, and it was clear we wouldn't be spending the night here. Load everything up again. We had to find a windless place in the dark, using the lights of the snowmobiles. Not without danger. The Sámi was now our life insurance. Eventually, exhausted, we found a reasonably windless spot, and Brian set about lighting a fire and cooking. The fire pit landed a good meter-and-a-half lower in the ground 20 minutes later, after the surface snow had melted. The same was to happen later with our warm bodies melting the surface snow as we slept in the tent. Brian served reindeer heart and reindeer tongue as a stew, and a first-class Scotch gently ushered us into the minus 20-degree sleeping bags from NORDISK. What followed was a night of movement as the surface snow gave way. It was like sleeping on a camel with four humps. Exhausting, as you slowly subsided towards Mother Earth. Only one of us didn't want to sleep in the tent: Michael Schäfers. Off to the side, he dug himself a hole and enjoyed the starry Arctic sky alone. Wolves? Bears? It didn't matter, the main thing was to be in nature and alone.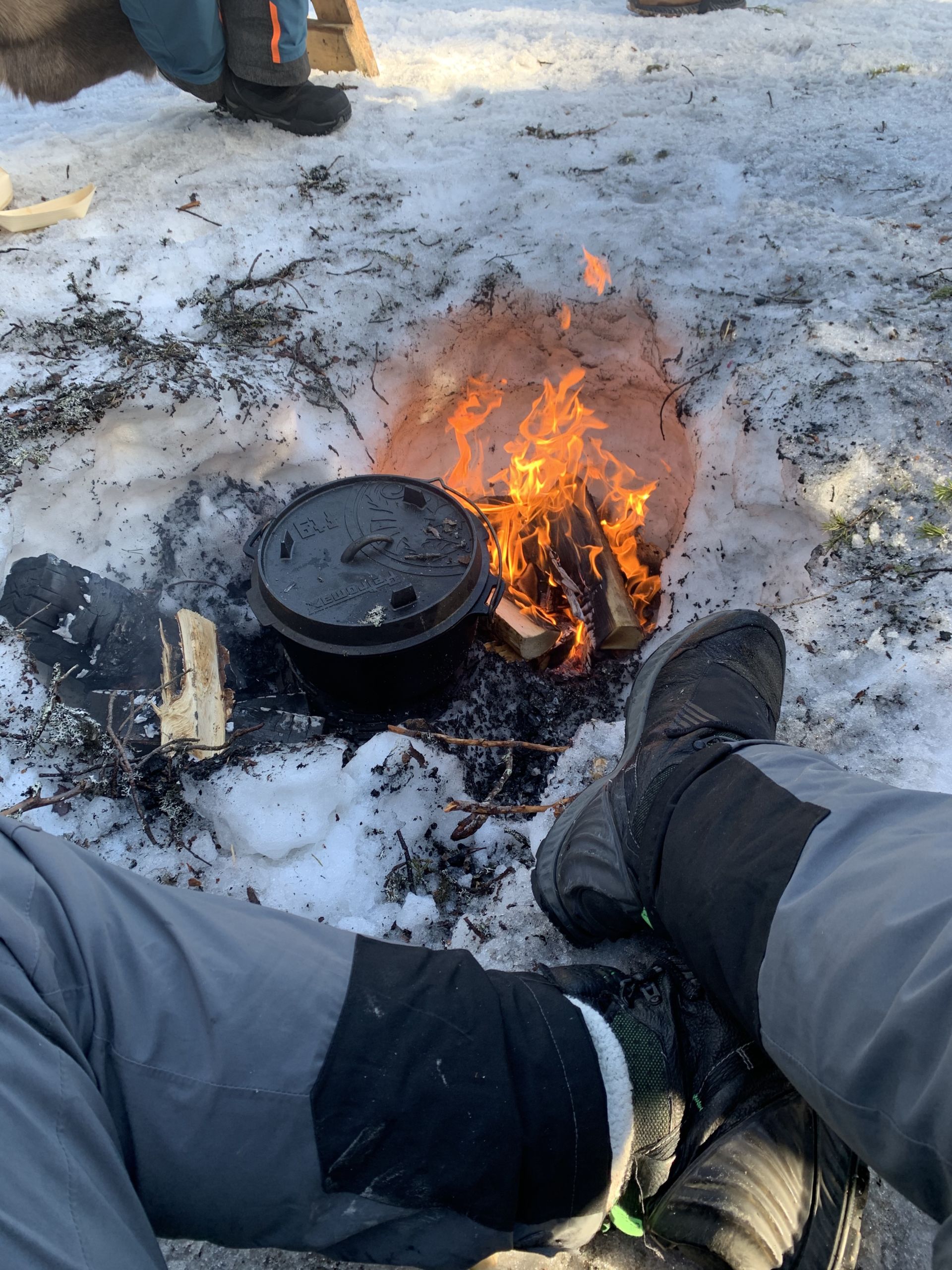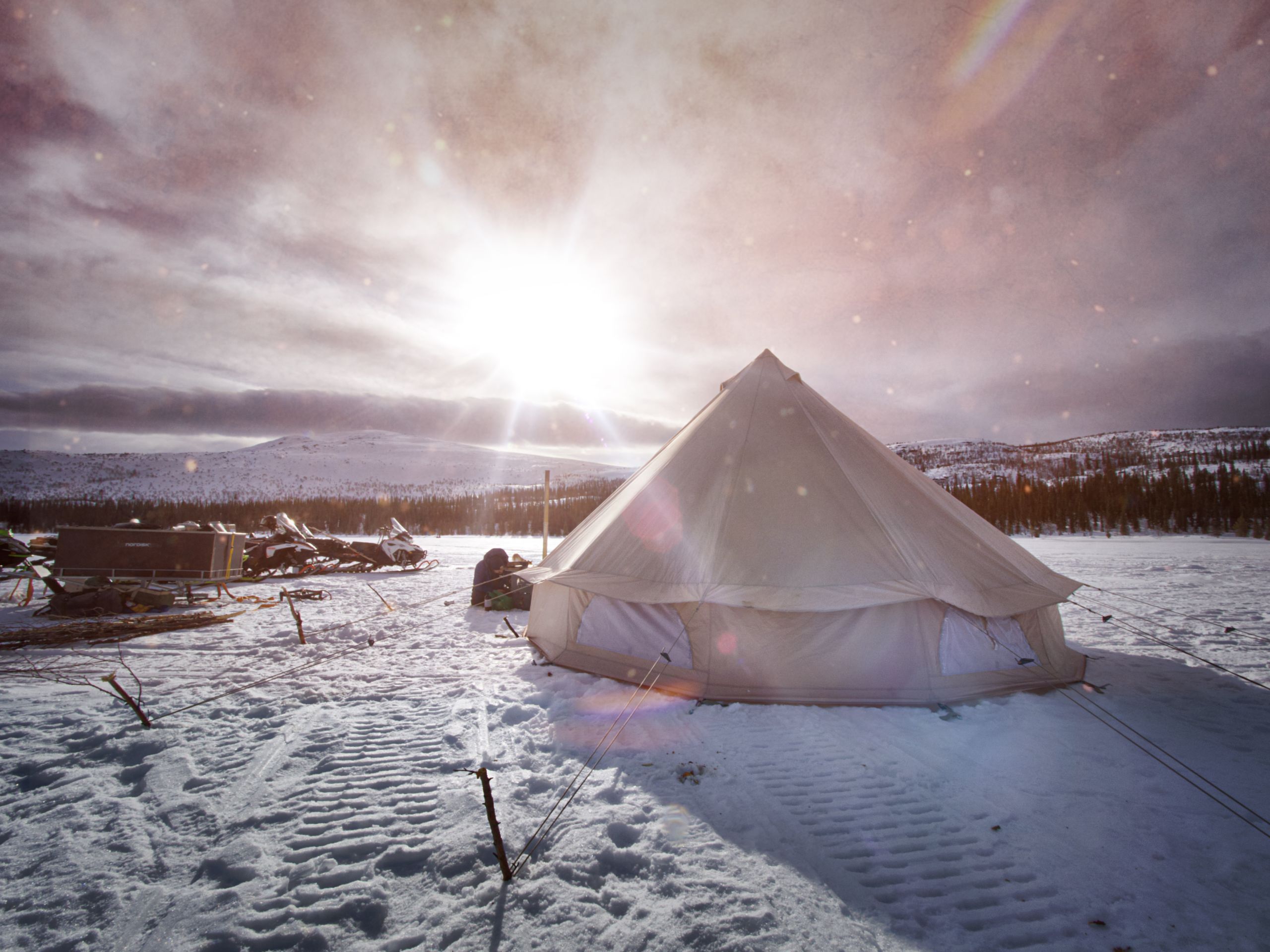 Come back in summertime, Ben!
Next morning there were five huge depressions inside in the tent. I got up first thing, crawled to my Ski-Do and got my rod ready. There was a small river just round the corner, I could tell from Google maps. No one knows how the Swedes manage it, but behind every fir tree – 5G reception. Even in a nature reserve. Unbelievable. It took me a while to get into the water in my waders. A beautiful sunrise was the reward. But again, no bite. I packed up a little despondant, and when I got back to camp Krille just said dryly: "Fly fishing Ben? You should come back in the summer." The rest of the team started to make fun of me: "If you catch anything up here Ben, I'll run naked around the fire tonight," a statement I hoped Brian would regret. We packed up all the stuff, took down the tent and got on the snowmobiles. We headed up into the mountains. Krille wanted to introduce us to a special Sámi – Tommy. When we arrived at the foot of the mountain, there was a briefing on what to do in case of emergency. It was important not to get off the narrow tracks, and to pay attention to the man (or men) in front and behind.
It took a good two hours until we arrived at Tommy's place. Krille had explained to us that Tommy had lived up here completely alone since 1975. He rarely had visitors and was also a little worried that we city dwellers would bring the terrible virus with us. Daily tests were ensuring safety, and Tommy quickly understood that we were a professional production team. What a great guy! Tommy lives with his dog and some animals at 800 metres altitude in deepest Lapland, completely alone. And it turned out he owns all the fishing rights for the surrounding lakes and rivers. We quickly got talking and I hoped for some insights. He's been fly fishing since the late 1960s and, like Krille, he just said dryly: "Come back in summertime Ben. You'll love it." Oh dear. My chances of landing a fish had dropped dramatically.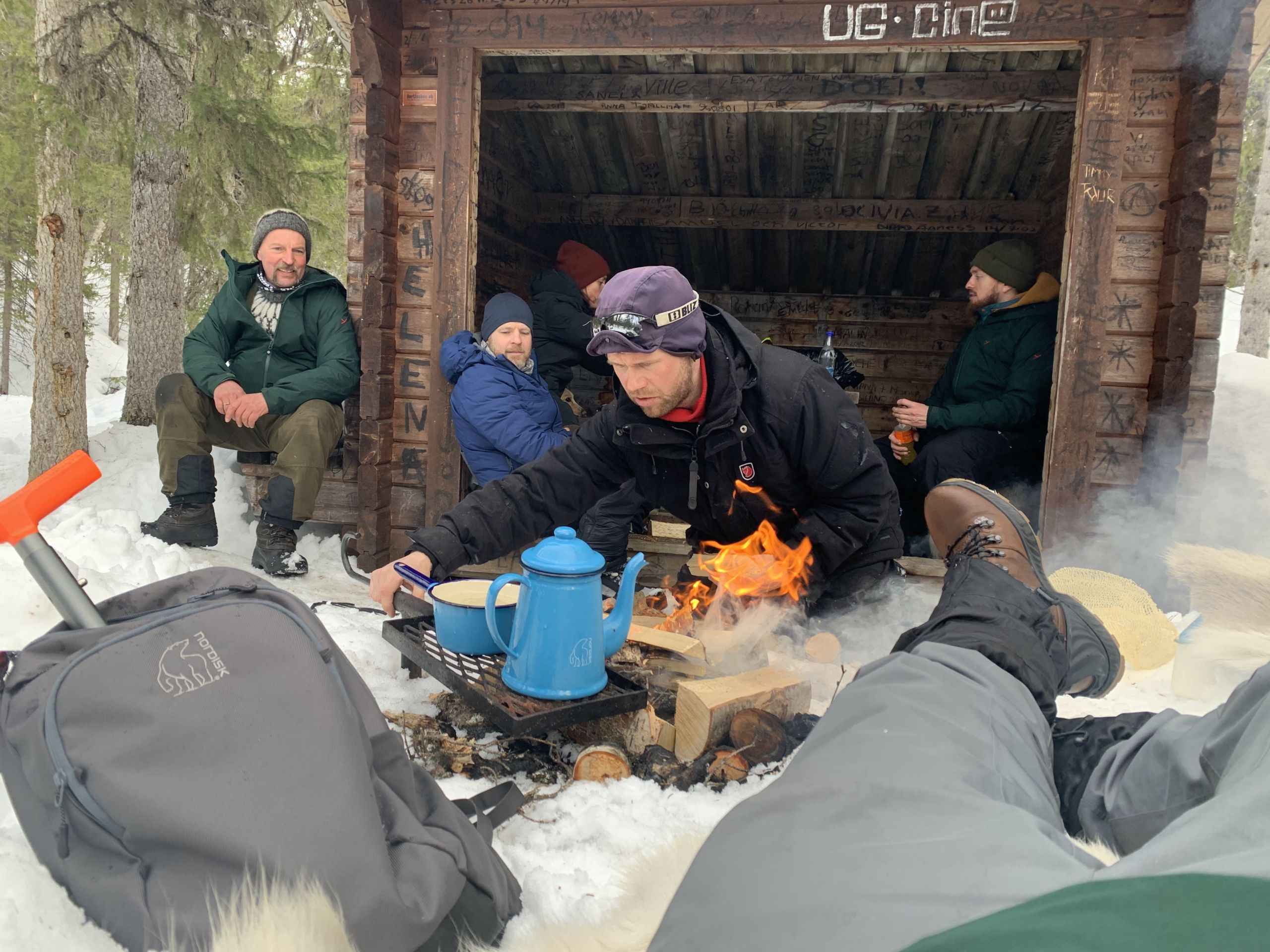 When the fish are awake
Tommy took us deeper into the area, to a small lake. He showed us some holes and explained how he would fish in winter. He pulled a net out of one hole and stretched a long line to the second hole about 50 metres away. Okay, got it – the two holes were connected. But how had he pulled the net along under the ice? "That's my secret, my friend." Fish at last! A beautiful lake trout weighing a good 1.5 kilos had gone into the net. A dream fish if caught on a fly. But I had understood, Lapland is different in winter. We set up the tent again and drilled a few holes in the ice. Krille and Tommy went ice fishing, settling down on reindeer skins. I did my own thing. Good, now something has to bite. With an assortment of spinning rods, I collected the next smirk from the Sámi. Every sophisticated combination of equipment I made only caused more hilarity. The rod stayed motionless. Then came the scream. To my amazement, Jana from Team Offroad Manufaktur Hamburg had caught a char. Insult to injury. Brian gave a smug laugh: "Just let the lady show how it's done, dear boy." I threw in the towel, smiling. Jana was so happy you could only share her delight. The fish was beautiful, but too small and went back. Tommy was not happy about that, because here they take everything that is caught. But Jana's sympathy for the fish won out. Tommy built a fire, and Brian cooked great reindeer meat again. The trout was roasted in classical style, and I admitted defeat. Tommy and Krille were right: I have to come back here in summer. When the fish are awake.