When you think of sports fishing in Australia, your first thoughts are normally drawn to the iconic Barramundi of the top end, the giant freshwater Murray cod, or the array of hard-hitting species of the Great Barrier Reef. What might be less known to a lot of people is a little freshwater Australian native that resides in the crystal-clear waters of the oldest living rainforest on the planet, the Jungle Perch. That is exactly what happened to me after relocating to Far North Queensland in 2012. It took me three years before I set off for my firstwalk in the rain forest chasing Jungle Perch, commonly referred to as local JP's. However, from that moment on my life changed, and all my spare time was now dedicated to targeting. this stunning species. JP's are a small aggressive fish that can grow up to 55cm in length and 3kg in mass. JP's inhabitcoastal freshwater rivers that have clear access to estuaries, where they spawn in the wet season during high flow events. They can be found all the way down the east coast of Queensland. However, due to farming, forest degeneration and the installation of weirs, their number have declined and therefore can only be found in small pockets. Most often, the best place JP's can be found include the wet tropics region – a 400km stretch between the towns of Cooktown and Townsville.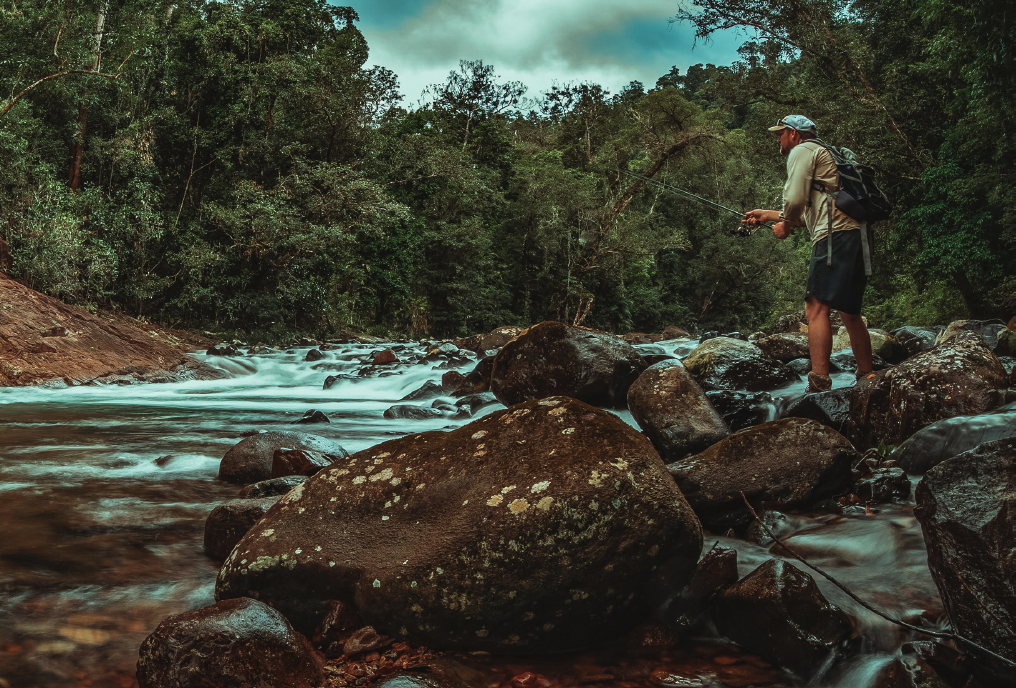 A STEP BACK INTO THE JURASSIC ERA
Although JP's can be targeted from a boat in lower, slow-moving reaches of rivers, it is on foot in the feeder creeks throughout mountain terrain where the best fishing can be found. It is the fast-moving water with deep pools, surrounded by dense rainforest that make you feel like you have stepped back into the Jurassic era and has you regularly pinching yourself. Witnessing numerous species of snakes, lizards and frogs is common, and if you are lucky – an encounter with an elusive cassowary is extraordinary. The cassowary is the third tallest and second heaviest living bird on Earth. It is brightly coloured with a large crest on its head and has five-inch claws that can be used as a weapon if threatened. Therefore, you should always treat a cassowary encounter with caution, as they are not a bird to be messed with.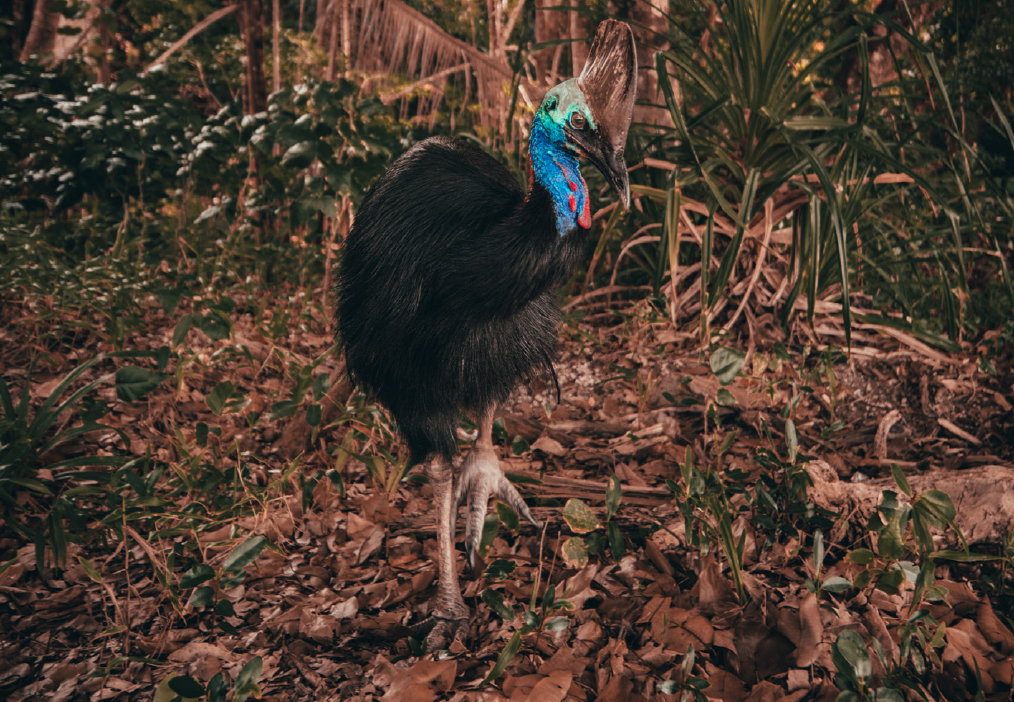 STEALTH MODE IS MORE THAN MEETS THE EYE
JP's can be caught all year round, however the wet tropical regions are the wettest in Australia (with an average rainfall of 4 metres annually), therefore planning your trips are necessary to ensure the rivers and creeks are surveyable. Generally, JP's are not a hard species to catch.
Their aggressive nature and competitive drive for food makes them almost launch at any presentation put in front of them. However, JP's are highly in tune with their surroundings, which can sometimes make them difficult to catch. Therefore, it is imperative to be stealthy and have long accurate casts on light spin gear to give you an advantage. Although JP's are not the biggest or the hardest fighting fish, they make up for it with attitude and aggression towards your chosen lure – a favourite being a surface or fast retrieved paddle tail plastic lure.
JP's have excellent eyesight; therefore, it is not uncommon to see a JP tracking your lure while it is in the air and grabbing it as it enters the water. It can be 'heart in mouth' type of fishing. The king of the pool resides below the waterfall A typical day of fishing generally involves arriving at our destination at daylight and setting off on foot up current of our chosen creek, bypassing the shallow fast moving water to reach the slower moving deep pools where the jungle perch often patrol. At times, walking can be difficult due to the thick rainforest and slippery wet moss-covered rocks. Generally, you only get one or two casts in each pool. If they fail to hook-up, the whole pool will typically shut down due to their cluey nature (as though they realise something is up), and then it is onto the next pool. This continues until a waterfall is reached where JP's cannot migrate over. It is the pools below these waterfalls that hold the largest resident fish in the system. Once the last pool is fished, photos have been taken, and there has been an opportunity to relax and absorb the stunning surroundings, it is time to walk all the way back – often arriving to the car just before sunset if timed correctly. A single day can amount to 20km on foot, with the longer walks often resulting in the set-up of hammocks and spending the night in the jungle. This adds even further to whole experience – you really cannot beat the sound of a waterfall in the background while you sleep.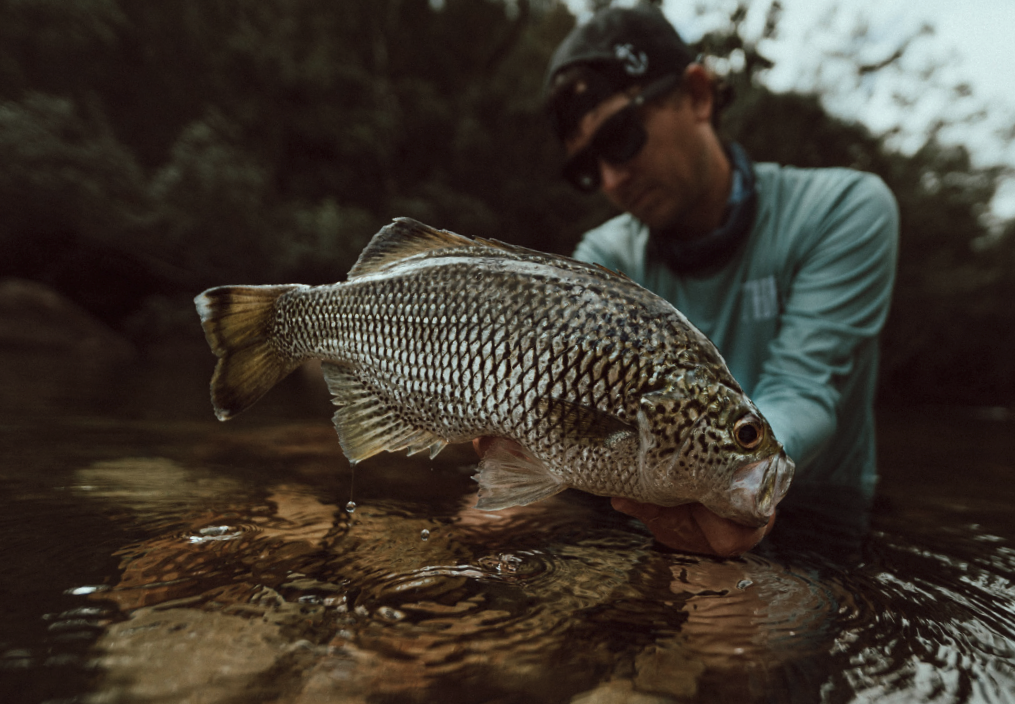 BACKPACK, ROD AND A SENSE FOR ADVENTURE
Backpack, rod and a sense for adventure Spending hours on google earth looking for remote locations, then exploring some of the most breathtaking waterfalls and finding a trophy JP is just about as rewarding as fishing can get. It is true back to basics style of fishing which simply involves a backpack, a rod, and a sense of adventure. The rainforest has an uncanny knack of capturing your imagination and making you think you are the first person to explore the area. It is a credit to the growing number of people who target JP's, as it is rare to find any trace of other people there. It is a community that I am proud to be a part of. So, if you are a planning a trip to Australia to experience its wide range of fishing on offer, do not forgot about the little Aussie native waiting to be found deep in the rainforest – the mighty Jungle Perch.