COVID 19 – LOCKDOWN
BETWEEN GOATS, BEACHES AND GT
Finally, after years of war in Yemen, the country, especially the Island groups of Socotra, have been opened again for visitors and I was lucky to be a part of the Wild Sea Expedition team, lead by Nicola Vitali, to visit Socotra with some fish-thirsty new fly fishing and popping clients.
Hadiboh – caught between folklore and plastic waste Hadiboh, the main city of the Socotra island group, was a shock at first but only a day long. From the airport we went straight to the restaurant/public kitchen, no hygiene concept here. Our food was served on a big plate full of rice and few pieces of chicken. No eating dish. For a second I was like, "ok do I eat this with my bare hands?" And then Nicola just stuck his hand into the plate, grabbing a big pile of rice, looking at me and said: "Don't be a pussy",and so I was not.People here are very friendly and the city is safe which is one of the most important things. But to work here is very hard, since all is pure chaos, there is a big lack of infrastructure to welcome any future touristic approach and the piles of waste and plastic are surely none of an attraction, tourist would be drawn to.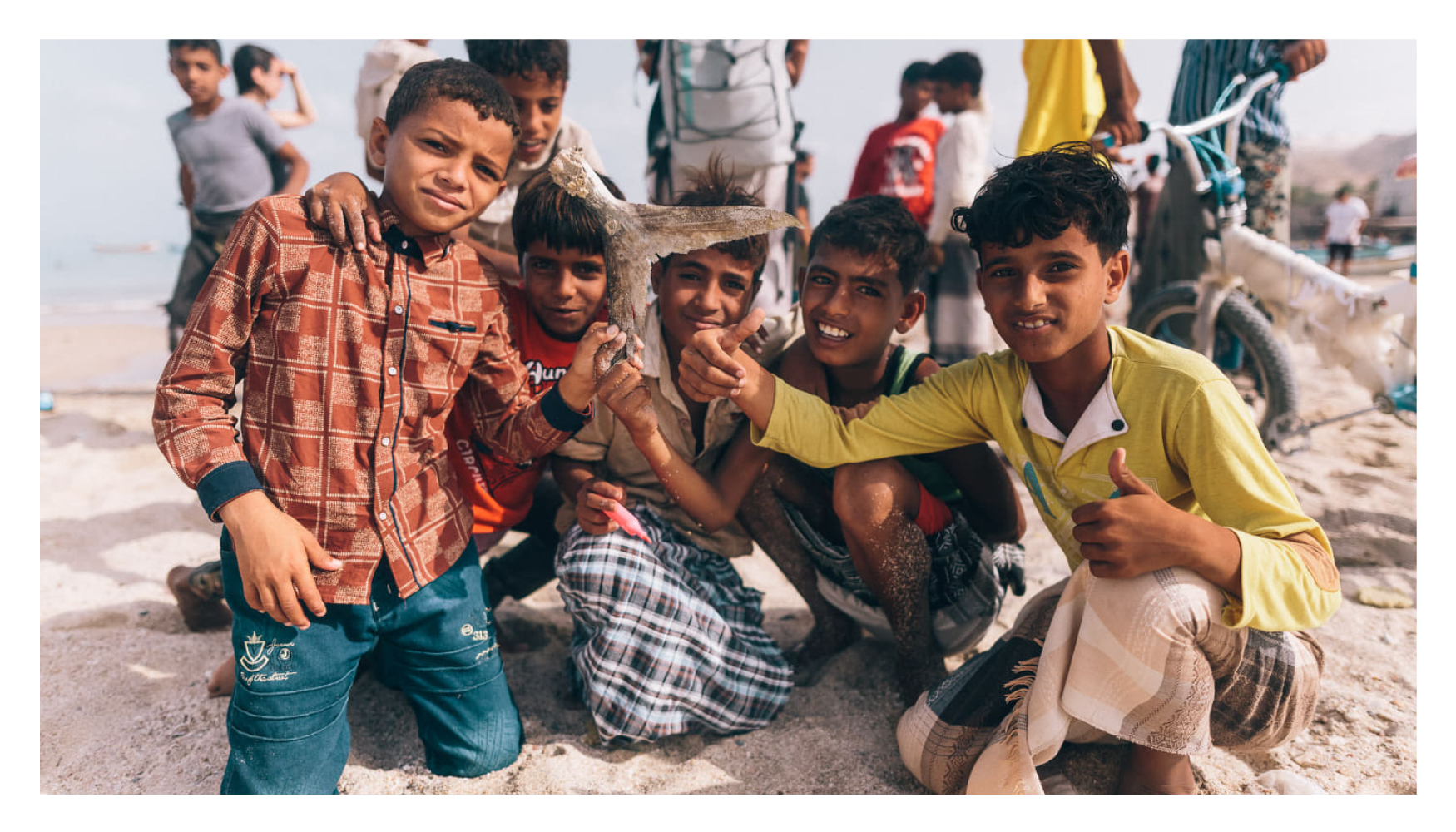 A remote spot and hideaway of the big fish
We organized a boat for our trip that should take place in the next days and picked up our clients to venture out on the open sea. The waves were harsh and the ride felt edgy. The ocean was roaring all night, the waves were higher than our boat in one moment, just to collapse in the most turbulent crash in the next. None of us slept more than one hour in total that first night out on the sea. We arrived at our fishing destination in dawn, set up a beach camp and went fishing. All people that were here for the first time, managed to catch their PB right on the first day, but all these fish were the average size for this place. In the following days fishing was a bit slower but still some nice GTs were caught and the collateral catch of yellow fin tuna was common. One day we were informed that the world is closing down due to the corona virus situation and we had to react in sense to go back to the main city.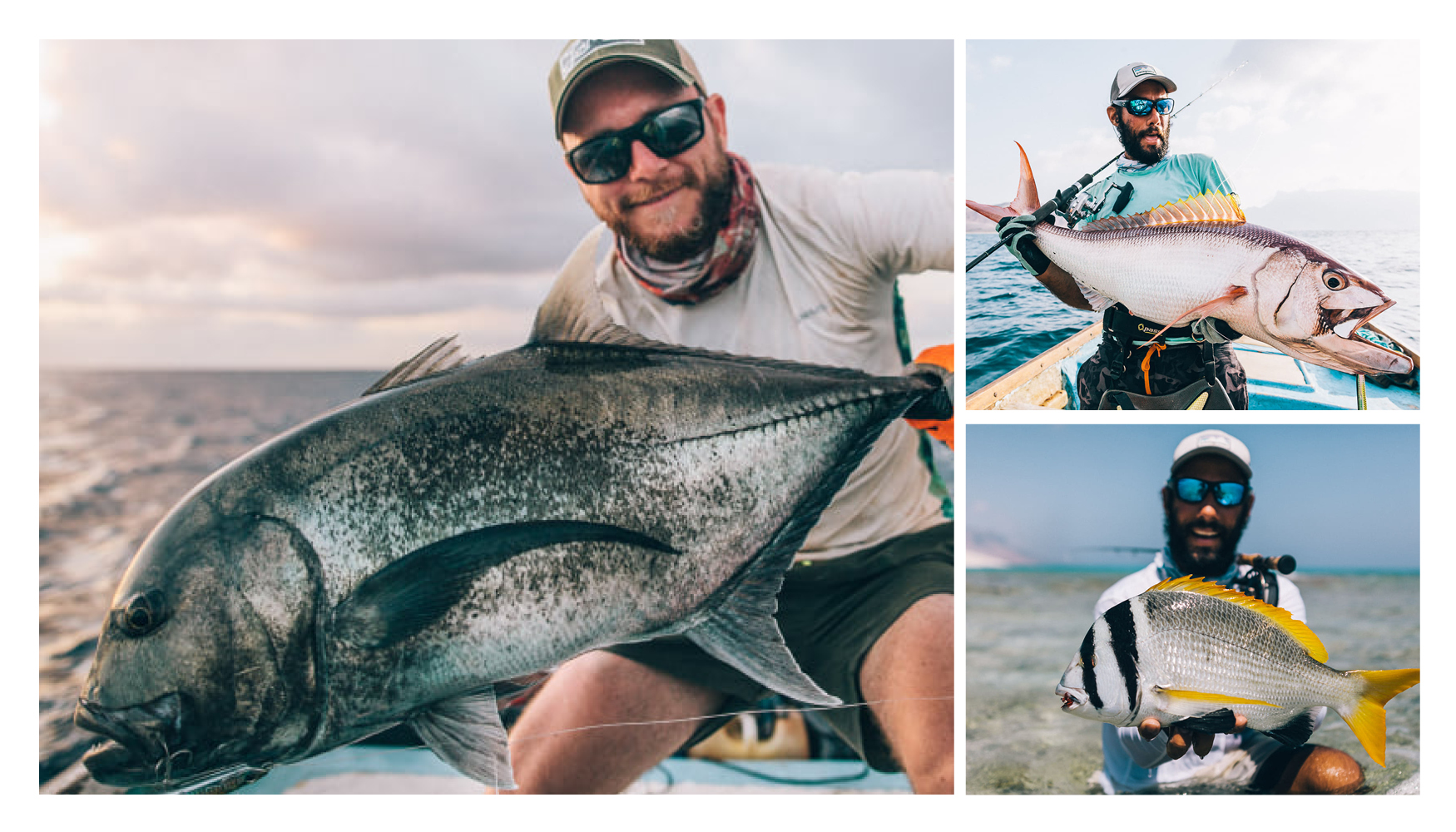 Stuck in the Covid-Scenario, solution: fish more
Unfortunately even with two days traveling back in advance from our camp to Hadiboh, for some reason the Yemenia local aeroplane company decided to leave even earlier than first declared. So our clients and we were stuck here. For us that was not that bad, we even prefered to stay, so we could dedicate ourselves to fishing and filming in this place. But as our clients wanted to go home, they didn´t know yet, they would be stationary (and fishing) nearly two more weeks, before they could finally leave for Abu Dabi. So, we stayed. The Hadiboh coast line is one of the very few places in the world to target parot fish selectively. We had our eyes and hands on spotted grunter,
Nicola caught an 8lb bonefish and one of our guests lost even a 12lb specimen. We saw some photos of bonefish around 22lb, caught by locals on sardine, and big GT´s on the fly are always an option. So the spin and fly fishing potential here is great, we just need more exploration. The Socotra region is one of the last preserved natural marine environments. And for me, a photographer and fisherman, it´s hard to imagine a better spot to be stuck in, while Covid keeps the world in its grasp.